10 things you need to know today: March 8, 2021
Biden signs an executive order seeking expanded voting access, top N.Y. Democrats call for Cuomo to resign, and more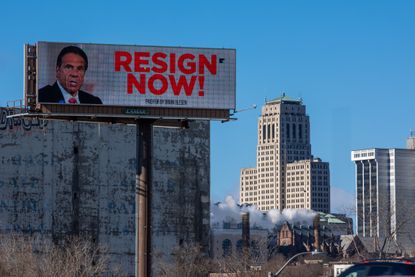 (Image credit: Matthew Cavanaugh/Getty Images)
1. Biden signs executive order that promotes increased voting access
President Biden signed an executive order seeking to expand voting rights on Sunday, the 56th anniversary of the "Bloody Sunday" attack by Alabama state troopers on peaceful civil rights protesters marching across the Edmund Pettus Bridge in Selma. "Every eligible voter should be able to vote and have that vote counted," Biden said at the Martin & Coretta Scott King Unity Breakfast. "If you have the best ideas, you have nothing to hide. Let the people vote." Biden directed all federal agencies to promote voter registration and reduce barriers for certain voting groups, including military and overseas voters, Native Americans, incarcerated citizens, and people with disabilities. Biden said the agencies should use their websites and social media platforms to share registration information. He also is seeking to modernize the federal government's official voter registration site, Vote.gov.
2. N.Y. state Senate leader calls for Cuomo to resign
Andrea Stewart-Cousins, the New York State Senate majority leader, on Sunday became the state's highest ranking Democrat to call for Gov. Andrew Cuomo (D) to resign after another sexual harassment allegation emerged against him. "Every day there is another account that is drawing away from the business of government," Stewart-Cousins said. "New York is still in the midst of this pandemic. ... We need to govern without daily distraction." Within minutes, Democratic Assembly Speaker Carl Heastie also urged Cuomo to consider stepping down. Cuomo earlier said he would stay in office, saying it was "anti-democratic" to try to force him out of office. Cuomo repeated his call to wait for the results of an investigation overseen by the state attorney general's office.
Subscribe to The Week
Escape your echo chamber. Get the facts behind the news, plus analysis from multiple perspectives.
SUBSCRIBE & SAVE
Sign up for The Week's Free Newsletters
From our morning news briefing to a weekly Good News Newsletter, get the best of The Week delivered directly to your inbox.
From our morning news briefing to a weekly Good News Newsletter, get the best of The Week delivered directly to your inbox.
3. Russian intelligence spreads vaccine disinformation
Russian intelligence agencies are conducting a campaign seeking to undermine confidence in Western coronavirus vaccines, including Pfizer's, The Wall Street Journal reported Sunday, citing U.S. officials. The effort reportedly has used at least four online publications to cast doubts on the COVID-19 vaccines' safety and effectiveness, exaggerating the risk of side effects and making misleading claims, including that the approval of the Pfizer vaccine was rushed by regulators. U.S. officials said that even though the websites have limited reach, their false claims have been amplified by other media. A forthcoming report by the Alliance for Securing Democracy said the attack on Pfizer was "likely due to its status as the first vaccine" besides Russia's Sputnik V to be widely used, posing a threat to Sputnik's market position.
4. Manchin backs filibuster but says it should be 'painful'
Sen. Joe Manchin, a West Virginia moderate Democrat wielding increased power in a 50-50 Senate, said on Sunday that he was open to changing filibuster rules, which could let Democrats push through more of President Biden's agenda in evenly split party-line votes. Manchin said he supported keeping the filibuster, which requires 60 votes to advance most legislation, but that he could see altering it with Senate rule changes. An example would be requiring the "talking filibuster," which requires senators seeking to delay a bill to hold the floor and continue speaking. Once they give up, a simple majority in an up-or-down vote could allow the legislation to advance. "The filibuster should be painful," Manchin said after voting with Democrats to approve a $1.9 trillion coronavirus relief bill with no Republican support.
5. Swiss voters narrowly approve ban on face coverings
Swiss voters on Sunday narrowly approved a ban on full facial coverings including niqab and burqa in most public places. The ban covers streets, public offices, public transport, restaurants, and shops. The referendum passed with the support of 51.2 percent of voters. The only public places excluded from the policy will be houses of worship and sacred sites. The referendum allowed an exclusion for face coverings worn for health and safety reasons, weather, or local customs such as carnivals. The ban was proposed by several groups, including the right-wing Swiss People's Party. The referendum did not mention Muslims specifically, but Swiss media commonly refer to the change as a "burqa ban." The Swiss Council of Religions condemned the proposal before the referendum, calling it a violation of religious freedom.
6. Blasts kill at least 20 in Equatorial Guinea
A series of powerful explosions severely damaged a military barracks in Equatorial Guinea on Sunday, killing at least 20 people and wounding more than 600, state television reported. The president of the oil-rich Central African nation, Teodoro Obiang Nguema Mbasogo, blamed the blasts on "negligent handling of dynamite." The country's defense ministry said that a fire in a weapons depot triggered the detonation of high-caliber ammunition. An investigation is underway to clarify what happened. Images broadcast by local media showed people running screaming through the streets of the area near the military facility, with some carrying wounded people to hospitals. Houses had their roofs blown off, and authorities feared more victims remained buried in rubble.
7. U.S. coronavirus vaccinations hit record over weekend
U.S. public health officials administered a single-day record 2.9 million vaccine doses on Saturday and another 2.4 million on Sunday, the Centers for Disease Control and Prevention reported. The U.S. is now averaging more than 2 million vaccine shots per day, up from 900,000 in the early days of the nationwide campaign, Jeff Zients, the White House coronavirus response coordinator, said on NBC's Meet the Press. The CDC said that despite the improving vaccination pace, state leaders should keep social distancing measures in place to prevent a renewed surge in infections that could undermine recent progress against the pandemic. More than 1 adult in 5 in the U.S. has received at least one dose of a vaccine, and 1 in 10 have received two doses. The Johnson & Johnson vaccine, which recently became the third to receive emergency approval from U.S. regulators, requires just one shot.
8. Hundreds march in Minneapolis ahead of trial over Floyd killing
Hundreds of people marched in Minneapolis on Sunday demanding justice for people killed by police as the city braced for the trial of Derek Chauvin, the former police officer accused of killing George Floyd, an unarmed Black man, in Minneapolis last May. Jury selection starts Monday. Protesters carried a white coffin with dozens of fresh roses while the crowd sang songs by Bob Marley, Prince, and Sam Cooke. At one point, the crowd stopped for a moment of silence while attorney and activist Nekima Levy Armstrong read a list of 470 people killed by law enforcement officers in Minnesota. A video went viral last year showing Chauvin pressing his knee onto Floyd's neck while other officers restrain him, fueling protests that spread across the nation.
9. Houthi rebels target oil facility in Saudi Arabia
Houthi rebels in Yemen claimed that they hit a Saudi Aramco oil facility in eastern Saudi Arabia with ballistic missiles and drone strikes on Sunday, briefly pushing oil prices above $70 per barrel for the first time since the start of the coronavirus pandemic. The strikes targeted facilities in Ras Tanura, a major Persian Gulf port that is home to one of the country's biggest refineries. Brig. Gen. Yahya Sarea, a Houthi spokesman, said the group also hit nearby military positions. Saudi state media confirmed the attack. An Energy Ministry official said it hit a petroleum tank farm. The official said shrapnel fell close to a residential area but caused no injuries or property damage. The Saudi-led coalition that has fought the Iranian-backed rebels since 2015 said it shot down the drones, and that attacking civilians "is a red line."
10. Markle says she had suicidal thoughts after joining the royal family
Meghan Markle revealed in an interview with Oprah Winfrey that she had "methodical" thoughts of suicide after joining the royal family. "I couldn't be left alone," Markle said. She described feeling captive after her license, passport, and credit cards were taken from her when she married Prince Harry, and said she could not have been "lonelier." Markle said she asked senior officials for help, and mentioned being hospitalized, but was told this would look bad for the royals. This, she said, is why people should always show kindness to others, because no one knows what's going on "behind closed doors." Markle, Harry, and their young son, Archie, left Britain for California last year. The interview, which aired Sunday on CBS, was their first since stepping back as working royals.

Continue reading for free
We hope you're enjoying The Week's refreshingly open-minded journalism.
Subscribed to The Week? Register your account with the same email as your subscription.