Boston bomber appeal likely to be 'slow, torturous process'
Dzhokhar Tsarnaev sentenced to death but he could be waiting for many years on death row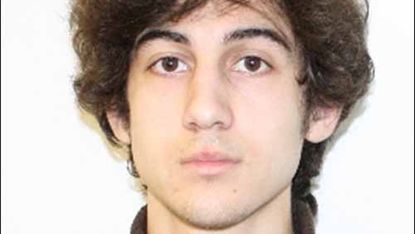 (Image credit: FBI)
Sign up to our 10 Things You Need to Know Today newsletter
A free daily digest of the biggest news stories of the day - and the best features from our website
Thank you for signing up to TheWeek. You will receive a verification email shortly.
There was a problem. Please refresh the page and try again.
Boston bomber Dzhokhar Tsarnaev, who was sentenced to death over the weekend, could sit on death row for "decades" if lawyers attempt to appeal his punishment, experts have said.
Dzhokhar and his brother Tamerlan, who later died in a police shoot-out, detonated two bombs at the 2013 Boston Marathon, killing three people and wounding 260 others.
Last month, the jury of seven women and five men found Dzhokhar guilty of all 30 charges brought against him, including the use of a weapon of mass destruction and bombing a public place resulting in death.
Subscribe to The Week
Escape your echo chamber. Get the facts behind the news, plus analysis from multiple perspectives.
SUBSCRIBE & SAVE
Sign up for The Week's Free Newsletters
From our morning news briefing to a weekly Good News Newsletter, get the best of The Week delivered directly to your inbox.
From our morning news briefing to a weekly Good News Newsletter, get the best of The Week delivered directly to your inbox.
The same jury has now found that death is the "appropriate punishment" for six of the counts, all of which related to the bomb he placed on Boylston Street that killed eight-year-old Martin Richard and 23-year-old Boston University graduate student Lingzi Lu.
Michael Kendall, a former federal prosecutor in Boston, said it was rare to have a case where the crime is of such enormity, plus a "mountain" of evidence and an "unsympathetic" defendant.
"After he blows up this child on purpose, he's out at the convenience store buying milk, then he smokes a little dope and plans on blowing up New York," Kendall told the New York Times.
Liz Norden, whose two sons each lost a leg in the attacks, told the Boston Globe she felt like a weight had been lifted off her shoulders. "I don't think there were winners, but there was justice," she said.
Another woman, Karen Brassard, who suffered serious leg injuries in the bombing, said: "There's nothing happy about having to take somebody's life. I'm satisfied, I'm grateful that they came to that conclusion, because for me I think it was the just conclusion."
But experts suggest there is still a long way to go before Dzhokhar faces death by lethal injection. "It will be a very slow, torturous process," law professor Charles Ewing told the LA Times.
At 21, Tsarnaev is about to become the "youngest, most notorious" inmate on federal death row, says the newspaper. Statistics show that prisoners executed in 2011 had been waiting on death row for an average 16 and a half years.
Defence lawyers are expected to have a reasonably good chance of appealing on the grounds that they repeatedly requested to move the trial out of Boston.
Here is what the jury heard:
Obscene gesture
The prosecution's opening move was to show the jury a photograph of Dzhokhar in a holding cell, three months after the bombing. He could be seen in an orange prison jumpsuit holding up his middle finger to the lens. Prosecutors suggested it was an example of how he remains an "unrepentant killer". However, the defence argued that, in context, it was the actions of a teenager bored in a cell, more likely rooted in selfie culture than jihad.
More survivors give evidence
Prosecutors continued to call survivors of the bombing and relatives of those who died. Celeste Corcoran, who lost her legs, told jurors how she had been unable to reach her daughter Sydney, who was also seriously wounded in the attack. "The most heart-wrenching thing as a mother is to see your child in pain and not be able to get up and go to her," she told the court. The father of Krystle Campbell, who died in the bombing, recalled how he initially believed his daughter was alive because of mistaken identity. When he found out the truth, he passed out, the court heard.
Prison conditions
The defence argued that Dzhokhar should be forced to spend the rest of his life in the toughest prison in the federal system, the US Penitentiary Administrative Maximum Facility, also known as the ADX, in Florence, Colorado. His lawyers suggested that living in solitary confinement for 23 hours a day would guarantee Dzhokhar obscurity and an experience akin to living hell, a more fitting punishment than the death penalty.
Family testifies
Dzhokhar's defence lawyers have been trying to persuade the jury that his older brother Tamerlan was the driving force behind the attack. Five family members have taken to the witness stand, including three cousins and two aunts. One cousin told the court that as a child Dzhokhar had cried while watching The Lion King. Another aunt said the two brothers were "so good, they wouldn't hurt a fly". However, the relatives acknowledged they had not seen Dzhokhar since he was eight years old, before he moved to the US. In a rare display of emotion, Dzhokhar used a tissue to wipe his eyes and nose after his mother's sister, Patimat Suleimanova, broke down in the witness stand.
Friends recall 'caring' student
Dzhokhar's teachers and friends told the court that they never suspected the "laid-back" and "caring" defendant was planning the attack. The jury also heard that the brothers' father was mentally ill and that in Chechen culture the eldest son was therefore expected to lead the family. Defence witnesses claimed Dzhokhar was unlike his aggressive older brother Tamerlan. A friend of Tamerlan's widow said she had become concerned after he cheated on his wife and tricked her into thinking she had Aids.
Dead Man Walking nun defence
Sister Helen Prejean, a Roman Catholic nun famous for counselling death row inmates, took the witness stand to vouch for 21-year-old bomber Dzhokhar Tsarnaev. Prejean, whose book about her experiences was made into the 1995 film Dead Man Walking starring Susan Sarandon, claimed Dzhokhar was "genuinely sorry" for the pain he caused his victims. The final defence witness in the second phase of the trial, Prejean spoke briefly about how she developed a rapport with Dzhokhar after she spent time studying Islam. They have met five times since March and talked about religion, she said. Speaking about the three people killed in the blasts, Dzhokhar allegedly told Prejean that "no one deserves to suffer like they did". She told the court: "I had every reason to think he was taking it in and was genuinely sorry for what he did. The groundwork and the trust was there. And I knew. I felt it."
Boston bombs: does Dzhokhar Tsarnaev deserve execution?
21 April
More than half of Americans think Dzhokhar Tsarnaev should face the death penalty for his role in the 2013 Boston Marathon bombing, according to a recent poll.
Of those surveyed for CNN, 53 per cent were in favour of capital punishment and 45 per cent were in favour of life in prison.
Liz Norden, whose two sons each had a leg amputated after the blasts, told the New York Times that the death penalty would be "the ultimate justice" for Dzhokhar.
Jonah Goldberg, a senior editor of National Review, also believes he deserves death. "The preferred argument from opponents of the death penalty is doubt: we can never be sure; look at all of the people released from death row; we can't afford to risk ending a single innocent life. None of those arguments apply to Dzhokhar Tsarnaev," he says.
But the family of eight-year-old Martin Richard, who was killed in the blast as he cheered on runners, have called on the Justice Department to take the death penalty "off the table".
In an open letter, published on the front page of the Boston Globe, the Richards argued not against capital punishment itself but the endless appeals that it would generate, preventing the victims from any form of closure.
"As long as the defendant is in the spotlight, we have no choice but to live a story told on his terms, not ours," they wrote."The minute the defendant fades from our newspapers and TV screens is the minute we begin the process of rebuilding our lives and our family."
Elizabeth Warren, US senator for Massachusetts, has also spoken out against a death sentence. "You know my heart goes out to the families here, but I don't support the death penalty," she told CBS This Morning. "I think that he should spend his life in jail, no possibility of parole. He should die in prison."
Boston bomber Tsarnaev guilty: what the jury heard
April 9
Boston Marathon bomber Dzhokhar Tsarnaev has been found guilty of all 30 charges brought against him, including the use of a weapon of mass destruction and bombing a public place resulting in death.
The jury of seven women and five men deliberated for just over 11 hours before reaching its verdict, which took 26 minutes to read out.
Almost two years have passed since Dzhokhar and his brother Tamerlan detonated two bombs at the 2013 Boston Marathon, killing three people and wounding 260 others.
Tamerlan died in a police shoot-out three days later, while Dzhokhar was arrested and charged.
The defence has maintained that Tamerlan, who was 26 at the time, seven years older than his brother, was the driving force behind the attack.
Dzhokhar reportedly showed no emotion as the 30 counts, 17 of which are punishable by death, were announced.
Jeff Bauman, who lost his legs in the bombing, said the verdict would "never replace the lives that were lost and so dramatically changed", but he added that it was "a relief, and one step closer to closure".
The family of police officer Sean Collier, who was shot during the hunt for the brothers in the days after the attack, said: "While today's verdict can never bring Sean back, we are thankful that Dzhokhar Tsarnaev will be held accountable for the evil that he brought to so many families."
The verdict marks a major step in the trial, says [1]CNN, but the "toughest legal battles may be yet to come".
Jurors are due to hear more evidence in a second phase of the trial before deciding whether Dzhokhar should face execution or life in prison.
Here's what the jury has heard so far:
Tsarnaev admits responsibility
The trial started out with a surprise move from Dzhokhar's defence team, who admitted "it was him" who planted one of the bombs. Nevertheless, Dzhokhar is pleading not guilty. Robert Bloom, a Boston College law professor, tells Boston television station WCVB that this might be a strategy to help them appeal later on. For example, by forcing a trial, his lawyers may be able to appeal on grounds of the jury make-up or the location of the chosen courthouse. The jury will still have to find beyond reasonable doubt that each count has been proven, but experts suggest the defence will be focusing not on avoiding a guilty verdict but avoiding a death sentence.
Survivors take the stand
Several survivors have testified in court, including Bill Richard, whose eight-year-old son Martin died in the bombings. The jury heard how the little boy's body was torn apart by an explosion near the finish line and how his skin changed colour. But his father was forced to leave Martin's side to save his seven-year-old daughter who had her leg blown off. Another survivor, Jessica Kensky, who lost both her legs in the explosion, recalled hearing screams and seeing blood everywhere. She was trying to help her partner, who also lost his leg, and did not realise that she was on fire until a man pushed her down and began extinguishing the flames.
CCTV puts the Tsarnaevs at the scene
The court has been shown CCTV footage of Dzhokhar carrying a backpack on the day of the marathon. Prosecutors claim it contained one of the bombs. He is seen using a mobile phone just before the first bomb goes off. Seconds later a second bomb detonates where he was standing. Footage shows him fleeing the scene among scores of terrified people, but less than half an hour after the blasts, he is seen buying milk at a Whole Foods store.
Twitter accounts analysed
The FBI revealed secret Twitter accounts allegedly used by Dzhokhar in a bid to show that he had violent jihadi views. FBI special agent Steven Kimball claimed that Dzhokhar used the anonymous accounts to praise an American al-Qaeda cleric and declare hope for "victory over kafir [non-believers]". Prosecutors say Dzhokhar also downloaded jihadist material onto his computer, reports ABC News. However, the defence pointed out that the Twitter feeds had been updated since Dzhokhar's arrest, suggesting that someone else might have access to the account. They also claimed many of the tweets shown to the jury were taken out of context and some posts, such as a reference to partying on 11 September, were actually quotes from comedy shows.
Message on a boat
Jurors were shown the boat in which Dzhokhar hid from police following the attack. He allegedly used a pencil to scrawl messages on the sides of the boat, which was marked with bullet holes and streaks of blood. "Now I don't like killing innocent people it is forbidden in Islam but due to said [a bullet hole obliterated the word] it is allowed," said one note. He allegedly wrote than he could not stand to see the US government go "unpunished" for killing Muslims and that he was jealous that his brother had achieved paradise by dying like a holy warrior. "We Muslims are one body, you hurt one you hurt us all," he wrote.
Official account of wounds
The state finished its case with evidence from Henry Nields, Boston's chief medical examiner, who gave an official account of the wounds inflicted on the victims. Several jurors cried as they were shown graphic autopsy photographs, reports CNN. Nields described in detail how Martin Richard had died, explaining that the bomb severed the little boy's spinal cord and abdominal aorta, causing him to bleed to death in minutes, if not seconds. He suffered several other wounds, including severed intestines, a ruptured stomach and third-degree burns. The government's final question was to ask Martin's age. "He was eight years old," said Nields.
Defence calls technical witnesses
The defence has begun its case, with two witnesses called to challenge the case put forward by the FBI. One focused again on the Twitter posts, while the other used GPS data to suggest that Dzhokhar was not the one to buy parts of the bombs. A cell site analyst testified that Dzhokhar's mobile phone was being used in south-eastern Massachusetts, where he was at university, when pressure cookers were bought north of Boston and another time when large quantities of BB shot – steel pellets used as ammunition for air pistols – were being bought in New Hampshire.
Closing arguments
Prosecutors accused Dzhokhar of wanting to "punish" the United States in a calculated, bloodthirsty attack, while the defence claimed the attack would not have happened if not for his older brother Tamerlan. Prosecutor Aloke Chakravarty told the court that Dzhokhar was purposefully "punishing" America for its wars in Muslim countries. "There was nothing about this day that was a twist of fate," he said. "This was a cold, calculated terrorist act. This was intentional. It was bloodthirsty. It was to make a point. It was to tell America that 'We will not be terrorised by you anymore. We will terrorise you.'" Once again, prosecutors showed footage from the day of the bombing, including images of severed limbs and the sounds of victims screaming. While the defence referred to Dzhokhar as a "kid" and a "teenager", the state described the brothers as "partners" and "a team".
Boston bombs trial: Dzhokhar Tsarnaev faces possible jurors
06 January
Boston bombing suspect Dzhokhar Tsarnaev appeared in court yesterday to face potential jurors who may ultimately decide if he should face the death penalty.
The 21-year-old and his late brother Tamerlan are accused of detonating two homemade bombs that killed three people and injured 260 others at the Boston Marathon on 15 April 2013.
Around 1,200 possible jurors from eastern Massachusetts are expected to appear at the John Joseph Moakley district court building in Boston over three days as part of a selection process that could last for weeks.
Prosecutors allege that Dzhokhar and Tamerlan, who was killed in a police shoot-out four days after the bombing, each planted a bomb. Dzhokhar is also charged with killing a Massachusetts Institute of Technology campus police officer.
It is claimed Dzhokhar, whose family emigrated from Chechnya about 12 years ago, was fuelled by religious extremism and hatred of the US.
The defence is expected to portray Dzhokhar as an "impressionable young man manipulated by his older brother", says the Wall Street Journal.
The newspaper notes that he yesterday "appeared well-mannered, standing and sitting when asked" and remained silent as Judge George O'Toole described the charges against him.
Dzhokhar faces 30 federal charges including "conspiracy to use a weapon of mass destruction resulting in death". If convicted, he could face the death penalty or life in prison without the possibility of parole.
The notoriety of the bombing could make selecting a jury difficult. Jurors will complete a long questionnaire to help the court whittle down the large pool of people. The smaller group will then be questioned individually.
The questionnaire has not been disclosed to the public, but according to court documents it is partly designed to check if potential jurors have been affected by any of the crimes allegedly carried out by the defendant.
The trial is expected to begin "in proper" on 26 January and last for at least three to four months.
Dzhokhar Tsarnaev: Boston bombing suspect appears in court
19 December 2014
Dzhokhar Tsarnaev, accused with his late brother Tamerlan of the 2013 Boston Marathon bombings, has appeared in court for a brief procedural hearing. It was the first time the media and public have sighted the 21-year-old in 17 months.
Tsarnaev's trial has been scheduled to begin on 5 January, says the Washington Post. He is unlikely to appear in court as soon as that, however, as the first stage of the trial will be a jury selection process, which may be lengthy.
His appearance in court yesterday generated intense interest in the US media. Tsarnaev has been kept in "nearly total isolation", according to his legal team, at a prison hospital outside Boston since he pled not guilty to the bombings.
The 15 April 2013 bombings killed three people and injured "several hundred", says Yahoo News. Tsarnaev was arrested hiding in a boat next to a house in Boston after a manhunt of more than 24 hours and a pitched gun battle in which his brother, Tamerlan, died.
Tsarnaev faces 30 charges involving the placing of the bombs and with shooting and killing an MIT campus police officer, Sean Collier. He is charged with using a "weapon of mass destruction" to cause death and serious injuries. If convicted, he faces the death penalty.
Tsarnaev was badly wounded by the time he was persuaded to give himself up to police - and was still wearing a cast when he was last seen in public, in court last July.
Yesterday, says Yahoo, he looked "like little more than an exhausted college student not used to waking up before noon". He spoke just five words, answering simple questions about his legal team and treatment.
His somewhat dazed demeanour caused some of his supporters, many of who were gathered outside the court yesterday, to claim Tsarnaev must have been drugged, says Yahoo.
One supporter carried a sign saying 'Got proof?' Marc Fucarile, one of the survivors who was injured in the bombing, removed his prosthetic leg and waved it a the woman in question, saying: "That's proof."
Dzhokhar Tsarnaev pleads not guilty, blows kiss in court
11 July
He smiled, he yawned, he fidgeted and he blew a kiss. Dzhokhar Tsarnaev was in court for just seven minutes yesterday but every gesture was analysed by those desperate to understand the 19-year-old accused of planting bombs at the Boston Marathon.
Tsarnaev appeared at Boston's federal courthouse wearing shackles and an orange prison jumpsuit. The garment was "so big on him that it made him appear younger than his 19 years", said the Boston Globe. To some reporters he appeared "confident" despite his predicament; others decided he was "disengaged".
The Chechen pleaded not guilty to all 30 of the charges brought against him. He did so in a "thick accent" that perplexed the former members of the high school wrestling team that Tsarnaev used to captain. It was not the way they remember him speaking, they told the Globe.
Tsarnaev's face was swollen on one side. There was a "visible scar" just below his throat, says Boston.com, possibly the result of being shot by police. He was wearing what appeared to be a cast on his left arm and his left hand was bandaged.
The only time the alleged terrorist became "attentive" was when he looked towards two women – believed to be his sisters – who were sitting behind him in the courtroom. One wept, the other held a small child. "As he was being escorted out of the courtroom with cuffs on his hands and feet, Tsarnaev "blew a kiss" towards the women.
More than 30 victims of the Marathon bombs – some of them wearing race-branded clothing – were in court to catch their first glimpse of Tsarnaev.
Jennifer Regan, fiancee of Marc Fucarile, who lost a leg in the bombing, described the teenager as "disgusting". The chief of the police force at the Massachusetts Institute of Technology – where Tsarnaev allegedly shot dead a young officer, Sean Collier, in the aftermath of the bombings – said he'd like to "grab him by the throat".
But Tsarnaev had supporters too. As his motorcade arrived at the courthouse, about a dozen people shouted "Justice for Dzhokhar'' and "Give him his freedom back".
Tsarnaev's next court date is a status hearing scheduled for 23 September when the judge, prosecution and defence team will discuss the charges laid against him.
Continue reading for free
We hope you're enjoying The Week's refreshingly open-minded journalism.
Subscribed to The Week? Register your account with the same email as your subscription.
Sign up to our 10 Things You Need to Know Today newsletter
A free daily digest of the biggest news stories of the day - and the best features from our website