When was cannabis banned in the UK?
As the government announces a review into the use of medicinal marijuana - the length of time other drugs have been illegal may surprise you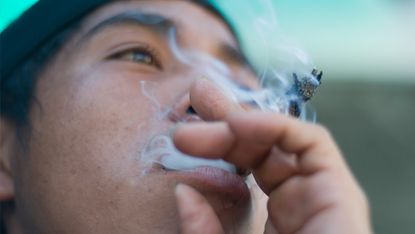 Cannabis could be legalised for medicinal use, Home Secretary Sajid Javid has announced.
Javid said that if a government review concluded the drug had "significant medical benefits" the law would be changed.
Theresa May has been under pressure to review drugs regulations "as children have been denied access to products derived from cannabis which could alleviate life-threatening epileptic seizures", says HuffPost.
Subscribe to The Week
Escape your echo chamber. Get the facts behind the news, plus analysis from multiple perspectives.
SUBSCRIBE & SAVE
Sign up for The Week's Free Newsletters
From our morning news briefing to a weekly Good News Newsletter, get the best of The Week delivered directly to your inbox.
From our morning news briefing to a weekly Good News Newsletter, get the best of The Week delivered directly to your inbox.
The review comes amid growing anger over the case of Billy Caldwell, a severely epileptic 12-year-old whose cannabis oil medication was confiscated by customs officers.
Caldwell was eventually granted a 20-day licence by Javid to be treated with cannabis oil.
The home secretary said Caldwell's case, as well as that of Alfie Dingley (another child with epilepsy who has been given a special licence for cannabis oil), had prompted the review.
But, in an article for The Daily Telegraph, the former Tory leader William Hague went one step further. Calling for the legalisation of cannabis recreationally, he said the war on the drug had been "irreversibly lost" and a change of policy was needed.
By returning the medicine to the Caldwell family, the Home Office had "implicitly conceded that the law has become indefensible", he said.
Licensing cannabis for medical use would be a "step forward", he said, but the Conservatives should be as "bold" as Canada which recently voted to legalise cannabis for recreational use.
A Home Office spokesman stressed that the existing laws on the recreational use of cannabis would not be changed: "Any debate within government about the efficacy and therapeutic use of cannabis-based medicines emphatically does not extend to any review regarding the classification of cannabis and the penalties for the illicit possession, cultivation and trafficking of cannabis will remain the same."
Cannabis was made illegal in the United Kingdom on 28 September 1928 as an addition to the Dangerous Drugs Act of 1920.
However doctors were able to prescribe cannabis for medical use in the UK until 1971 when the Misuse of Drugs Act came into force, creating the Class A, B and C classification system and making even more drugs controlled substances.
Here are the dates of when other drugs were made illegal in the UK:
Heroin – 1920
These days it's easy to forget that Heroin was the trademarked brand name for the drug diacetylmorphine.
It was made in 1898 from the opium poppy extract morphine and acid. The chemist at St. Mary's Hospital Medical School in London, who was responsible for inventing it in 1874, originally abandoned it because it was more potent than the original drug.
Amusingly it was originally, and erroneously, sold as a non-addictive alternative to morphine.
In the UK it was made illegal to possess, distribute, import or export the drug in 1920 unless done so under licence. Opium and morphine were also restricted under the same act.
Heroin was freely available on prescription to registered addicts until 1967. It is still used as a painkiller.
Cocaine – 1920
Derived from the Coca leaf, the drug cocaine was widely available and marketed as a painkilling and stimulating ingredient in drinks and pills at the end of the nineteenth century.
It was an ingredient of the drink Coca-Cola (which still uses de-cocainised leaves in its production) until 1902. Sherlock Holmes famously took it to aid his deductions. Sigmund Freud used it as a painkiller and to treat depression. To this day it is still used medically as a topical local anaesthetic.
It was made illegal except for licensed medical use in 1920.
Cannabis – 1928
Banned in 1928, its medical use was outlawed in 1971. Growing cannabis plants was also made illegal in 1964.
Speed – 1964
Amphetamines were outlawed for non-medical purposes under the Drugs (Prevention of Misuse) Act 1964.
They are still widely used to treat a range of conditions such as obesity, ADHD and narcolepsy.
LSD – 1966
Llysergic acid diethylamide was first created by a Swiss chemist in 1938, although it took another five years for its hallucinogenic effects to be realised.
Rediscovered and popularised during the 1960s hippy counter-culture the drug was banned in the UK as a 1966 addition to the Drugs (Prevention of Misuse) Act 1964.
Medical use was outlawed in 1973.
Ecstasy – 1971
MDMA was another drug accidentally discovered in a European lab – this time Germany in 1912, the by-product of a search for a drug to control bleeding.
It was first outlawed under the Misuse of Drugs Act 1971.
"Crystal" Meth - 1971
Methamphetamine was first formulated in 1887 for use as a stimulant.
Adolf Hitler reportedly began receiving daily injections of the drug in 1942.
Banned from retail chemists since 1967, the drug was also outlawed in 1971, long before Breaking Bad brought it to the attention of UK television audiences.
"Magic" mushrooms – 2005
Controls over psychedelic mushrooms were put in place in 1971 when it became illegal to prepare or dry the psilocybe containing fungi for ingesting. Preparing them made the mushrooms a Class A drug.
However it wasn't until as recently as 2005 that the fresh mushrooms became illegal too and a psychedelic legal loophole was closed.
Khat – 2014
A flowering shrub which was widely chewed as a stimulant by Somali immigrants (it remains legal in Somalia) the plant was banned in June 2014 in response to health concerns.
Legal Highs - 2016
The Psychoactive Substances Act was introduced in May 2016 in a bid to stop high street retail outlets, sometimes known as head shops, selling legal highs.
It made it an offence to manufacture, import, supply or distribute – but not possess – any substance deemed to be psychoactive, with the exception of alcohol, tobacco and certain foods and medicines.
In a 2016 report, the drug information service DrugWise said the act had "achieved its primary purpose".

Continue reading for free
We hope you're enjoying The Week's refreshingly open-minded journalism.
Subscribed to The Week? Register your account with the same email as your subscription.