Rare £5 notes: which ones are the most valuable?
A small handful of the new £5 notes could be worth more than £60,000. Here's how to find the rarest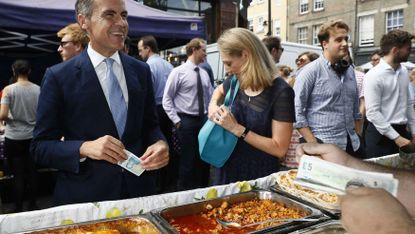 (Image credit: Stefan Wermuth - WPA Pool/Getty Images)
News that four specially engraved Harry Kane £5 notes have entered circulation and are making their way around the UK has piqued the interest of eagle-eyed collectors hoping to net tens of thousands of pounds.
The new polymer £5 notes depicting Britain's wartime leader, Sir Winston Churchill, have now completely replaced the old paper ones as legal tender.
While animal rights supporters condemned the use of animal fat in the new fiver's production, treasure-hunters greeted the new note with cheer. Rare £5 notes featuring low or unusual serial numbers have sold for hundreds of pounds, with some even selling for thousands.
Subscribe to The Week
Escape your echo chamber. Get the facts behind the news, plus analysis from multiple perspectives.
SUBSCRIBE & SAVE
Sign up for The Week's Free Newsletters
From our morning news briefing to a weekly Good News Newsletter, get the best of The Week delivered directly to your inbox.
From our morning news briefing to a weekly Good News Newsletter, get the best of The Week delivered directly to your inbox.
Here's how to tell how if the note in your pocket is worth more than its face value.
Which serial numbers are valuable?
The best fivers are those from the first batch, with serial numbers starting "AA01". The rest of the number should be low to guarantee a high price.
The Bank of England sold more than 100 AA01 notes in a charity auction in October 2016, with a note carrying the serial number AA01 000017, the lowest available to the public, according to auctioneers Spink, going for £4,150, much more than the initial estimated selling price of £800. AA01 000018 and AA01 000019 sold for £2,400 and £2,000 respectively.
A sheet of 60 notes with the range AM01-AM60 followed by the number 428000 sold for £8,500, helping make a total of £194,500 for good causes.
A polymer £5 note with the serial number AA01 444444 sold on eBay for £60,100 after being originally listed for just £1. The crumpled fiver attracted 136 bids from 21 different bidders before going for 12,020 times its face value. The seller, from Telford, Shropshire, offered first class standard delivery for just 64p.
However, an eBay sale does not guarantee the money will be paid. Gareth Wright, from Twickenham, thought he was in for a big windfall when his AK47 note sold on the auction site for £80,100 in 2016.
"Notes with the serial number AK47 are particularly popular thanks to wannabe gangsters and the machine gun connotations," says The Sun.
However, in this case the buyer refused to pay up and Wright was left with no recourse - eBay will record the failure to pay against the buyer's account, but cannot force members to complete transactions.
A more realistic price for a rare fiver might be around £200, says the Daily Mirror, which is still 40 times the note's face value. One collector sold a set of three sequentially numbered £5 notes with low serial numbers for £456, adds the paper.
Other rare serial numbers attracting high bids have begun with AB and AC.
The Jane Austen notes
In a giveaway compared to Willie Wonka's golden tickets, four rare fivers engraved with tiny portraits of Jane Austen went into circulation when the note was first printed in October 2016.
Micro-artist Graham Short, whose portrait of the Queen engraved on a speck of gold once sold for £100,000, designed the 5mm images of the author, who appears on four notes with consecutive serial numbers: AM32 885551; AM32 885552; AM32 885553, and AM32 885554.
The fivers – which the Daily Mirror says could one day be worth as much as £50,000 – also include quotes from Austen's novels Emma, Pride and Prejudice and Mansfield Park.
The 72-year-old Short spent them in Scotland, Northern Ireland, the Midlands and South Wales in November 2016. So far three have been found.
The fiver in Wales – used to buy a sausage and egg butty at the Square Cafe in Blackwood – was found by an elderly art fan who has given it to her granddaughter as an investment. Staff are said to be kicking themselves for unwittingly giving the valuable find away.
The Scottish note was found inside a Christmas card sent in the Borders. The lucky recipient, who received the fiver from a relative, has decided to frame the note and hang it on the wall as art.
The third fiver was discovered in Northern Ireland. Short told BBC Radio Coventry and Warwickshire: "I went into a small bar called Charlie's Bar and actually that is where I spent it – in there.
"It has just been found a couple of weeks ago. An elderly lady found it. She said 'I don't want my picture in the papers' but she said if it sells for a lot of money it would be better if young children could benefit from it."
For those eagle-eyed fans looking to track down the fourth and final note, The Sun says it was last recorded being spent in Melton Mowbray, meaning "if you play the odds, it looks more likely be found in Leicestershire, the home of Gary Lineker and Gok Wan".
However speculation is rife that a fifth Jane Austen note might be in circulation after the artist was spotted at the Jane Austen Centre in Bath earlier this year.
General manager Paul Crossey told the Bath Chronicle that Short visited the tea room, paid to go into the exhibition and handed his business card to a staff member in the gift shop.
Workers did not realise who he was at first and, by the time they did, they had already given out a lot of change - and potentially a Jane Austen note.
Harry Kane fivers
Eagle-eyed football fans could net themselves as much as £50,000 if they spot a tiny engraving of England's World Cup star Harry Kane.
Micro-engraver Short has turned from literature to sport, etching a 5mm portrait of the Three Lions' captain on to six fivers.
Yahoo News says each engraving was done with a powerful medical microscope, extra fine needles and took six days each.
Short says he works from midnight to 5am to avoid distractions of noise and vibrations from traffic and slows his heartbeat down to 20 beats per minute, helped by swimming up to six miles a day.
The artist said his designs are insured for £50,000 and fans should expect that sum if they were to auction the notes.
Short had originally planned to release 11 special notes into circulation if England made it to the World Cup final, but after Gareth Southgate's side lost in the semi-final to Croatia, those notes were destroyed.
Instead, six bespoke fivers, marking each of Kane's World Cup goals have been released. They carry the engraving: "World Cup Golden Boot Winner 2018" alongside a picture of the striker.
The BBC has reported that one of the notes has gone into circulation in Merthyr Tydfil, Wales.
Short says he spent the note in a shop in Cefn Coed last Wednesday, choosing the town because his father was born in nearby Dowlais.
Short's other personalised fivers were spent in the village of Meriden in the West Midlands, and the Elephant House coffee shop, where JK Rowling wrote parts of Harry Potter, in Edinburgh. A fourth note will be spent in Northern Ireland.
Asked about why he chose those locations, the engraver said he "just liked the magical feeling" of the Edinburgh spot and he picked Meriden because it is in the centre of England, only a few miles from the M40 and M42, "and so that note could travel in any direction".
Short gifted the other two notes to the Football Association and Kane himself.
The James Bond notes
Other lucky eBay sellers to cash in on the new polymer note are those with serial numbers 007. A note with "AK37 007533" sold for £5,000 on 10 December 2016 in Lancashire, and another sold for the same amount in Derby last October with the number "AK37 007012". Both were dubbed "James Bond" notes. However, many other eBay users have tried their luck on the site and had no success.
What happened to the first note printed?
Serial number AA01 000001 was given to the Queen fresh off the press, says the Daily Telegraph. It is not known what she intends to do with it, although as she supposedly never carries cash she is unlikely to spend it. Meanwhile, note AA01 001945 has been donated to the Churchill War Rooms.
Are there any tips for selling a rare £5 note?
Jenny Keefe from MoneySavingExpert says some £5 notes have sold on eBay for mere pence – one note with a starting price of 99p sold for just £3.20.
"If you're selling a rare plastic fiver, always start the auction at least at £5 – you'd be surprised how many have closed for less than that sum," she told The Sun.
"Add in eBay fees and the loss is even bigger. There are so many fivers up for grabs on eBay that I wouldn't set a reserve price, as it might put people off."
Meanwhile, some sellers on eBay are hedging their bets on a big win and putting "buy it now" prices in their tens of thousands on their polymer notes.
eBay has its own list of general tips for successful selling. To maximise profits, make sure you "create listings that are more informative and attractive to buyers", for example, giving your listing a descriptive and searchable name.
Meanwhile, journalist and memorabilia collector David Seideman says that persistence is key when it comes to turning a profit in online auctions. "If an item fails to sell once, twice, or even three times, simply relist it," he writes in Forbes.
Optimising your posting time can also make a difference – Seideman recommends adding new items on weekday evenings, to catch those browsing between returning from work and going to bed, without the distractions of the weekend to pull them away from the computer screen.
How to spot a fake £5 note
Although the new bills are purported to be harder to replicate, reproductions may nonetheless slip by as people continue to get used to the design of the new notes.
Here is a list of ways the Bank of England suggests you try to see if your fiver is genuine:
Check that the image of Elizabeth Tower is gold on the front of the note and silver on the reverse.
Check that the foil patch below the see-through window displays the words "Five" and "Pounds" when you tilt the note at different angles.
Check that the rounded green foil patch on the back of the note not only exists but also contains the word "BLENHEIM".
Check that if looked at under an ultra-violet light, the number "5" appears on the front of the note coloured in a green and red diamond pattern.
Check that the crown appears to be three-dimensional.
Check that there is a see-through window on the note, and that it contains an image of the Queen, encircled by the phrase "£5 Bank of England" twice.
If you're still worried about whether a note is fake, the Bank of England has a free smartphone app you can download for use on iOS or Android devices to help.
Why are the new notes controversial?
Shortly after its release, the new note was criticised for a "grammar blunder", says The Daily Telegraph.
The National Literacy Trust was among those who complained that Winston Churchill's quotation – "I have nothing to offer but blood, toil, tears and sweat" - had been printed without punctuation.
Nevertheless, the bulk of criticism towards the fiver has come from animal rights campaigners after the Bank of England admitted that the polymer contained traces of tallow, an animal fat. The news caused "veggie fury", says The Sun, and a petition was launched to remove it from all currency.
However, officials at the Bank of England declined to withdraw the new fivers or to halt production of the polymer £10 note, which also contains tallow. That note, which features an official portrait of Jane Austen, was already being printed when the row broke out.
Nevertheless, says the Telegraph, the bank has confirmed it will replace animal fat with palm oil for the polymer £20 note.
Are the old five pound notes worth anything?
If you find an old-style £5 note bearing the image of Elizabeth Fry stuffed in your jean pocket, you will no longer be able to spend it. It lost its status of legal tender on 5 May 2017 and is no longer accepted in shops or businesses.
However, its value remains intact - in fact, it "entitles the bearer to the sum of five pounds" forever, says the Bank of England - and can be exchanged for a new polymer note.
"If your bank, building society or Post Office is not willing to accept these notes, they can be exchanged with the Bank of England in London by post or in person," adds the bank.
But before you rush to swap the old notes to the new polymers, it is worth noting they might gain in value. Online antiques dealer The Saleroom says they could even be worth up to 140 times their face value in years to come, reports the Sunday Post.
"Bank notes from 30 years ago are worth so much more now than they were back in the day," adds the paper, with a 1979 note auctioned for £7,000 last year. Even notes from 1990 could be worth between £100 and £150.
What about £5 coins?
Last year, the Royal Mint commissioned a range of Sapphire Jubilee commemorative coins to mark the Queen's 65th year on the throne. The £5 range has the monarch's image in profile on one side and the imperial state crown and its blue sapphire stone on the other, along with an excerpt from a speech she made in 1947: "My whole life, whether it be long or short, shall be devoted to your service."
They can be found on the Royal Mint's website, with prices from £13 for an uncirculated standard coin up to £8,250 for a five-ounce gold proof coin.
However, This is Money warns that modern commemorative coins are not expected to rise in value over time so make better souvenirs than investments.
Those who want to make money on their coin collection will need to invest in truly rare coins, including some minted by mistake.
"The most valuable British coin is the Gold Double Leopard from the reign of Edward III in 1344," says the website. "Only three of these coins are known to exist – two of which are in a museum – and the other sold in 2006 for £460,000."

Continue reading for free
We hope you're enjoying The Week's refreshingly open-minded journalism.
Subscribed to The Week? Register your account with the same email as your subscription.