World Domination According to Philipp Plein
With his growing empire and his debut New York Fashion Week show under his belt, Philipp Plein is a powerhouse who knows what he wants.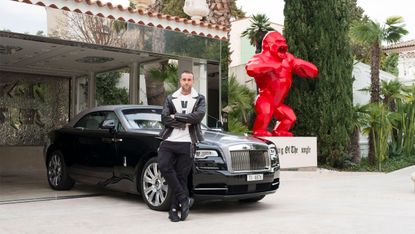 Sign up to our 10 Things You Need to Know Today newsletter
A free daily digest of the biggest news stories of the day - and the best features from our website
Thank you for signing up to TheWeek. You will receive a verification email shortly.
There was a problem. Please refresh the page and try again.
Perched on a hilltop overlooking Cannes' scenic coastline, La Jungle du Roi is the sprawling two-villa estate of fashion tycoon Philipp Plein. The German mastermind chose this name for his home on the French Riviera after seeing its overgrown gardens for the first time. Today, his jungle is anything but unruly, with exotic plants in ornate pots and palm trees dotted around sparkling swimming pools. Pools, like supercars and chandeliers, invariably come in multiples for Plein; here's an individual who doesn't do things by halves.
One such pool features a square stone island on which rests a marble dining table that seats 20 guests and is shielded from the Mediterranean sun by a Romanesque gazebo. A 71⁄2ft, fire-engine red sculpture of a chest-pounding gorilla – the work of French artist Richard Orlinski – presides over Plein's royal jungle and its menagerie, which includes a group of metal Mickey Mouse figurines, a wall covered in white ceramic antlers, two zebra heads mounted on mirrors, and an oversized teddy bear sporting a gingham necktie. Then there's Simba, a stuffed circus lion in predatory pose, the king of the jungle standing proud once more – an obvious allegory for a man who refuses to be tamed. Everything about this environment suggests that Philipp Plein is not your average fashion designer: machismo, exuberance and swagger are what he stands for, and he's not afraid to shout – or roar – about it.
Plein opened his first eponymous store in Monte Carlo in 2009, and today his bold, confident, Swarovski-studded designs are sold in 100 international shops operated as franchises and privately held ventures, and via 500 retail partners around the world. "I entered the industry as an outsider, and I remain an outsider," explains the charismatic founder and creative director of the Philipp Plein brand. He has, in the past, been labelled an arriviste, a showman and a rabble-rouser, but what is certain is that since launching his luxury streetwear label in 2004, Plein, now 38, has become a hard-to-miss phenomenon, and he's only just getting started. Remarkably, the brand is also fully independent and self-funded. "We don't have investors, co-owners or shareholders. We don't even have one dollar loan from the bank," he says. "It makes me very proud, because we managed to create a brand out of nothing, without help from anyone."
Subscribe to The Week
Escape your echo chamber. Get the facts behind the news, plus analysis from multiple perspectives.
SUBSCRIBE & SAVE
Sign up for The Week's Free Newsletters
From our morning news briefing to a weekly Good News Newsletter, get the best of The Week delivered directly to your inbox.
From our morning news briefing to a weekly Good News Newsletter, get the best of The Week delivered directly to your inbox.
Since its inception, the brand has grown stratospherically, reporting more than €200 million in annual sales revenue. Last year, Plein acquired a majority stake in Billionaire, the fashion line created by former Renault F1 boss Flavio Briatore, and at Milan Men's Fashion Week this January he unveiled his eagerly awaited high-end sportswear label, Plein Sport. His take on brand expansion is high-octane, to say the least.
"I was not born rich. I never had the money from home which would have allowed me to do this, " says Plein in his heavy German tones. The designer speaks perfect English, but occasionally throws in snatches of his mother tongue to expressive effect. "The reason why we are here and doing what we are doing is because we are performing in the market; we are selling. The secret is, there is no secret."
While Plein is quick to point to his humble beginnings, he makes no bones about the extent of his wealth today. His other properties include a six-storey townhouse on New York's Upper East Side, and a Bel Air mansion with a 8,700sq-ft estate, once owned by maverick businessman Howard Hughes. The company's HQ is an imposing glass-fronted building in Lugano, Switzerland, not far from the Italian border. There are also showrooms in Milan, New York and Hong Kong.
Plein spends several months of the year at La Jungle du Roi, where he is joined by his design team, who hop between Cannes and his new studio and showroom in Milan. Team Plein then go into bunker mode, albeit a first-class one – they are looked after by a legion of hired helpers, including housekeepers, a private chef and a driver. "All this is a campus. [The team] come here and they don't go out," he explains, only half in jest. "They eat here, they have the gym here, the pool, the cinema. We have everything here that we need to survive."
His team are involved in all aspects of the brand. Collections start with internal meetings, during which all members – from interns to senior designers – present research findings for the many product categories, from leather biker jackets adorned "their Horizont [horizons]," he says.
"For them, it should be a pleasure to work on different projects." Plein didn't study fashion design, but has an innate understanding of his product and his customer. "I was not planning to enter the fashion industry," he admits. "When I was young, I didn't have any idea of what I would become."
Born in Munich in 1978, Plein was raised by his mother and heart-surgeon father. As a teenager, he attended Schule Schloss Salem, an elite Swiss boarding school and alma mater of Prince Philip, Duke of Edinburgh. While this may hint at a privileged upbringing, Plein blazed his own trail to success, albeit unconventionally. Having read an article about the strength of the pet market in times of economic downturn, he created his own range of stainless-steel dog beds. Today, this story sounds like mere urban myth, but it was Plein's leftfield career decision that led him to his first pot of gold. These dog beds were not your average soft-cushioned affairs; they were high-luxe mini sofas that took their lead (pardon the pun) from the classic furniture designs of Le Corbusier and Mies van der Rohe. They were an instant hit, which led Plein to quit his law degree in 1998 and put his energies into presenting his work at interior design fairs. By the age of 23, he'd made his first million. "If you sell furniture, you can sell everything!" Plein says of his first venture. "It's the best school for selling."
Emboldened by success, he expanded his portfolio to include more elaborate home designs, such as metal tables upholstered in mock-croc leather in various colours. Then, when Plein upcycled German army surplus parkas with Swarovski crystals for use as props on stainless-steel clothes rails at trade fairs, the jackets proved so popular that they became the best-selling foundations of his fashion empire.
Tanned, tattooed and chiselled – he schedules regular cardio workouts in between meetings – Plein is the poster boy for his brand. He wears the clothes, lives the lifestyle, and dates the supermodel. "You can call me the niche market man," he says, a pair of next season's Plein Sport trainers on his feet. He gestures to my plain cashmere crew-neck jumper to illustrate his point: "If you launch a new fashion brand, nobody knows you. One way to sell cashmere in this market is to sell it cheap – but we don't want to sell it cheap! We want to position ourselves in the luxury market. So if I take this sweater and write on it 'F*** You All' in Swarovski [crystals], I could sell it for £3,000. Why? Because I don't have any competition."
Focusing on this 'niche market' has proved profitable for Plein, though his bold, confident aesthetic was always certain to ruffle feathers among the fashion establishment. Whereas long-standing heritage brands champion subtle elegance, Plein – with his rhinestones, flesh-baring rips, oodles of fur, and jewel-encrusted skulls – is courting a wealthy crowd who aren't afraid to stand out. Plein acknowledges he's the black sheep of the fashion industry and, if anything, revels in a sense of one-upmanship: "There were people in the beginning who never believed in [my label]. They were laughing about it or even speaking bad about it, because they didn't understand it or want to understand it," he says, adding more introspectively, "I found that very sad in a way. We were trying something that only a few people have tried before: to create a brand out of nothing in a very difficult environment."
In a bid to conquer the US market, Plein is preparing for his first New York Fashion Week presentation at the time of this interview. "The shows are made mainly for the client," he explains. "We do such a big production to let people be part of the concept, the idea and the brand."
While Plein's shows are now the hottest ticket on the Milan Fashion Week schedule, this wasn't always the case. His debut in 2010 was given the event's last – and most unpopular – slot, such was the disdain of the Camera Nazionale della Moda Italia, the governing body of the country's fashion industry. Now, throngs of VIPs and celebrities flock to his shows, which are more like a Las Vegas spectacle than a catwalk parade. For spring/summer 2015, he built a man-made lake as a runway, with models arriving on jet skis. For SS16, monster trucks rolled over the carcasses of old cars to open the show. Grace Jones, Fergie and rapper Theophilus London have all performed at his shows. The louder and more raucous the idea, the better.
Even his store openings are unlike any other. When he unveiled his new 420sq-m boutique in London's New Bond Street last year, there were more VIP guests (dressed in his designs) than journalists; shoppers happily queued to try on pieces from his new collection, and waiters handed out flutes of Champlein, his signature mix of Red Bull and Champagne. Plein himself doesn't drink, but he sure knows how to throw a party and create a buzz about his designs. "We're selling emotions," says the designer-come-master-of-ceremonies. "The whole industry has the aim to sell dreams, because it's not really about fashion any more; fashion you can find everywhere nowadays."
Plein has no plans to slow down any time soon. During one of his frequent plane journeys, he happened across an issue of Fortune magazine, which listed Nike and Adidas as the most powerful fashion brands operating today. The shrewd businessman had an epiphany; he saw a golden opportunity to create high-luxe sportswear intended for the gym. Less of a fashion proposition, Plein Sport moves away from the Swarovski embellishments and skull motifs, focusing on fabric and technological innovations while still channelling his signature loud-and-proud aesthetic thanks to oversized slogans, large type and, of course, lashings of silver and gold. The first Plein Sport boutiques in Berlin, Paris, Amsterdam and Milan were modelled on luxury fitness clubs, replete with embossed crocodile-leather punch bags. In Plein's world, breaking out in a sweat is stlll about keeping up appearances.
In spring 2016, Plein added a third branch to his ever-growing empire by purchasing a majority stake in luxury menswear label Billionaire. The first show for the relaunched brand had as its centrepiece a helicopter painted gold, and featured older models, all over 50, dressed as fantasy Texan oil tycoons kitted out in the finest Italian suits, Stetsons, silk neckerchiefs and even fur coats. It was, for want of a better expression, hardcore machismo served on a bed of rich extravagance. "When you hear Billionaire, what do you think? What do you expect? " Plein asks. "You don't expect healthy juices or tofu dishes. You think about caviar; you think about champagne. So this is what the brand is. This is the name, and the name gives the direction."
Plein tells it like it is – a refreshingly honest approach considering he's still seen by some as the industry misfit who just happened to strike it rich. "I don't believe in luck, I believe in hustle," he says, sinking lower into his couch, like an monarch surveying his kingdom. And from Plein's vantage point in this millionaire's jungle, looking out across the coastline of the Côte d'Azur, it's all his for the taking.
Continue reading for free
We hope you're enjoying The Week's refreshingly open-minded journalism.
Subscribed to The Week? Register your account with the same email as your subscription.
Sign up to our 10 Things You Need to Know Today newsletter
A free daily digest of the biggest news stories of the day - and the best features from our website