How to keep fit while travelling
Zeamo CEO Paul O'Reilly-Hyland explains how to stay in shape while abroad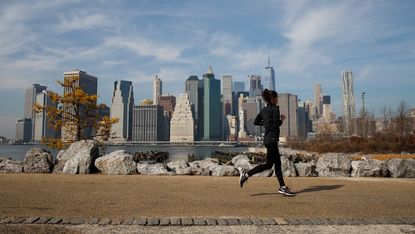 (Image credit: 2017 Getty Images)
Exercise is habit-forming – wake up, stretch, make your way to the gym. However, it's not so easy for those of us who travel frequently to maintain a routine. On any given week, regular travelers might start in New York but finish the day in Munich.
Despite the world becoming more connected than ever before, fitness facilities are highly localised. Every country has its own trusted and popular chains. Fly to Boston, you'll see Boston Sports Clubs. In San Francisco it's Fitness SF. In Berlin, Fitness First is everywhere. How would travelers even begin to parse through the myriad of options?
It's also disheartening to arrive to a hotel and discover that the gym lacks equipment and is tucked away in the basement. You might have the intention to break a sweat during your stay but now that underwhelming facility has left you feeling unmotivated to do any exercise at all.
Subscribe to The Week
Escape your echo chamber. Get the facts behind the news, plus analysis from multiple perspectives.
SUBSCRIBE & SAVE
Sign up for The Week's Free Newsletters
From our morning news briefing to a weekly Good News Newsletter, get the best of The Week delivered directly to your inbox.
From our morning news briefing to a weekly Good News Newsletter, get the best of The Week delivered directly to your inbox.
It's no wonder people who travel easily put on weight. Not only do you eat more with business dinners and airplane meals but your body is completely out of sync. Our internal circadian rhythms and sleep schedules are all over the place which makes us more susceptible to burnout. When we are travelling for work, our employers often expect more from us than ever. Sadly, this pressure to perform can come at the expense of our own personal health.
Set a goal
To keep on top of your fitness while traversing the world, I think it helps to set personal goals and commitments. For some, this might be taking part in a marathon or a 10km race. Naturally, signing up for an actual physical event will keep you engaged with your training for these milestones.
For me, consistently working towards triathlons has become both my mental and physical outlet while on the road. It has made me more disciplined and setting such an ambitious personal goal ensures I can't slack off no matter where in the world I am.
Sleep
First things first, I advise getting a good night's sleep. It can be difficult to motivate yourself to exercise on any given day, yet alone after flights and multiple business meetings. Getting sufficient shut eye will keep your batteries charged.
Before getting on the plane, I will set my watch to the time at the destination I'm flying to. I always like to pack a small kit containing ear plugs, an eye mask, comfortable socks, and a toothbrush and paste. Anything I can do to help me arrive at the destination feeling fresh. I'll eat very little on the plane, too. That way I can train my body to eat in sync with the mealtimes when I land. I always recommend trying to stay awake until a reasonable bedtime in your destination to ease your body clock into local time. If you can't sleep, I find taking some melatonin supplements will help you drift off.
Pack training gear
As keeping fit is an integral part of my lifestyle, I pack light and always include my favorite training gear. Swimming trunks, running shorts, headphones, and the excellent Nokia HR Steel smartwatch to track my workouts. A lot of people opt for Apple watches or FitBits, but I like the Nokia as the battery life lasts an age. A new discovery of late has been the All Birds trainers. They're made from superfine merino wool, are very comfortable, and you can put them in the washing machine after use.
Run
Going on an outdoor run is a fantastic way to familiarise yourself with a new setting. Check the weather app to find out when sunset and sunrise is, as you don't want to find yourself suddenly running in an unfamiliar or unsafe area in the dark. To find popular running routes, runkeeper.com and mapmyrun.com are great resources.
If you're not much of a runner, you could complete a quick HIIT circuit or yoga routine from the comfort of your hotel room. Even if you only have twenty minutes to spare, a quick session to get the blood pumping and endorphins flowing is better than nothing at all. You could even pack a skipping rope or resistance bands to help supercharge this mini workout, but really all you need is your bodyweight and your phone's timer to feel you've accomplished something.
Eat sensibly
Another thing to watch out for when on the go is overeating, which can leave you feeling lethargic, sluggish, and hinder any workouts you do have planned. For this reason, I like to get my workout in early as it not only gives me more energy, but helps me make better food choices. At the hotel breakfast buffet, I opt for a light and balanced meal with adequate carbohydrates, protein, and fat. A typical meal for me would be lots of fruit with some yogurt and granola. Hydration is so key, and I rely on Centrum Multivitamins to keep me in top health too. I also like to try coordinate business dinners to start early in the evening and I aim to have a caffeine-free herbal tea after the meal. This stops me going to bed feeling super full, and ensures adequate rest before the cycle starts again.
Find a gym
Finding the time and energy to exercise is often the hardest part. That's where the inspiration for Zeamo came from. We strive to bring you state of the art fitness centres and gyms around the globe and ensure you can workout on your own schedule, with no-commitment necessary. The rest is up to you.
Paul O'Reilly-Hyland is the CEO of Zeamo, the app that gives you instant access to gyms all around the world. For more visit zeamo.com

Continue reading for free
We hope you're enjoying The Week's refreshingly open-minded journalism.
Subscribed to The Week? Register your account with the same email as your subscription.