Shark attack: Will Self goes for 'mediocre' George Orwell
Self, a notorious purveyor of obtuse English, attacks the master of clarity for – yes – his clarity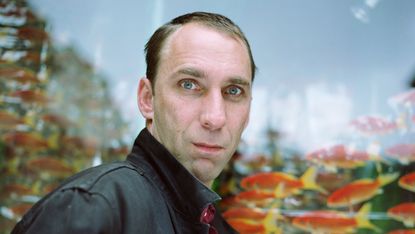 (Image credit: Ulf Andersen/Getty Images)
Few things so stir the juices as an old-fashioned, drag-them-out and knock-them-down literary spat. Usually the antagonists are alive and well, sniping from columns in the periodicals or forming cabals of fellow scribblers in their cosy watering holes. What makes the latest spat especially gripping is that one participant is long dead. That, however, appears to be doing little to lessen the heat of the debate.
I had just read a phrase George Orwell wrote about public schools which to my mind hit the nail on the head, "Five years in a lukewarm bath of snobbery" (Orwell had been commenting on the lifelong Eton-fixation of his schoolboy contemporary, Cyril Connolly), when my journalist son, Tom, dropped by.
Had I, he asked, spotted the controversy that had just hit the Twittersphere, an attack (broadcast on Radio Four over the weekend) on George Orwell as the "supreme literary mediocrity" by the writer, Will Self? I scurried to iPlayer and listened to a ten-minute diatribe. It was jaw-dropping stuff. Self, a notorious purveyor of obtuse and orotund English, had attacked the master of clarity for – yes – his clarity.
Subscribe to The Week
Escape your echo chamber. Get the facts behind the news, plus analysis from multiple perspectives.
SUBSCRIBE & SAVE
Sign up for The Week's Free Newsletters
From our morning news briefing to a weekly Good News Newsletter, get the best of The Week delivered directly to your inbox.
From our morning news briefing to a weekly Good News Newsletter, get the best of The Week delivered directly to your inbox.
Most journalists – I am no exception – whistle up an Orwell quotation too readily to support all and any arguments. Today Orwell is probably more frequently invoked than is the Bible. But there is a reason: Orwell (born Eric Blair, as he was when he shared prep school and Eton with Connolly) wrote common sense in a language that his readers – dismissed by Self as 'small c' conservatives – might easily absorb.
Nothing is more important. Consider the obfuscation of much political, commercial and legal English. Some of it is intentional, designed to keep the outsider confused (and making it necessary to pay large sums to professionals for interpretation), but much is just the muddled outpouring of unclear minds.
One point that Self makes – though why this should be a criticism of the long-dead Orwell I am not sure – is that English, now that it is spoken by all the world, is an evolving language and that, therefore, stuffy old rules of grammar and syntax are as dead as Latin.
All living language must change, and no language has ever been as alive as English is today. But Orwell would have adapted: it was scarcely his fault that he was carried off at the too-young age of 46 in 1950 before the linguistic melting pot began to bubble with the diverse input of a global community of English speakers and writers.
Orwell argued that clear language is the foundation of clear thinking. Read an advertising flyer, a town hall circular or a political manifesto and consider whether you can understand what the writer is trying to say. What is comprehensible in Leeds or Bristol may not be understood in Liverpool or Glasgow. But it remains essential to learn the rules – and (when addressing a diverse audience) to apply them.
An avant-garde painter should be able to draw accurately before spreading idiosyncratic wings; even a sports genius – a law unto himself, perhaps, in his pomp – must have mastered the basics of his game on the way to the international arena. So all who wish to communicate in English must master accurately its rules.
Good English is like a plate glass window. The reader/listener should be able to see, hear and understand clearly the thoughts that lie beyond. Read a characteristic Will Self novel or column and judge whether you are looking through a clear window or peering – probably with a dictionary at your elbow – through a glass darkly. 'Fulguration' and 'lucubrations' are two of the words used by Self in his diatribe.
[I went scurrying to my dictionary: 'fulguration' is a literary term for a flash, as of lightning; while a lucubration is "a learned or pedantic piece of writing". Well Self chose it!]
Benjamin Disraeli said memorably of a notional "sophistical rhetorician" that he was "inebriated with the exuberance of his own verbosity". It is an unsurpassed phrase and it pops unbidden into my head when I struggle with Self's prose.
The spat has gone viral. Not all the combatants are as pro-Orwell as one might imagine. There is now something of 'Saint George' about Orwell – inevitably 'Saint' is a jibe that Self finds irresistible – but that is scarcely Orwell's fault. When he died, he left a warning that language would – in the form of 'Newspeak' – be employed by totalitarian regimes to limit thought.
Before my son left, he reminded me that Self has just published a novel, Shark. Might it be that the canny pedlar of long words wanted to alert the novel-buying public to his latest literary creation and its oh-so-clever author? Just could be, we both agreed, before hurrying to Twitter to read the latest outburst by an Orwell fan.

Continue reading for free
We hope you're enjoying The Week's refreshingly open-minded journalism.
Subscribed to The Week? Register your account with the same email as your subscription.