The surprisingly morbid origins of Peter Pan
Those who grew up loving the Disney animated classic might be surprised by how much the "boy who never grew up" has changed along the way.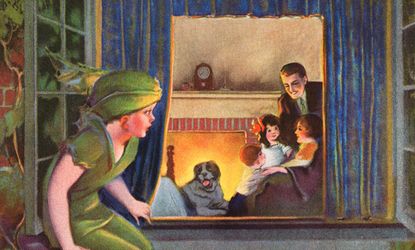 (Image credit: (Blue Lantern Studio/Corbis))
It's been more than 100 years since Peter Pan made his debut, but he's never been more popular — or more difficult to pin down. The first trailer for Pan, a star-studded Peter Pan prequel, debuted in November. He played a major role as a villain in ABC's Once Upon a Time. Jake and the Neverland Pirates, a cartoon spin-off of the 1953 Disney film, has been showing up on TV since 2011. And tonight, you can tune in to NBC for the holiday event Peter Pan Live! starring Allison Williams as Pan and Christopher Walken as Captain Hook.
The most notable thing about all these adaptations is how different they are from one another. When it comes to your average adaptation, changes are inevitable — particularly when you're working in different formats, like film, TV, or theater. Peter Pan is no different, but those who think they know his story might be surprised just how much he's changed along the way.
Peter Pan originally debuted as an infant in The Little White Bird, a novel written by J.M. Barrie for adults in 1902. Though he's only prominent in a few chapters, the book's popularity — due, in part, to readers' attachment to Pan — led Barrie to write the 1904 play Peter Pan, or the Boy Who Wouldn't Grow Up. (Barrie eventually adapted his play into another, better-known novel: Peter Pan and Wendy.) The play was the first to introduce audiences to characters such as Captain Hook, Wendy, and Tinkerbell, and to a fleshed-out version of Neverland.
Subscribe to The Week
Escape your echo chamber. Get the facts behind the news, plus analysis from multiple perspectives.
SUBSCRIBE & SAVE
Sign up for The Week's Free Newsletters
From our morning news briefing to a weekly Good News Newsletter, get the best of The Week delivered directly to your inbox.
From our morning news briefing to a weekly Good News Newsletter, get the best of The Week delivered directly to your inbox.
But despite these familiar trappings, Barrie's version of Peter Pan is quite darker than the character audiences know and love today. Barrie's original draft depicts Pan as a villain, kidnapping children from their beds; Captain Hook was only added later, as a theatrical device to distract the audience while stagehands changed the scenery. "To die would be an awfully big adventure," says Peter Pan in one of the novel's most famous lines — a sentiment, coming from a child, that's both courageous and ghoulish.
How did we go from that grim version to the cheery Disney version most remember? I reached out to a pair of experts: Dr. Lester D. Friedman and Dr. Allison Kavey, professors and co-editors of a 2008 book about the cultural history of Peter Pan called Second Star to the Right: Peter Pan in the Popular Imagination. Both have developed unique takes on the story's darker edges. Friedman interprets the story's hungry crocodile as time, and Captain Hook as death — two forces that the never-aging Peter Pan is obsessed with avoiding. Kavey's interpretation goes all the way back to The Little White Bird, in which, she argues, Pan escapes aging only because he's already dead. "There is the sense that Neverland is the place that sick children go in their minds. But some never get to come home," she says.
But Barrie's Peter Pan isn't entirely different from the character popularized by Disney. The darkness of Barrie's Peter Pan is tempered by an equally important quality: his childishness. "The Peter in The Little White Bird and Peter and Wendy is among the most honest depictions of a literary child I think I have ever read," says Kavey. "He is selfish, devoted to his own entertainment, and except in battle scenes, incapable of taking care of himself. He also loves like a child, without thought to the effect his love has or what it will mean if he forgets for a while."
It's no surprise that Walt Disney excised some of Barrie's more sinister traits — but in making the character a young teen instead of an infant, Disney synched him up with the cultural standards of the time. Disney's Peter Pan is well in line with the expectations for an American child in the 1950s: resourceful, spunky. As the decades have passed, similar changes have kept him similarly relevant. Most recently he has become an adult symbol of eternal childhood, an appeal to the inner child who never truly goes away.
To be a kid again — to not have to worry about the obligations and responsibilities of adulthood — is something everyone struggles with, and Peter Pan offers an appealing escape. The character may have strayed a bit from his bleak origins, but as long as people keep reinventing him, he's not going anywhere.

Continue reading for free
We hope you're enjoying The Week's refreshingly open-minded journalism.
Subscribed to The Week? Register your account with the same email as your subscription.