The best way to get motivated, according to science
It's story time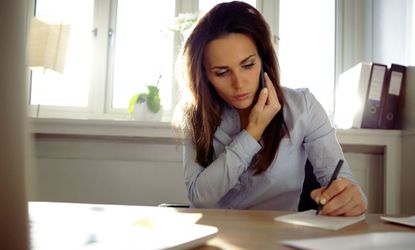 (Image credit: (iStock))
I don't want to write this. I want to go back to bed and sleep for a month.
How do you get motivated when you just don't feel it?
It ain't money
Subscribe to The Week
Escape your echo chamber. Get the facts behind the news, plus analysis from multiple perspectives.
SUBSCRIBE & SAVE
Sign up for The Week's Free Newsletters
From our morning news briefing to a weekly Good News Newsletter, get the best of The Week delivered directly to your inbox.
From our morning news briefing to a weekly Good News Newsletter, get the best of The Week delivered directly to your inbox.
We usually think of money as the great motivator and, actually, it can be a pretty lousy one. Dan Pink points to a lot of research regarding this in his excellent book Drive: The Surprising Truth About What Motivates Us.
Money is a good motivator only for boring jobs. For activities that require thought, creativity, or problem-solving money competes with (and reduces) our natural motivation.
Rewards just make us more motivated to get rewards. Making money visible during tests leads to more unethical behavior.
Art is better when people aren't paid to create it. And those artists who aren't paid eventually go on to more success.
Via Daniel Pink's very interesting book Drive: The Surprising Truth About What Motivates Us:
The commissioned works were rated as significantly less creative than the non-commissioned works… "Those artists who pursued their painting and sculpture more for the pleasure of the activity itself than for extrinsic rewards have produced art that has been socially recognized as superior," the study said. "It is those who are least motivated to pursue extrinsic rewards who eventually receive them."
You need to feel something
If we're really going to be motivated, we need to feel something. Having a goal in mind or thinking you want something isn't enough.
Chip and Dan Heath say that the emotional mind is key in their book Switch: How to Change Things When Change Is Hard: "Focus on emotions. Knowing something isn't enough to cause change. Make people (or yourself) feel something."
When we don't feel meaning, when what we're doing doesn't have a purpose, motivation goes out the window. Noah Goldstein, author of Yes!: 50 Scientifically Proven Ways to Be Persuasive, reviews a study:
How do we find meaning when there doesn't seem to be any?
Stories
The stories we tell ourselves are what creates the meaning in our lives. Studies have shown that stories are key to the most fundamental parts of our lives:
Stories are so powerful they can fulfill our need for belonging when we are lonely. Fiction actually makes us into nicer, kinder people.
Reflecting on yourself and how you see yourself creates an almost immediate change in behavior. Merely looking into a mirror can cause this to happen.
From Willpower: Rediscovering the Greatest Human Strength:
And:
What's even more interesting is the truth may not matter.
Feeling that you know yourself creates a strong sense of meaning in life — whether or not you actually know yourself doesn't make a difference.
Progress
What motivates us more than anything else? Progress.
I believe this is what makes the stories come to life. It's what prevents them from just being fiction in our heads. When we see things moving forward, it makes our stories feel real.
And oddly enough, just as the stories don't need to be real, neither does the progress.
In his excellent blog Mind Hacks, Vaughan Bell points out that we don't even need to make real progress — the illusion of progress is enough to light that fire:
And:
This can seem like a real existentialist nightmare: the stories don't need to be real, the progress doesn't need to be real…
But let's not go too far down the philosophical rabbit hole. The strength of this flexibility is that if a story isn't working for us, we can change it to one that does.
Timothy Wilson, author of Redirect: The Surprising New Science of Psychological Change and the excellent Strangers to Ourselves: Discovering the Adaptive Unconscious, talks about how the process of "story-editing" can help us improve our lives:
Ignore the facts for a moment. What's the story you're telling yourself about your life? Is it the best one? Are you making progress in it? If you want to get motivated, it might be time for a change.
More on motivation from Dan Pink here:
Join 135K+ readers. Get a free weekly update via email here.
More from Barking Up The Wrong Tree...

Continue reading for free
We hope you're enjoying The Week's refreshingly open-minded journalism.
Subscribed to The Week? Register your account with the same email as your subscription.