The battle over assisted suicide
A growing number of states are contemplating "death with dignity" laws. What is the experience with such laws thus far?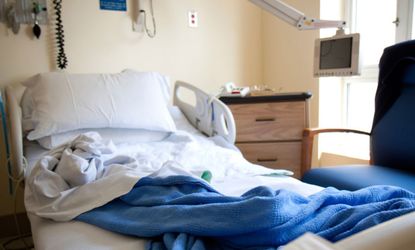 (Image credit: (iStock))
Sign up to our 10 Things You Need to Know Today newsletter
A free daily digest of the biggest news stories of the day - and the best features from our website
Thank you for signing up to TheWeek. You will receive a verification email shortly.
There was a problem. Please refresh the page and try again.
What is a 'death with dignity'?
Advocates of "right to die" laws believe that terminally ill patients facing great suffering and debilitation should have the right to control the timing and circumstances of their deaths. The right-to-die movement gained momentum in the 1980s and '90s primarily as a reaction to the rapid medical and technological advances — including artificial respirators, feeding tubes, and dialysis machines — that were enabling doctors to keep people with cancer, Alzheimer's disease, Lou Gehrig's disease, and other dreadful diseases alive for years and to prolong life beyond what many perceived to be its "natural" boundaries. In 1997, Oregon became the first state to legalize assisted suicide with its "death with dignity" law, approved by a voter referendum. In recent weeks, Brittany Maynard, a 29-year-old newlywed recently found to have terminal brain cancer, has campaigned to extend similar laws to other states. Maynard has said she wants to avoid the final stages of her illness, in which the fast-growing tumor could leave her in great pain, demented, and unable to speak or respond to her family. "I do not want to die," Maynard says. "But I am dying. And I want to die on my own terms." She has said she plans to take a legally prescribed dose of lethal drugs around Nov. 1.
Is there a right to die?
Subscribe to The Week
Escape your echo chamber. Get the facts behind the news, plus analysis from multiple perspectives.
SUBSCRIBE & SAVE
Sign up for The Week's Free Newsletters
From our morning news briefing to a weekly Good News Newsletter, get the best of The Week delivered directly to your inbox.
From our morning news briefing to a weekly Good News Newsletter, get the best of The Week delivered directly to your inbox.
That question is at the heart of a major moral and philosophical debate. Currently, five U.S. states allow doctors to prescribe lethal doses of prescription medications to terminally ill patients who request them. Washington state legalized assisted suicide a decade after Oregon, and lawsuits in Montana (2009) and New Mexico (2013) resulted in court rulings upholding the legality of physician-assisted suicide. Last year, Vermont's legislature passed a law permitting physician-assisted suicide. Seven states are debating similar laws, and the nationwide advocacy group Compassion & Choices has been actively lobbying for a ballot initiative in California, which nearly two-thirds of residents polled said they would support if the election were held today. People "are resolute in their desire to have the option available," says Compassion & Choices President Barbara Coombs Lee.
How about the rest of the world?
European nations in particular are far more accepting of the "right to die." Assisted suicide — in which doctors prescribe lethal drugs but do not administer them — is legal in Switzerland, Germany, and Albania, as well as in Colombia, Japan, and the Canadian province of Quebec. The Netherlands, Belgium, and Luxembourg allow terminally ill patients to be euthanized by a doctor. Many of these countries' death-with-dignity laws do not have the same restrictions as those in the U.S., which require patients to be truly dying and to go through an extensive screening process. Opponents of the death-with-dignity movement in the U.S. point to Europe as an example of where the "slippery slope" might lead. "I used to be a supporter of the Dutch law," said Theo Boer, who reviewed euthanasia deaths for a government committee. But in the Netherlands, Boer said, legalizing euthanasia turned out to be "wrong — terribly wrong.''
Why does he say that?
In the Netherlands, a sick person need not be dying to qualify for euthanasia; he or she need only get two doctors to agree that there is great suffering and no chance of improvement. Last year, Boer says, more than 40 people suffering from depression or other mental illnesses requested and received euthanasia, including a 47-year-old depressed mother of two who said she couldn't continue living with persistent tinnitus, or ringing in her ears. Assisted deaths have grown 15 percent a year since 2008 and may hit 6,000 this year. "Some slopes truly are slippery," Boer said. In Belgium, two congenitally deaf twins chose to be euthanized because they could not bear the prospect of losing their sight. The same doctor who performed that procedure also helped end the life of a 44-year-old transsexual whose sex-change operation had left him looking like a "monster." Belgium recently extended the right to die to incurably ill children. In Switzerland, the organization Dignitas has been so aggressive in promoting assisted suicide that "suicide tourists" are traveling to the country to take their own lives under medical supervision.
Will that happen in the U.S.?
It depends on how laws are written. Death-with-dignity advocates point to the experience in Oregon, where only about 1,170 terminally ill Oregonians — around 70 a year — have obtained a lethal prescription to end their own lives since 1997; only 752 of them actually took the medication. The experience in other states has been very similar. Dick Walters, a retired department store manager who led the campaign to bring a death-with-dignity law to Vermont, said such laws will be used by very few but bring comfort to anyone who fears a prolonged, painful, and debilitating death. Walters was recently given a diagnosis of lung cancer. "I have peace of mind knowing that if some day in the future my suffering becomes intolerable," he says, "I will have choice and control."
Switzerland's suicide tourists
In Europe, "going to Switzerland" has become a euphemism for assisted suicide. As many as 200 people a year are traveling to the country for the sole purpose of ending their lives. The only safeguard in Switzerland's assisted suicide law is that it cannot be carried out for "self gain." But as many as six independent companies operate in and around Zurich providing their mostly foreign customers access to medically assisted suicide. One of the largest, Dignitas, which charges a more than $5,000 "membership fee," does not disclose financial or customer data, but studies have shown that some 21 percent of the 1,000-plus customers who visited its clinics since 1998 did not have a terminal or progressive illness. A recent BBC investigation found that many Dignitas customers were able to travel to Switzerland, see a doctor, and die — all in one day.
Continue reading for free
We hope you're enjoying The Week's refreshingly open-minded journalism.
Subscribed to The Week? Register your account with the same email as your subscription.
Sign up to our 10 Things You Need to Know Today newsletter
A free daily digest of the biggest news stories of the day - and the best features from our website