Christians cannot strategize and argue their way into renewed prominence
The decline of Christianity will be reversed by attraction. The heart moves first, and then the head follows it.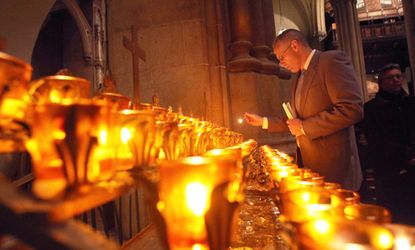 (Image credit: (Mario Tama/Getty Images))
Sign up to our 10 Things You Need to Know Today newsletter
A free daily digest of the biggest news stories of the day - and the best features from our website
Thank you for signing up to TheWeek. You will receive a verification email shortly.
There was a problem. Please refresh the page and try again.
Christian conservatives are preparing for a big and long overdue rethink of their position in our culture, and in America's political life.
Although Pew regularly tells us that about 40 percent of Americans are regular attendees of church services, more accurate surveys show that the actual number is about half that. And it's not just conservatives who fear the wane. Religious liberals also worry about passing on their faith to the next generation.
Court cases like Hobby Lobby, or the clash between bishops and legislators in California over whether Catholic insurance plans must cover abortion, have the faithful worrying that compromises of pluralism will be denied to the religious in the near future, and that a new social orthodoxy is being imposed on them and their institutions. And they're trying to figure out what to do about it.
Subscribe to The Week
Escape your echo chamber. Get the facts behind the news, plus analysis from multiple perspectives.
SUBSCRIBE & SAVE
Sign up for The Week's Free Newsletters
From our morning news briefing to a weekly Good News Newsletter, get the best of The Week delivered directly to your inbox.
From our morning news briefing to a weekly Good News Newsletter, get the best of The Week delivered directly to your inbox.
The magazine First Things recently held an informal conversation among religious thinkers on these themes, according to Rod Dreher of The American Conservative. (Full disclosure: I once worked at The American Conservative.) These thinkers hashed out ideas about their ever-more-tenuous relationship with political conservatism. And they talked about just how they might reach a culture of the unchurched.
Now, First Things and religious conservatives generally have a habit of letting their imaginations go dark under Democratic administrations. During the immediate years after Casey v. Planned Parenthood and the Clinton administration's RICO suits against abortion opponents, First Things wondered aloud about "The End of Democracy." But the differences between the '90s rethink and today's are illustrative. In the 1990s, writers from First Things could believe the problem was a judicial usurpation of democratic politics. They had some faith that the people were with them, and adopted a more insurgent populist tone. Now, the writers and editors know that a growing majority is against them. And they seem ready to settle for being a creative minority, hoping some measure of liberality will apply to them.
Dreher's recounting of the event sounds pretty bleak. And anyone with declinist temptations is ready to believe the worst. It can seem in some cultural battles that today's form of American secularism has grown more confidently anticlerical. And that its bleeding edge is more convinced of the righteousness of its cause. The history of the Church is filled with times where the state or some other movement put pressure on the flock. And these episodes are often confusing and painful for people of faith. Ambitious people apostatize. Families break. Church leaders make bad compromises with worldly authority. It's all disheartening stuff.
One participant summed up the fear of today's situation by saying:
But here's the thing: I'm not sure Christians or religious people generally need a new narrative. And I'm not convinced, as some participants were, that the momentum against us is unstoppable.
The church grows in two ways. The first is biological, through the growth of church-going families. Philip Longman has written extensively about how the seriously religious have higher birthrates than the secular in almost every country, and under almost every form of government. And further, he maintains that the children of serious believers do tend to remain in belief. We may see those low attendance numbers rising soon. Christians from traditional churches may start to resemble Mormons in the way their family formation patterns change: younger and larger.
The second way the church grows is by attraction, not argument. And so, a number of professional arguers at a magazine of ideas may not be the best source for strategies of recovery. In truth, the heart moves first and then the head follows it. Experience tells us that this is so. No man draws up a list of qualities they know a woman possesses and only then decides to fall in love. Instead they fall in love with a woman, and that action of the soul reveals an endless list of qualities in the beloved that may have previously been veiled.
I had many arguments about religion in college, and none of them ended with the person on the other side saying, "Geez, I guess you're right. When can I be baptized?" I often felt defeated and dispirited that something like this never happened. And yet, I've received emails in years since from some of those same people saying that somehow our interactions put them on a path to convert later. I hadn't overpowered their intellect, but perhaps I disarmed a stereotype. Often a person just needs to encounter someone "like them" to open themselves up to a transformation of life.
And so, a little distance from identification with conservative politics will likely help the Church. Most people, including most churchmen, have their moral reasoning shaped within an omnipresent politically charged culture-war debate. The 80 percent of Americans who aren't in church on a given Sunday are very likely to encounter explicitly Christian ideas and voices within a very fractious debate about politics. People who, for whatever reason, don't like conservative politics will extend that distaste to all serious religion if the identification is too strong.
Just think about it. Very few non-religious people would open themselves to religious transformation if the expected result was that they'd be given the twitchy and aggrieved personality of an ideologue. Why, then, should ideologues represent the Church?
Growing by attraction also means that religious life should emphasize beauty. Before he was pope, Joseph Ratzinger said, "The only really effective apologia for Christianity comes down to two arguments, namely, the saints the Church has produced and the art which has grown in her womb." He's right. I've seen beautiful vestments from traditional liturgy stop traffic during processions. An atheist friend recently admitted that Mozart's Ave Verum Corpus almost made him believe in God. It may yet.
And that beauty extends also to the lives Christians cultivate. The saints Ratzinger invokes are not just found at the heads of new religious orders. They can be everywhere. The martyrs of the Middle East are an example that can enliven the Church even in the West. When a principle or movement inspires quixotic-seeming sacrifices, it becomes suddenly alluring. Closer to home, turned into a creative minority, every dinner table in a Christian home can be an imitation of the ancient Hebrew Feast of Booths, where Gentiles gathered in with believers to eat and celebrate.
Modern secularism will energetically test the commitments of Christians in these edge legal cases, and try to reshape prerogatives of Christian institutions. And some people carry it out with the relish of real commissars. But, I suspect a commercial republic like America will find it has very little energy and rationale to impose itself harshly on church people.
Continue reading for free
We hope you're enjoying The Week's refreshingly open-minded journalism.
Subscribed to The Week? Register your account with the same email as your subscription.