The terrifying, isolating reality of life amid the Ebola crisis
"You see people dying like chickens"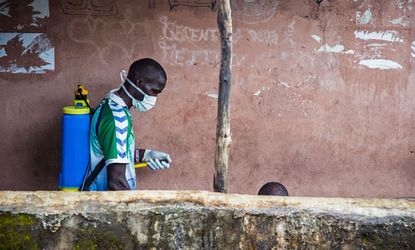 (Image credit: (AP Photo/ Michael Duff))
Kandeh Turay is stuck in Sierra Leone. And because of a deadly, terrifying Ebola outbreak, his home country is a place the HVAC engineer barely recognizes.
The disease has fully consumed daily life, shutting down work, halting day-to-day interactions, and infecting loved ones. In May, Turay's sister died. "She got sick on a Sunday," said Turay's wife, Yvonne Washington-Turay. "Nobody could tell us what she had. Within one week, she was dead. She could very well have had Ebola."
In early August, Turay, 49, was forced to stop construction on a health clinic he is building. Construction had already stalled over the last year because of funding issues, but new quarantine laws, which prevented him from gathering workers, made the situation much worse.
Subscribe to The Week
Escape your echo chamber. Get the facts behind the news, plus analysis from multiple perspectives.
SUBSCRIBE & SAVE
Sign up for The Week's Free Newsletters
From our morning news briefing to a weekly Good News Newsletter, get the best of The Week delivered directly to your inbox.
From our morning news briefing to a weekly Good News Newsletter, get the best of The Week delivered directly to your inbox.
So these days, he spends most of his time alone, reading books, playing his Conga drums, listening to gospel music or soccer matches, and hoping he doesn't get sick. "It's just quiet. No TV. No internet. The only thing we have is the radio," Turay told me during one of several phone conversations arranged by his wife, who lives in Maryland (where Turay also lives much of the year).
If visitors come to the clinic, Turay meets them at the iron gate that marks the property's entrance. "I don't let them in the compound," he said. Fear of Ebola has infected everything — even a clinic meant to heal the sick.
"It's hard for us to run the clinic because of [a lack of] financial support. The second thing is Ebola," he said. It's been months since Turay has received any new medical supplies from the U.S., and that's because of the outbreak.
Turay restricts himself to only a few outings — for necessities or to attend church. And every time he leaves, he wears long sleeves and pants and brings hand sanitizer. "This is the only protection we have now," he said.
Out of the safety of his home, evidence of the disease is everywhere.
"You see people dying like chickens."
Since March 2014, the Ebola virus has whipped through West Africa, killing some 3,000 people in Guinea, Liberia, and Sierra Leone. Roughly 6,000 people have been infected, and the World Health Organization estimates that that number could jump to 20,000 by November.
In the eastern part of Freetown, near the ferry junction, Turay recently saw a man he believes was a victim of Ebola. "I see the guy, lying down there bleeding all over the floor," he said. "They just pushed him in the corner."
Turay now avoids that part of town.
"People are scared. If you go to the hospital now they're going to say you have Ebola. So they just die in the street," he said. Others send their sick loved ones off to the hospital. Sometimes they never return, Turay says.
The cabs that once squeezed in five passengers now carry only three and are forced to stop four or five times at police checkpoints, where officials point a light at people's faces and take their temperature. Banks are only open three hours a day and take a limited number of customers, turning the rest away. "They have to make sure that people sit down not too close to one another. They have single chairs," Turay said.
Banks and most of the grocery stores have chlorine buckets where people can wash their hands. Employees wear plastic gloves. In church, people have stopped hugging and shaking hands.
The Sierra Leone government recently imposed a countrywide shutdown for three days. For those in residential areas, this meant drawing an imaginary 10-yard boundary around their homes
Turay doesn't think that three days of being housebound could possibly break the virus' grip on the country. Sierra Leone is too big, the disease too fast, and the help too small.
"Even the ones who are out telling people about Ebola, three [days] is not enough for them."
But as desperate as the situation is, Turay is not going anywhere anytime soon. He typically splits his time between Sierra Leone and Maryland. But because of the Ebola outbreak, Turay is basically stranded in Sierra Leone. Thanks to new travel restrictions and demands, a ticket to the U.S. suddenly costs nearly $3,000 — roughly twice the usual price, Turay said.
"The plane [ticket] is one thing. How to leave is another," he said.
After the discovery on Tuesday of the first Ebola case diagnosed in the U.S., Turay has other worries.
"I don't know how the U.S. is going to feel about [people] traveling from Sierra Leone and Liberia into the U.S," he said. Still, if he had a ticket he would leave tomorrow. But for now, he said, "I can't go nowhere."
If there is a silver lining to crisis, it's this: Turay said he noticed that people have been kinder to each other.
In the last few months, he said, if a neighbor hasn't seen his car for a few hours, he'll come to check on him.
"Before, everybody's busy. Everybody go their own way. Whatever happens to me [now], my neighbor will come to my rescue."

Continue reading for free
We hope you're enjoying The Week's refreshingly open-minded journalism.
Subscribed to The Week? Register your account with the same email as your subscription.