I took the 'Financial Crisis Tour' in downtown Manhattan. This is what happened.
See the New York Stock Exchange! See the Charging Bull! See the former offices of Lehman Brothers!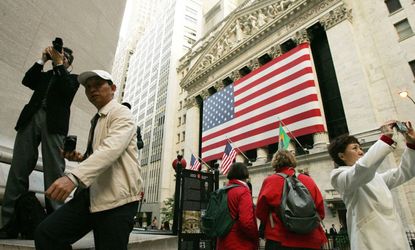 (Image credit: (Mario Tama/Getty Images))
Sign up to our 10 Things You Need to Know Today newsletter
A free daily digest of the biggest news stories of the day - and the best features from our website
Thank you for signing up to TheWeek. You will receive a verification email shortly.
There was a problem. Please refresh the page and try again.
On one mild morning in August, Sanford "Sandy" Wexler stood across the street from the New York Stock Exchange, where he waited for others to arrive. Wexler, short, slim, and middle-aged, wore a blue button-down shirt and beige baseball cap that displayed the words "New York." While in college, he had worked as a messenger picking-up and delivering "buy" and "sell" slips for a brokerage firm located just two blocks away. Later in life, he became a finance reporter and served as a technical advisor on Oliver Stone's 1987 film, Wall Street, ensuring that the jargon during the trading floor scenes sounded realistic.
Today, Wexler's task was to guide me and about a dozen other strangers from places such as Canada, France, the U.K., and Texas around Manhattan's Financial District. We had all signed up for an educational jaunt known as the "Financial Crisis Tour," produced by a company called The Wall Street Experience. Once our group had assembled, Wexler put on a handless microphone and hung a decent-sized speaker from his neck.
Since the New York Stock Exchange closed its visitor's gallery to the public after 9/11, our first stop was Federal Hall, where George Washington became the first president of the United States of America. Once inside, Wexler told us the lobby's large Greek-like white columns represented democracy and the domed ceiling represented economic might. He pointed to two cracks above a door-frame that came into being when the Twin Towers collapsed about half a dozen blocks away. Back on the entrance steps of Federal Hall, Wexler informed us that financier J.P. Morgan bailed out the U.S. government not once, but twice. He opened his binder and pulled out a vintage drawing of a large J.P. Morgan sitting next to a small Uncle Sam in a rowing boat.
Subscribe to The Week
Escape your echo chamber. Get the facts behind the news, plus analysis from multiple perspectives.
SUBSCRIBE & SAVE
Sign up for The Week's Free Newsletters
From our morning news briefing to a weekly Good News Newsletter, get the best of The Week delivered directly to your inbox.
From our morning news briefing to a weekly Good News Newsletter, get the best of The Week delivered directly to your inbox.
We then walked a few yards east down Wall Street to a spot where, in 1920, someone parked a horse-drawn cart full of cast iron and dynamite. The bomb exploded just past noon killing over 30 people and injuring hundreds more. While authorities failed to arrest anyone for the act of terror against capitalism, they suspected a group of anarchists was responsible. Wexler drew our attention to craters of various sizes from the shrapnel still imprinted alongside the limestone façade of the former J.P. Morgan & Co. headquarters.
We continued our stroll past the Trump Building and the Museum of American Finance before entering the lobby of Deutsche Bank. It is here that Wexler began talking about the recent subprime mortgage crisis — the result of collateralized debt obligations, credit default swaps, a fudged ratings system, and a collection of institutions gone astray. Deutsche Bank is a special stop on the Financial Crisis Tour because it's the former employer of Andrew Luan, who quit to start The Wall Street Experience in 2009.
Over the phone, Luan told me he used to trade bonds while sitting in front of Greg Lippmann, a Deutsche Bank trader who anticipated the housing bubble and was featured in Michael Lewis' The Big Short: Inside the Doomsday Machine.
"I think people are intellectually lazy when they say, 'Oh yeah, Wall Street is bad,'" Luan. said "If greed is bad, well, then greed is everywhere. It's not just Wall Street. It's a human characteristic."
When Luan leads the occasional tour group himself, participants sometimes ask if he feels guilty for playing a role in bringing about the recent crash. "It's not a quick answer," he tells me. In other words, there's plenty of blame to go around.
According to a recent study by Makovsky, a public relations firm, Wall Street's tarnished status is leading to a loss in revenue. "This sour climate is here to stay for the foreseeable future," Scott Tangney, an executive vice president of Makovsky, told The New York Times, "because the majority of executives believe it will still take up to five more years to restore their company's reputation to prefinancial crisis levels."
What does Luan think about Wall Street now? "It's a necessary mechanism for allocating capital. The other way of allocating capital — central planning — has failed. Obviously, it's not perfect, but it's the best system we have."
After our stop at Deutsche Bank, Wexler brought us to the former offices of insurance giant AIG. Although the government lent AIG tons of money after they lost it in the financial fiasco, Wexler, who has to pause his monologue a couple of times while loud delivery trucks pass by, was quick to tell us AIG has since paid it all back — plus interest.
Then came the former offices of Lehman Brothers and Goldman Sachs. At one point, a man in our group asked Wexler if General Motors' bankruptcy was bigger, money-wise, than Lehman's. Wexler told him it wasn't.
Later, a woman asked Wexler why he always waits at a crosswalk for the signal to indicate that it's safe to walk even when no traffic is around — a rare choice for a native New Yorker. "Other tour guides cross; I follow all the rules," Wexler said. Moments later he revealed that, as our tour guide, he has to pay the fine for all of us if ticketed, so it's just not worth the risk.
Other notable sights we saw: the Charging Bull (swarmed with people taking pictures of themselves next to the testicles); Trinity Church (very tranquil); and Zuccotti Park (the former home of Occupy Wall Street protestors during the fall of 2011). Our tour ended across the street from the Federal Reserve Bank of New York.
"I think the general person thinks that people on Wall Street make a lot of money, but, really, if you look at all the average people only a very small percentage get those big bonuses," Wexler, who has been giving this tour since 2011, told me as our group started to break apart to head in separate directions. According to him, working on Wall Street during the '70s and '80s was considered kind of boring. Some bond traders even had to take up a second job.
People on this tour sometimes ask Wexler when the next global financial crisis is going to hit, to which he responds, "It's gonna come, but I don't know when, though." Still, Wexler says most tourists he encounters are rather optimistic about what the area represents. Some want a career here.
Indeed, a recent Gallup poll shows that the banking industry has a positive image for the first time since the subprime mortgage crisis hit in 2007.
After most everyone had left, a mother, father, and teenage-looking son from our group lingered with the hope of asking Wexler one final question: What does it mean to short a stock, and how might one do it?
Pacific Standard grapples with the nation's biggest issues by illuminating why we do what we do. For more on the science of society, sign up for its weekly email update or subscribe to its bimonthly print magazine.
More from Pacific Standard...
Continue reading for free
We hope you're enjoying The Week's refreshingly open-minded journalism.
Subscribed to The Week? Register your account with the same email as your subscription.
Sign up to our 10 Things You Need to Know Today newsletter
A free daily digest of the biggest news stories of the day - and the best features from our website