On ISIS, neocons and liberal hawks have a 'boy who cried wolf' problem
For decades, they've argued in favor of almost every politically possible war. And America is sick of it.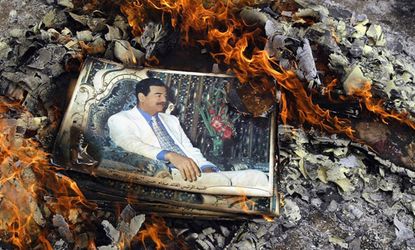 (Image credit: (Chris Hondros/Getty Images))
If you're wondering why America's political leaders seem so hesitant to devise a response to the frightening rise of the Islamic State of Iraq and Syria, let me tell you a story. It's about the neocons and liberal hawks who cried wolf.
Once upon a time, some foreign-policy hands warned that unless the United States invaded Iraq, Islamic radicals — the kind who murdered thousands of Americans on 9/11 — would obtain weapons of mass destruction.
During the hunt for Osama bin Laden, they warned against losing sight of the danger of a possibly nuclear-armed Iraq. "[T]he larger campaign must also go after Saddam Hussein," Gary Schmitt and Tom Donnelly wrote in the Weekly Standard after 9/11. "He might well be implicated in [the 9/11] attacks … or he might not. But as with bin Laden, we have long known that Saddam is our enemy, and that he would strike us as hard as he could."
Subscribe to The Week
Escape your echo chamber. Get the facts behind the news, plus analysis from multiple perspectives.
SUBSCRIBE & SAVE
Sign up for The Week's Free Newsletters
From our morning news briefing to a weekly Good News Newsletter, get the best of The Week delivered directly to your inbox.
From our morning news briefing to a weekly Good News Newsletter, get the best of The Week delivered directly to your inbox.
Invading Iraq would not only prevent these weapons from falling into the terrorists' hands, the war hawks claimed. It would also result in the creation of a democracy whose people would greet us as liberators and whose government would become a reliable ally in the war on terror.
The Iraq War would drain the swamp of terrorists. It would light a fire in the minds of men. It would create a democratic domino effect throughout the region.
Obviously, most of this fairy tale proved to be utterly false. It now seems plain that the results of the Iraq War were almost precisely the opposite of what its most ardent supporters promised.
In a frightened country searching for ways to prevent more terrorist attacks on American soil, many people who weren't neoconservatives initially supported the Iraq War. This includes the vast majority of generic Republicans. And liberal hawks were with the neocons almost every step of the way. President Clinton signed legislation essentially endorsing the goal of regime change in Iraq way back in 1998. But no movement issued more dire warnings about Iraq's capabilities or had more expansive goals for what a war would achieve than the neoconservatives. And relatively few of them have subsequently offered a mea culpa as complete as David Frum's.
"The United States overestimated the threat from Saddam Hussein in 2003," Frum wrote earlier this year. "Without an active nuclear-weapons program, he was not a danger beyond his immediate vicinity. That war cost this country dearly."
So why does any of this matter now? With ISIS on the rampage, parts of Iraq actually are beginning to look like what the neocons warned us about before the Iraq War: American-beheading jihadists conquering territory, imposing sharia law, and gaining access to government-grade resources.
An even semifunctional ISIS in the region could create a terrorist safe haven more menacing than Afghanistan before the U.S. invasion.
Polls show little appetite for American involvement in Iraq beyond limited airstrikes. Much of this has to do with the mistakes of the past. Yet the Iraq hawks of old still barely acknowledge the role their disastrous war played in unleashing old religious and ethnic hatreds, preferring to put the blame solely on President Obama's withdrawal of U.S. combat troops.
And there is the bluster of the present. Many seem hell-bent on using an ISIS intervention as an opportunity to fight Syria or Iran, in some cases making that a greater priority than containing or crushing ISIS.
Now, I'm not persuaded deeper U.S. military involvement in the Middle East is wise. It's probably in America's interest to let the regional players fight it out 6,000 miles away, with Americans playing a more humanitarian role in accordance with the Pottery Barn rule.
But it is easy to envision the facts on the ground changing, and ISIS metastasizing into a much graver threat. In a region filled with bad actors, they are most closely related to the forces that brought down the twin towers and murdered our countrymen over a decade ago.
At that point, reflexive hawks who have spent decades advocating nearly every politically possible war, who seem to see military force as the first resort, and who have labeled every tin-pot dictator another Hitler, will complicate the debate over what to do next.
The moral of the story is familiar: If you cry wolf constantly, nobody believes you when the wolf finally comes.

Continue reading for free
We hope you're enjoying The Week's refreshingly open-minded journalism.
Subscribed to The Week? Register your account with the same email as your subscription.