What Iraq's chaos tells us about Afghanistan's coming spiral of drug-fueled violence and despair
Afghanistan is a mess, and we're preparing to declare victory and go home. But if Iraq is any indication, we'll be back — and soon.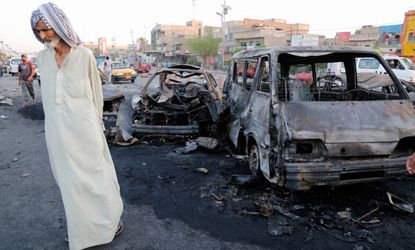 (Image credit: (REUTERS/Wissm al-Okili))
Sign up to our 10 Things You Need to Know Today newsletter
A free daily digest of the biggest news stories of the day - and the best features from our website
Thank you for signing up to TheWeek. You will receive a verification email shortly.
There was a problem. Please refresh the page and try again.
Any discussion of Afghanistan should include three basic questions:
1. What are we doing on the ground to achieve victory?
2. What does victory look like?
Subscribe to The Week
Escape your echo chamber. Get the facts behind the news, plus analysis from multiple perspectives.
SUBSCRIBE & SAVE
Sign up for The Week's Free Newsletters
From our morning news briefing to a weekly Good News Newsletter, get the best of The Week delivered directly to your inbox.
From our morning news briefing to a weekly Good News Newsletter, get the best of The Week delivered directly to your inbox.
3. Will that victory last?
Question 3, really, is the linchpin. If our "victory" doesn't last, it's not a victory, and if it's not a victory, we have to reevaluate what we're doing on the ground.
Recent events in Iraq illustrate this. The need for U.S. missile strikes was surprising only to the extent that President Obama has spent quite literally his entire career in public life opposing military action in that country. Accordingly, the strikes were a political surprise but not a strategic one. When the United States withdrew, it was generally understood that the situation on the ground was tenuous at best, and that the Iraqi Army was only slightly more intimidating than a den of Cub Scouts presented with their first pocketknives. The White House seemed to define our action on the ground as "packing bags," victory as "leaving," and its durability as "hopefully." Enter the ISIS and the now semipermanent bombing campaign underway.
Sadly, our failure and subsequent return to Iraq look like Hannibal at Cannae when compared with Afghanistan today.
Consider recent findings by John Sopko, the special inspector general for Afghanistan reconstruction (SIGAR). For most of the war, Kandahar province has been one of the most violent areas in the country. It was the last city to fall during the liberation, and the Taliban still remains a threat in the area. As such, when the post-American insurgency begins, it will begin in Kandahar. So it is imperative that the United States leave that particular area secure and with a robust infrastructure. Highly trained Afghan National Security Forces aren't enough to halt an insurgency; we must leave behind a place that the people of Kandahar want to call home, and more importantly, a city that they are willing to defend.
At the most basic level, a city of 750,000 people should have electricity if its residents are to be happy. So consider this quote from last month's report from the SIGAR:
The "bridging solution" involves the U.S.'s fueling existing power plants in the area. As indicated, we will stop such assistance next year, and we have no plan in place to meet the three-year shortfall. You might be tempted to say, "Well, that's the Afghans' problem," and to an extent you would be right. But as the report indicated, the U.S. government considers delivering electricity to be a "top counter-insurgency priority" essential to reassuring Afghans that their government is capable of delivering basic services. Without electricity — a nightmare scenario for such a large city — it will be a recruitment bonanza for insurgents, who can rightfully argue that it's futile to resist Taliban control, as the weak government in place in Kabul can't even keep light bulbs warm, and that if the government does fall, it's better to be on the Taliban's good side when it seizes power. A terrorist haven is very much our problem.
But it gets worse. The narcotics trade basically fuels the Afghan insurgency. Adm. Mike Mullen, former chairman of the Joint Chiefs of Staff, said so. Likewise, narcotics lead to corruption in Afghan government affairs. If we want so starve the insurgency, which seems like a pretty good idea, and want to leave a sound system of government in place, we probably want to end the narcotics trade. Bad news, though. As the SIGAR told Congress last month, Afghanistan is by far the world's biggest supplier of opium poppies, and the U.S. has thus far spent $7.6 billion to stop that. The result? For three years running now, areas supporting opium cultivation in Afghanistan have increased. From 2012 to 2013, there was a 36 percent increase. Worse yet — oh, it gets worse — drug interdiction is falling and set to plummet as we withdraw forces.
So the insurgency has territory and money, but what about legitimacy? It's one thing to be a gang of thugs that kills indiscriminately. But to be an economic force with balanced books and able to make money for the average Afghan? That's legitimacy. It's something that Afghans might point to when the inevitable uprising comes and say, "I'm staying out of this one. If the Taliban returns to power, it might not be so bad. Look what it did for me!" So it's imperative that no legitimacy be given to brokers or businesses friendly to the insurgency. Don't tell that to the U.S. Army, though. We're actually doing business with supporters of the insurgency. And it's been going on for quite some time. According to Sopko:
So we're leaving behind a destabilized Afghanistan whose second-largest-city-slash-terrorist-recruitment-center will be without electricity, its population infuriated at the government in Kabul and the United States for abandoning it. The insurgency has a bottomless pit of drug dollars from which it can actually employ and pay Afghans and fund its nefarious terrorist deeds. And the U.S. Army is turning a blind eye to insurgents. But at least we're not giving the insurgents weapons, right? That would be crazy. If anything, our top priority should be to keep guns out of the hands of the insurgency — guns that will be used to overthrow the government we helped install. Guns that will be used to massacre those who opposed the Taliban since 2001.
As we now know, however, the Afghan National Security Forces — the country's police and military — are extremely bad at record keeping. We're sending them hundreds of thousands of weapons — rifles, pistols, grenade launchers, submachine guns — and they can't keep track of them. In fact, we've already sent them 112,000 weapons too many, and we don't know where they are. And yet still we plan to send them even more weapons. Sopko told Congress, "Given the Afghan government's limited ability to account for or properly dispose of these weapons, there is a real potential for these weapons to fall into the hands of insurgents, which will pose additional risks to U.S. personnel, the ANSF, and Afghan civilians."
If the White House believes any of this will lead to victory — however it is defined — and that such a "victory" will outlast the insurgency, perhaps our leaders should pause, look at Iraq, and consider the needless slaughter of innocents. Then consider the distress among military families now faced with the prospect of loved ones being sent once again to clean up a mess caused by feckless politicians. How long after withdrawing from a "sovereign, stable, and self-reliant" Afghanistan will President Obama wait before ordering missile strikes? How long before he's forced to overtly insert battalions of commandos? (Not counting the black operations forces that never left.) Because if he thinks the genocidal extremists in Iraq are bad, wait until he sees what the militants in Afghanistan are capable of. They were butchering the blameless before the Islamic State of Iraq and Syria was a glimmer in Abu Bakr al-Baghdadi's eye.
Continue reading for free
We hope you're enjoying The Week's refreshingly open-minded journalism.
Subscribed to The Week? Register your account with the same email as your subscription.
Sign up to our 10 Things You Need to Know Today newsletter
A free daily digest of the biggest news stories of the day - and the best features from our website
David W. Brown is coauthor of Deep State (John Wiley & Sons, 2013) and The Command (Wiley, 2012). He is a regular contributor to TheWeek.com, Vox, The Atlantic, and mental_floss. He can be found online here.