Girls on Film: The true cultural legacy of Sex, Lies, and Videotape
Twenty-five years after its release, the film that sparked the indie film boom still has plenty to say about gender dynamics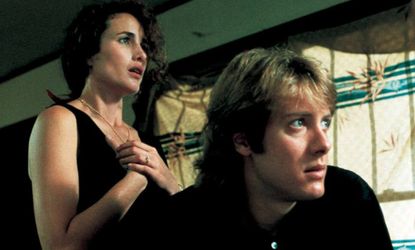 (Image credit: (<a href="https://www.facebook.com/SexLiesAndVideotape/photos_stream">Facebook.com/Sex, Lies, and Videotape</a>))
Sex, Lies, and Videotape — which came out in the United States 25 years ago this week — is a true cinematic anomaly. The breakout success of Steven Soderbergh's modestly budgeted film sparked a massive boom in indie movies, offering a kind of "load-bearing foundation" that could carry "the entire weight of a movement on its mulleted shoulders," as Jessica Kiang put it. The film put Miramax and the Weinsteins on the map, and turned Sundance from a quiet indie film festival into a major Hollywood marketplace. It was even a big box-office hit, and all without offering what its title and marketing provocatively teased: hot, steamy sex.
Today, the film's pithy title is its primary legacy — a turn of phrase that's been totally divorced from its source and used in countless titles, including essays on gender dynamics ("Sex, Lies, and Conversation") and behind-the-scenes looks at the world of wrestling ("Sex, Lies, and Headlocks"). It's also popped up in pretty much any TV show you can imagine, from CSI ("Sex, Lies, and Larvae") to The Spooktacular New Adventures of Casper ("Spook, Lies, and Videotape").
Unfortunately, Sex, Lies, and Videotape's legacy has shifted the focus away from the film itself, which is provocative not for the lurid promise of its title, but for the overlooked gender dynamics that drive its story.
Subscribe to The Week
Escape your echo chamber. Get the facts behind the news, plus analysis from multiple perspectives.
SUBSCRIBE & SAVE
Sign up for The Week's Free Newsletters
From our morning news briefing to a weekly Good News Newsletter, get the best of The Week delivered directly to your inbox.
From our morning news briefing to a weekly Good News Newsletter, get the best of The Week delivered directly to your inbox.
At first glance, Sex, Lies, and Videotape plays in stereotypes. Andie MacDowell is Ann, a prim housewife sexually estranged from her smarmy lawyer husband John (Peter Gallagher), who is cheating on her with her sexually promiscuous younger sister Cynthia (Laura San Giacomo). They are women at odds, circling around a selfish and controlling yuppie in all aspects of their lives, until John's old friend Graham (James Spader) returns after a long absence.
Graham is the quintessential dark stranger who flips the lives around him. He's unconcerned with social niceties and decorum, curiously prying into their lives with voyeuristic fascination. He's impotent, he explains to Ann. It's a quality that appeals to her sexually ambivalent self — until Graham also reveals that his only gratification comes from the dozens of videotapes he collects of women revealing their most intimate sexual thoughts and experiences to his camera. He records them and watches the tapes alone, cut off from the world and the women who have trusted him.
Graham seems to be a voyeur, provocateur, and predator. In his review of the film, Roger Ebert described Graham's videos as "a form of sexual assault; he has power not over their bodies but over their minds, over their secrets." But the truth is a little more complicated than that. While Graham is able to coax trust from countless women, he is ultimately powerless.
Instead, Graham and John are the props that allow Ann and Cynthia to evolve. At first the women seem like extreme stereotypes. They're letting John play with them, and they're easily tantalized by the new and mysterious man who interrupts their lives. But quickly, the power dynamic changes. Graham's interruption of the status quo allows the women to reevaluate the personalities they've chosen.
It's not simply that Ann is sexually ambivalent and Cynthia is sexually adventurous. They are sisters whose personalities each force the other to opposite poles. Ann admits that she retreats from sex because she fears she will become like her sister, which has pushed each to an unnatural extreme. Graham's interest in their inner worlds allows both women to reflect on these habits and start figuring out who they are as people when not reacting to each other, or to the social boundaries of yuppiedom embodied by John.
Graham becomes a means for Ann's self-enlightenment. The camera might record her secrets, but the interest in her thoughts inspires Ann to become powerful and insightful. She starts by revealing herself, but soon turns the tables. She sits above Graham in a position of power, and forces him to interact with her, breaking his facade of control and forcing him to reconsider his problems. "You think they're yours," Ann challenges, "but they're not." In reply, he panics: "This isn't supposed to happen. I've spent nine years structuring my life so this didn't happen." Graham thinks of himself as an independent sexual anthropologist, but by giving Ann a vehicle for expression, she rips his delusion away.
Even in the most masculine moments of Sex, Lies, and Videotape, Graham and John are powerless. They have their own particular techniques to assert their superiority — Graham's seductive curiosity, John's roaring sense of entitlement — and each is easily defeated. Graham is powerless against Ann's questions and John's violence; John tries to be powerful when he assaults Graham and kicks him out to watch Ann's tape. They both push the women to a new understanding of themselves, and suffer the results.
They are categorically not sages who teach women the truth of the female experience. By the time Sex, Lies, and Videotape reaches its happy conclusion, it feels earned and organic. It isn't a fairy-tale ending, but a moment in which two people find a way to break out of their self-imposed monotonies and connect.
That's the film's real story. As Soderbergh once explained in a film commentary, "The video camera just seemed like the best external device to use to show how somebody keeps other people at arm's length."
Today, Graham's camera reads much differently but no less poignantly. Yesterday's vehicle for disconnection is today's method of connection and interaction. We record and share ourselves on a daily basis, revealing our innermost thoughts through pictures, blog posts, tweets, and other media. Sharing has become a method for empowerment. Twenty-five years later, Sex, Lies, and Videotape's Ann isn't just a woman who discovered inner strength — she's the precursor to a world of women who found the benefits (and risks) of baring themselves to a camera.
In the end, that's the true cultural legacy of Sex, Lies, and Videotape. It's no longer provocative to think that a woman might discover herself by interacting with someone she doesn't know. It's normal.
Girls on Film is a weekly column focusing on women and cinema. It can be found at TheWeek.com every Friday morning. And be sure to follow the Girls on Film Twitter feed for additional femme-con.

Continue reading for free
We hope you're enjoying The Week's refreshingly open-minded journalism.
Subscribed to The Week? Register your account with the same email as your subscription.