Why Peter Capaldi has a bigger challenge than any Doctor Who in history
There are more than a few hurdles ahead for the 12th Doctor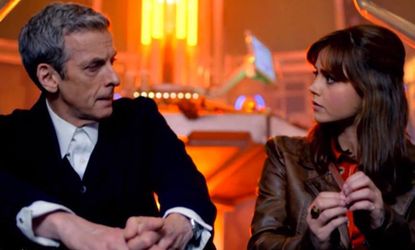 (Image credit: (<a href="https://www.facebook.com/DoctorWho/photos_stream">Facebook.com/Doctor Who</a>))
In just a month, 56-year-old Peter Capaldi will make his formal debut as the 12th actor to play one of Britain's most revered television heroes: Doctor Who.
On paper, Capaldi seems like an unusually safe choice to play the titular role in the long-running series. He's a well-respected actor, best known for playing the potty-mouthed political advisor Malcolm Tucker in the comedy The Thick of It. He is the only Doctor Who star so far to win an Oscar (in 1996, for writing and directing the best short film). He is also a recognizable face from — among many things — Local Hero, The Musketeers, World War Z (as a character listed as the "W.H.O. Doctor"), and Doctor Who, on which he played a different role in 2008. (Showrunner Steven Moffat promises that the Doctor's resemblance to this guy will be explained on the show.)
Doctor Who invites such feverish speculation because its very nature is unpredictable. Apart from certain traits (eccentricity, genius, heroism), the Doctor completely changes his personality each time he "regenerates" into a different actor. Naturally, the rumors have started. Is the new Doctor actually evil? (Probably not.) Is he the Doctor's nemesis, the Master, in disguise? (Again, probably not. The fans have vivid imaginations.) Will there be a crossover with Sherlock, Moffat's other Big Show?
Subscribe to The Week
Escape your echo chamber. Get the facts behind the news, plus analysis from multiple perspectives.
SUBSCRIBE & SAVE
Sign up for The Week's Free Newsletters
From our morning news briefing to a weekly Good News Newsletter, get the best of The Week delivered directly to your inbox.
From our morning news briefing to a weekly Good News Newsletter, get the best of The Week delivered directly to your inbox.
But for all the speculation, one thing seems clear: Capaldi, for all his talent, has a tough job ahead of him. Of all the actors who have played the Doctor over the past 50 years, the only one with a comparably daunting task was Patrick Troughton, the second Doctor, who took over from the original, William Hartnell, in 1966. At the time, the idea of changing the hero into someone with no resemblance and a different personality seemed crazy — and while the concept is now central to Doctor Who's very premise, Capaldi's takeover may not be a smooth one:
1. The expectations are sky-high
Capaldi replaces Matt Smith, some 25 years his junior, who came on the show as a little-known young actor best known in Britain for the ensemble drama series Party Animals. The fans, while still mourning the departure of his predecessor David Tennant, accepted him with an open mind. Capaldi has such a great reputation, however, that everyone already presumes greatness. Anything less will disappoint.
2. His sex appeal is questionable
When Doctor Who began in 1963, it was a kids' series — and though it's commonly described as having lasted 50 years, it was actually axed in 1989. When it was revived in 2005 as a prime-time series, the Doctor had a new trait: sex appeal. The new Doctor was played by the surly (but sexy) Christopher Eccleston, who would be replaced by the handsome Tennant, followed by the adorably goofy Smith. All the while, the series' U.S. popularity has grown — Smith was the first Doctor to make the covers of both TV Guide and Entertainment Weekly — making him a tough act for Capaldi, who's decades older, to follow.
Smith proved that the Doctor is now a sex symbol, and the show's new, younger fans expect that to continue. Smith's Doctor had plenty of sexual tension with his travelling companions, and Capaldi has inherited Clara Oswald, played by 28-year-old Jenna Coleman. As he is twice her age, he might keep it to himself this time.
3. Changes are always controversial
However you look at it, Doctor Who is a long-running series (even if it hasn't gone for 50 years non-stop). The classic series, which lasted 26 years, is by far the longest-running science fiction show in television history. But even the revival has already gone on for nine years — longer than any Star Trek series. When a series lasts that long, it occasionally needs renewal. Moffat has already said that big changes are in store beyond the Doctor's new face. Whatever form these changes will take, it remains to be seen whether the fans and casual viewers will like them.
4. His fate is tied to Steven Moffat
And while we're on the subject: Moffat is controversial among passionate Doctor Who fans. He is perhaps the series' all-time most popular writer (readers of Doctor Who Magazine recently voted that he had written the two best stories of the past 50 years). But since becoming showrunner, he has won a lot of haters, unhappy with the direction the show has taken: deviations from the canon, unconvincing twists, a long record of troubling attitudes toward women. If they are angered by his coming changes, Capaldi might be caught in the crossfire.
5. The curse of Doctor Who looms large
Like Superman, the role of the Doctor seems cursed. The character is so revered that, once an actor takes it on, he will be forever known as "the Doctor." Eccleston only played the role for a single season, afraid of typecasting. Even Paul McGann, a popular and highly sought-after actor well before he did Doctor Who, has been branded for life as "the eighth Doctor" — despite his run being comprised of a series of audio plays and one telemovie!
Here, Capaldi has an advantage: he has already been typecast as The Thick of It's Malcolm Tucker. (Indeed, some fans have joked that he will be "the sweary Doctor.") Doctor Who, in which nobody ever swears, is actually a chance to shake off the shackles of his other iconic role. But even if he can shake off Malcolm Tucker, he might well be typecast all over again.
There are hopeful signs in modern actors who have found new work after Doctor Who. Not every Doctor Who star is so typecast with the role that they are forced into a life of Comic-Con appearances and fan book signings; Tennant's career has been going well since Doctor Who, and Smith is in demand since leaving the role. Like them, Capaldi might ride Doctor Who from fame to superstardom — but he has more than a few hurdles to face first.

Continue reading for free
We hope you're enjoying The Week's refreshingly open-minded journalism.
Subscribed to The Week? Register your account with the same email as your subscription.