Here's why you should be paying attention to France right now
An ultra-nationalist party just humiliated the status quo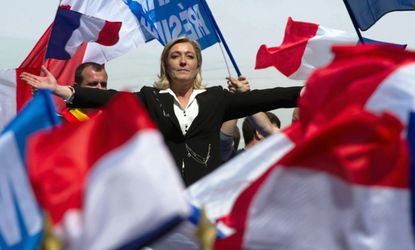 (Image credit: (Pascal Le Segretain/Getty Images))
Sign up to our 10 Things You Need to Know Today newsletter
A free daily digest of the biggest news stories of the day - and the best features from our website
Thank you for signing up to TheWeek. You will receive a verification email shortly.
There was a problem. Please refresh the page and try again.
France's favorite comic strip hero is Asterix the Gaul, a mustachioed warrior whose village stands alone against the might of the Roman Empire — helped by a magic potion that endows the inhabitants with superhuman strength.
When Marine Le Pen talks about France's challenges in the 21st century, it sounds like the whole country has become that redoubtable Gallic village.
Her France will pluckily resist any menace from the outside world, be it from American big business plotting to buy up French companies, foreign immigrants intent on grabbing French jobs, or European Union bureaucrats determined to expose France to the cruel winds of economic globalization.
Subscribe to The Week
Escape your echo chamber. Get the facts behind the news, plus analysis from multiple perspectives.
SUBSCRIBE & SAVE
Sign up for The Week's Free Newsletters
From our morning news briefing to a weekly Good News Newsletter, get the best of The Week delivered directly to your inbox.
From our morning news briefing to a weekly Good News Newsletter, get the best of The Week delivered directly to your inbox.
"I will put in place the protection a nation owes to its citizens," Le Pen said last Tuesday, two days after her ultranationalist National Front party came first in France's elections to the European Parliament, the European Union's legislative body.
"We are going to fight against the trans-Atlantic trade agreement, we are going to fight against the handing over of sovereignty to the European Union, we are going to fight against any more austerity imposed by an EU led by Mrs. Merkel," she told BFM-TV. "We will defend France."
Patriotic policy
The working-class town of Denain in northern France is left leaning, but 43 percent of voters supported the far-right National Front in the last European Parliament elections.
That fighting talk is going down well in a country mired in economic stagnation, confronted by double-digit unemployment, and suffering a deep malaise over perceived threats to the job safety, high labor standards, and generous social benefits which have become part of the French way of life.
Le Pen won over a quarter of French voters in last week's election, humiliating the Socialist Party of beleaguered President Francois Hollande and the center-right opposition.
She has big ambitions, but many doubt Le Pen has the magic potion to cure France's ills.
The National Front's "patriotic economic policy" includes replacing the euro with a resuscitated French franc; erecting trade barriers to foil "unfair" competition from the likes of China; banning foreigners from buying French companies; raising wages; and scrapping the independence of the central bank so it can produce money at the government's beck and call.
Mainstream economists view such ideas as a roadmap to disaster, via inflation, isolation, and more debt.
"It's useless, profoundly unrealistic and completely impossible to implement," sums up Gerard Cornilleau, deputy director for research at the French Economic Observatory. "It's completely off target."
Such views should provide plenty of ammunition for the government to take fire at Le Pen's simplistic solutions.
Left vs. right
People look at job postings hung at France's national employment agency on April 17, 2014.
The problem for Hollande and his new Prime Minister Manuel Valls is that lots of French — including many within their own Socialist Party — agree with at least part of Le Pen's analysis.
Many blame international free market economics and austerity policies imposed by the European Union for France's economic woes, and believe protectionism and greater state spending are the answer.
Last month 41 Socialist lawmakers rebelled against the government by refusing to vote for 50 billion euros ($68 billion) in budget cuts. Valls said the measure — which passed with a narrow majority — is needed to hold down government debt that soared to 93 percent of economic output last year, up from 82 percent in 2010.
"Our electorate sees the way Francois Hollande is trying to outdo the right in reducing public spending as a slap in the face," one of the rebel legislators Pascal Cherki told the daily Le Figaro recently.
"We can't be surprised if they turn their back on us," said the left-winger. "I feel a cold anger mounting, even hatred. The president and the prime minister cannot reject the left-wing rank and file."
In the two years since his election, Hollande has seen his popularity rating plummet to as little as 18 percent.
He is blamed above all for failing to keep a promise to reverse the trend of rising unemployment. Cuts and tax hikes to bring down debt in line with EU rules, and even modest pro-business reforms, have sparked anger from former supporters who fear an erosion of job security and threat to cherished rights like the famed 35-hour maximum work week.
The 'co-president'
Valls, 51, was appointed in March after the Socialists suffered a disaster in municipal elections across the country. His task is to turn around the government's fortunes before the next presidential election in 2017.
Spanish-born Valls is a tough-talking former interior minister. He was a rival to Hollande in seeking the party leadership in 2009, but later served in the president's election campaign team.
Under the French system, the prime minister usually plays Robin to the president's Batman, but the Parisian media have taken to calling Valls the "co-president." His personal popularity ratings tower above Hollande's, standing at 56 percent according to a May 17 poll in the weekly Journal Du Dimanche.
Reacting to Le Pen's victory, Valls acknowledged France was going through an "identity crisis" but vowed he wasn't going to abandon the rigor needed to improve the country's economy.
"I'm not going to lie to the French people," he told RTL television. "I'm not going to say that we don't have to make efforts, that we don't have to cut the deficit and cut the debt that is strangling our country."
From the right of the party, Valls is often compared to former British Prime Minister Tony Blair.
There is speculation that Valls could take advantage of the low point in Socialist fortunes to turn the party around as Blair and other "modernizers" transformed the British Labor Party in the 1990s, after it was repeatedly humiliated in contests with Conservative Prime Minister Margaret Thatcher.
Blair, however, had the luxury of years of opposition to build "New Labor." Valls, on the other hand, has to work on changing the party while he struggles to pull the country out of an economic morass and fight off the challenge of Le Pen.
Blair was also helped by a widespread realization within his party that traditional leftist policies had alienated voters, yet many in France are seeking answers in old-style protectionist and state-intervention policies which Le Pen has hijacked from the left.
France's center-right is hardly in much better shape than the Socialists.
The leader of the main conservative opposition UMP party Jean-François Cope was forced to step down on Tuesday amid the fallout of his defeat by Le Pen and a scandal over party funding linked to former President Nicolas Sarkozy's failed 2012 re-election campaign.
Divided and demoralized, France's mainstream politicians have three years to find a way to thwart a Le Pen bid for the presidency in 2017.
This article, by Paul Ames, originally appeared at GlobalPost.
More from GlobalPost...
Continue reading for free
We hope you're enjoying The Week's refreshingly open-minded journalism.
Subscribed to The Week? Register your account with the same email as your subscription.
Sign up to our 10 Things You Need to Know Today newsletter
A free daily digest of the biggest news stories of the day - and the best features from our website