A mortgage is a terrible investment
You're probably better off renting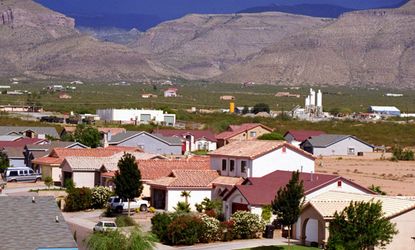 (Image credit: (Joe Raedle/Newsmakers))
Sign up to our 10 Things You Need to Know Today newsletter
A free daily digest of the biggest news stories of the day - and the best features from our website
Thank you for signing up to TheWeek. You will receive a verification email shortly.
There was a problem. Please refresh the page and try again.
Last week, my colleague Ryan Cooper made the argument that it is time to kill the dream of subsidized universal homeownership, by ending the subsidies that are being funneled toward it. He argued, "The problem is that a house is a crap investment."
Now, the housing market recently turned a corner in the U.S., and has been rising for the past couple years, although those who bought at the peak of the 2006 and 2007 bubble are still often way underwater. But when we strip back to the fundamentals and look at what kind of investment housing actually is, I think Cooper is right.
A house to live in is not a productive investment. While being a landlord yields a rent — and rents have risen a lot in recent years, making "landlord" a highly profitable job — a house yields nothing while you live in it. It also gradually deteriorates, requiring constant upkeep to the tune of hundreds and thousands of dollars at a time. Productive businesses, on the other hand, are explicitly tasked with making a profit for and paying dividends to their shareholders. That's one reason why stocks as an asset class — measured in terms of index funds which include a diversified range of stocks, like the S&P 500 — vastly outperform all other asset classes, including real estate, over the long run.
Subscribe to The Week
Escape your echo chamber. Get the facts behind the news, plus analysis from multiple perspectives.
SUBSCRIBE & SAVE
Sign up for The Week's Free Newsletters
From our morning news briefing to a weekly Good News Newsletter, get the best of The Week delivered directly to your inbox.
From our morning news briefing to a weekly Good News Newsletter, get the best of The Week delivered directly to your inbox.
So investing in productive businesses offers better long-term returns. In fact, it means that the quickest way for someone starting their career to turn income into a home tends to be investing in productive businesses, building up a large enough portfolio, and then buying a house outright.
But what about the other benefits of homeownership? Isn't the alternative, renting, just throwing money away?
There are, of course, intangible advantages to home ownership. Modifying your home to your specification — and not having to deal with a landlord over repairs and maintenance — is a definite plus. So is the feeling of owning something physical. And the security you gain from knowing your landlord won't end your lease and push you out of your home isn't something to sneeze at either. But these advantages don't mean you should rush to take out a mortgage.
For one, renting isn't throwing money away. Renting means that the endless maintenance costs and property taxes that have to be paid on top of the mortgage aren't your responsibility. In the U.S., renting may mean leaving generous government subsidies on the table — including the mortgage interest deduction, which racked up a bill of $100 billion in 2009, as well as capital gains tax exemptions. But that isn't exactly throwing money away, especially if the savings are invested into the ownership of productive businesses. And for people not living in the U.S., it's even worse. Most countries have no mortgage interest deductions, meaning that mortgagees foot the entire cost of paying rent to the bank for the mortgage.
And investing in businesses — or even bonds or cash in the bank — is a safer way to build up wealth. Taking out a mortgage is a bet that you can pay down the mortgage every month. If you can't keep the schedule of repayments, your home — your entire investment — will be repossessed and sold. If your house is worth less than it was when you bought it, you lose everything you put in. Even if you have equity in the house (which in many cases is also a person's life savings), a quick sale may mean a cheap price, resulting in a massive financial loss of equity. This means that while mortgages are heavily subsidized, they are a very strange and extremely risky way to invest money.
And even if you don't miss payments and risk repossession, housing is still highly speculative even with all the subsidies thrown into it by government. (In fact, I'd argue that subsidies make it a riskier bet, because they convince the market that housing is a safe bet. This leads to excessive risk taking, and excessively lowered lending standards, as occurred in the 2007 bubble.)
If the housing market goes on a tear for years — supported by subsidies — homeowners make large profits, even after paying property taxes and maintenance costs. But ultimately, whether or not homeowners do well depends on whether other people are coming into the market and buying, driving prices up. Whether that happens depends on many factors — interest rates, housing subsidies, demographics, and market sentiment — that are outside our control and hard to predict. Obviously, the stock market is prone to bubbles as well, but the value of stocks is supported by dividends and productive activity, and bonds are supported by a stream of interest payments.
Homeowners have no equivalent. If their mortgage is on their own residence, they can't even fall back on the rental value. But the costs of property taxes and maintenance keep coming. That means that if the stream of new buyers at ever-higher prices dries up for whatever reason at any moment, prices can fall like they did between 2007 and 2012, and can take a long time to recover, even with the government continuing to throw huge amounts of money into the market.
So, should we bemoan the fact that homeownership is now at its lowest since 1995, down to 65 percent from its 2004 peak of 69 percent? No, it's an entirely reasonable downturn, driven in part by risk-adverse lenders and borrowers burnt by the housing bubble bust. What we should bemoan is that subsidies are still being used to push the market toward risky products like mortgages.
Herding the incomes of the young into deteriorating assets like housing is a dangerous misallocation of capital and investment. Investing heavily in housing means those incomes are not being invested in productive opportunities in other sectors of the economy, whether that is investment in the stocks of other companies, or individuals starting their own businesses.
Cooper's suggestion that the housing subsidies stop (or, at least, be slowed) is a sensible one. There are far better targets for funding — scientific and technological research, education, public infrastructure. But even if the housing subsidies don't stop — and with the mortgage industry, realtors, and homeowners all benefiting from them, they probably won't stop anytime soon — I'd urge people looking at a mortgage to consider building up capital to buy a house through productive investments, instead of taking on a mortgage that might lead to their having their investment repossessed.
Continue reading for free
We hope you're enjoying The Week's refreshingly open-minded journalism.
Subscribed to The Week? Register your account with the same email as your subscription.