How spiders can tell if their mate is sleeping around
One species puts a whole new spin on spidey sense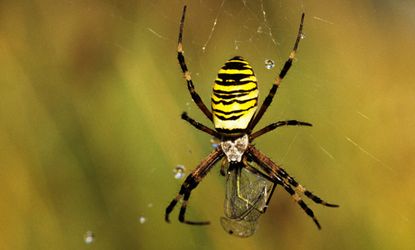 (Image credit: (Naturfoto Honal/Corbis))
Humans sometimes fret over how many people their partners have slept with in the past. But for certain spiders, knowing a potential mate's sexual history isn't just a psychological hang-up — it can be a matter of life or death.
Both male and female orb-weaver spiders, for example, have paired sexual organs. The females have genital openings on both the left and right side that lead to a sperm storage organ. Meanwhile, the males have a pair of appendages on each side of their body called pedipalps, which resemble legs and are used to transfer sperm during mating. For both males and females, only one organ is used at a time.
Because of the way the organs are set up and the peculiar mating habits of the spiders, sex can be a little tricky. To keep other spiders from mating with a female and to secure his paternity, a male will break off a pedipalp and leave it inside a female as a "genital plug" after sex. After that, both the male and the female will have only one organ they can use during their next mating session, which will also be their last. And they can only mate again with a partner whose genitals match theirs — that is, the pedipalp and the unplugged opening need to be on the same side for things to work. As a result, some orb-weaver males mate twice with the same female to make sure their parts line up both times.
Subscribe to The Week
Escape your echo chamber. Get the facts behind the news, plus analysis from multiple perspectives.
SUBSCRIBE & SAVE
Sign up for The Week's Free Newsletters
From our morning news briefing to a weekly Good News Newsletter, get the best of The Week delivered directly to your inbox.
From our morning news briefing to a weekly Good News Newsletter, get the best of The Week delivered directly to your inbox.
But some species can't or won't do that. One of these is the St. Andrew's Cross spider. These guys like to spread their sperm around a little and seek out a second mate when they're done with the first, but playing the field can be a risky proposition for spiders. If a male attempts to court a female who already has two genital plugs or is blocked on the wrong side for his remaining pedipalp, he's not only wasting his time barking up the wrong tree, but could also wind up a meal for a hungry and pregnant female to whom he's useless as a mate.
Fortunately for the guys, choosing a mate isn't a total gamble. Previous studies have shown that male spiders can use pheromones to tell if a female has been bedded already. More recently, a trio of researchers led by German biologist Stefanie Zimmer found that these chemical cues not only help males distinguish mated females from virgins, but also tell them how many times the lady spider has had sex.
The researchers collected St. Andrew's Cross spiders from parks in Sydney, Australia, and ran the males through different mating trials to see if they could tell the difference between two females from afar. In the first two experiments, virgin males and males that had mated once chose between females that had either already had one partner or two. In the third round, once-mated males had their choice of two once-mated females, one whose unplugged opening matched his remaining pedipalp and one whose opening was on the wrong side. The male spiders were placed on a wooden skewer that the females had used to anchor their webs, giving them access to pheromones in the silk.
In the first two rounds, the males overwhelmingly chose the once-mated females over the ones that had had two partners. Seventy-five percent of the virgin males, and ninety percent of the mated ones, went for the female with only one previous partner. In the third experiment, though, less than half of the males picked the female whose virgin opening matched their pedipalp.
It's not clear from the experiments exactly which chemical signals the spiders use as a guide, or where they come from. They could be transmitted by the female's previous partner during mating, hanging around as a deterrent to other males, like the genital plugs. Or they might be released by females, either wafted through the air or mixed into her web silk. If that's the case, the researchers say, it could be that once-mated females produce the pheromones as an advertisement of their availability.
Wherever the pheromones come from, it seems that they can tell a spider on the prowl how many partners a prospective mate has already had, but not if her private parts will match his, leaving a little bit of risk in trying to court her. Apparently, even with spidey sense, everyone strikes out once in a while.

Continue reading for free
We hope you're enjoying The Week's refreshingly open-minded journalism.
Subscribed to The Week? Register your account with the same email as your subscription.