Want better film criticism? Stop rewarding the trolls.
The attention lavished upon laughable reviews freezes out the good work that's being done elsewhere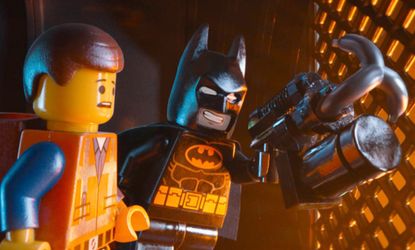 (Image credit: <a href="https://www.facebook.com/TheLEGOMovie/photos/pb.142731419158626.-2207520000.1396977498./544419782323119/?type=3&amp;theater">(Facebook.com/The LEGO Movie)</a>)
Sign up to our 10 Things You Need to Know Today newsletter
A free daily digest of the biggest news stories of the day - and the best features from our website
Thank you for signing up to TheWeek. You will receive a verification email shortly.
There was a problem. Please refresh the page and try again.
Earlier this year, The Lego Movie was released to rave reviews, earning a stunning 96 percent on the Rotten Tomatoes meter. Critics almost universally praised the film's "beautiful animation," "laugh-a-minute gags," and "surprisingly thoughtful story." Audiences agreed; The Lego Movie earned a massive $410 million worldwide on a $60 million budget.
It seemed like the rare movie pretty much everybody enjoyed — until a review surfaced by Kyle Smith of The New York Post.
Smith's take on the movie, which he deemed "a blockheaded adventure," is a better example of snark than criticism. The review takes less than two minutes to read, and based on its generalizations and mischaracterizations, that's probably about how long it took for Smith to write it.
Subscribe to The Week
Escape your echo chamber. Get the facts behind the news, plus analysis from multiple perspectives.
SUBSCRIBE & SAVE
Sign up for The Week's Free Newsletters
From our morning news briefing to a weekly Good News Newsletter, get the best of The Week delivered directly to your inbox.
From our morning news briefing to a weekly Good News Newsletter, get the best of The Week delivered directly to your inbox.
But the content of Smith's poorly conceived argument is almost beside the point — if it had been justly ignored, it wouldn't be worth mentioning. The real problem is that this non-review of The Lego Movie became a much-discussed topic of conversation. For what seemed like days, critics and readers alike eagerly swapped gags as they bemoaned the idiocy of Smith's piece.
Attention was lavished on (and traffic was directed to) the snide words of a critic who is noted for strained, attention-getting contrarianism, and who clearly failed to fully engage with the film. Meanwhile, reviews like Dana Stevens' at Slate and Scott Mendelson's at Forbes, both of which said genuinely insightful or engaging things about The Lego Movie, were less noticed.
Unfortunately, the blow-up over Smith's review is not an isolated incident. The response it received is a textbook example of an internet cycle in which unthinking negativity receives exponentially more attention than thoughtful discourse. It's an environment in which a bomb-thrower like Armond White receives an abundance of attention when he trashes 12 Years a Slave, while dozens of more reserved takes get a tenth of the readership. This isn't to say that critical dissent isn't important to the conversation — writers like Calum Marsh have built careers on smart, incendiary takes that go against the grain — but focusing on the writers who don't work with the same care and intelligence does everyone a disservice.
There are real-world consequences for this trend. Two weeks ago, Entertainment Weekly launched a new platform called "The Community," which invites young writers and J-school students to become unpaid "community contributors" for the once-reputable publication. Less than a week later, Entertainment Weekly laid off longtime film critic Owen Gleiberman, who has provided reliably intelligent criticism since the magazine's inception in 1990.
Then this past weekend, a brief, negative review of Under the Skin by Chris Nashawaty at Entertainment Weekly began to make waves. The five-paragraph review doesn't even discuss the movie at hand until its final sentences. This piece of criticism — which, admittedly, stretches the definition of "criticism" to the breaking point — was discussed ad nauseam for the remainder of the weekend. Sadly, that might be all EW needs to feel justified in letting the likes of Gleiberman go.
This is a cycle far too many people are willing to indulge, ensuring that subpar criticism gains traction for being subpar. My modest proposal to both critics and fans: Instead of standing around staring at the scene of the crime, why don't we agree to reshape the discourse? An inordinate, wasteful amount of time was dedicated to laughing at and linking to Nashawaty's Under the Skin review. Why not spend that same time reading and discussing Matt Zoller Seitz's illuminating four-star review? Or sharing the link to Scott Tobias' revealing interview with the director of the film? Wouldn't we all be better off if we directed our attention — and more importantly, others' attention — to thoughtful writing instead of thoughtless writing?
If we continue guiding our Twitter followers and our Facebook friends to pitiful articles grounded in amateurism, the people writing those pitiful articles grounded in amateurism will live on, gainfully employed by the outlets overjoyed to receive the traffic we're providing them. When the toxicity fully settles in, we may be left with little more than snarky comments crafted in 140 characters — and the critics and aficionados who truly care about film will be the losers.
As anyone who has ever put pen to paper can attest, producing an intelligent and incisive piece of writing on any subject matter is difficult — but highlighting quality writing shouldn't be. If you care about good film criticism, please, pay attention to good film criticism.
Continue reading for free
We hope you're enjoying The Week's refreshingly open-minded journalism.
Subscribed to The Week? Register your account with the same email as your subscription.