What would these Game of Thrones photos mean to someone who hasn't seen the show?
A group of innocents tries to guess why the dragon lady is throwing so much shade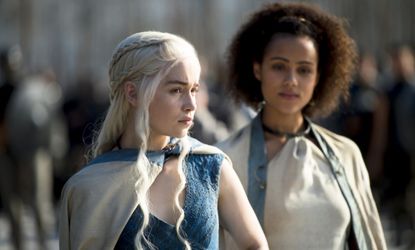 (Image credit: HBO)
Sign up to our 10 Things You Need to Know Today newsletter
A free daily digest of the biggest news stories of the day - and the best features from our website
Thank you for signing up to TheWeek. You will receive a verification email shortly.
There was a problem. Please refresh the page and try again.
Photos from season four of Game of Thrones are here! Hurrah! But what do they mean?!
To answer that question, we polled a few of our writers who haven't been lured into Game of Thrones' complicated web. They gamely guessed what season four holds for the show's legions of fans based on these 10 photos alone.
If their answers are any indication of the truth, then this is going to be one eventful and weird (very weird) season.
Subscribe to The Week
Escape your echo chamber. Get the facts behind the news, plus analysis from multiple perspectives.
SUBSCRIBE & SAVE
Sign up for The Week's Free Newsletters
From our morning news briefing to a weekly Good News Newsletter, get the best of The Week delivered directly to your inbox.
From our morning news briefing to a weekly Good News Newsletter, get the best of The Week delivered directly to your inbox.
Frodo informs a smitten elfin maiden that, to her dismay, only he can return the ring to Mordor. — Jon Terbush, staff writer
This red-haired lady has just tried to break up with the short guy, and he's trying to convince her to stay. **cue Rihanna music** — Samantha Rollins, news editor
Sansa clearly isn't big on eating her vegetables — which I totally get, long live chips! — so Tyrion is talking her through it. That's true friendship. — Sarah Eberspacher, assistant photo editor
Sansa, Tyrion's third wife, doesn't like this news at all: Tyrion has just told her he's decide to take on a fourth wife. This despite the fact that they can't afford another castle, that they all decided three wives was the perfect amount, and that she is the youngest and the fairest of them all! This is definitely NOT the life she thought she was marrying into. And this fruit tart is crap. — Lauren Hansen, multimedia editor
Duck Dynasty and The Hunger Games make a joint cameo, but with more death, and fewer controversial remarks about race and sexual orientation. — Jon Terbush
These gingers just shot some friendly elves who were being a nuisance, so they're kinda sad about it. — Samantha Rollins
Ygritte and Tormund's names are even stranger than the others, and they're rocking jackets that would make a Carhartt seem cheap. If they're not winning this game already, I'd bet season four is theirs for the taking. — Sarah Eberspacher
These two thought they were on the hunt for the upcoming feast, but the discovery of their missing son turns out to be a prize indeed. — Michael Brendan Dougherty, senior correspondent
This archery contest just took a really, really bad turn after Tormund's great aunt Helen (who has dementia, poor thing) wandered right in front of their target. — Lauren Hansen
One of many (many, many, many) sex scenes. The entire episode is possibly a sex scene. — Jon Terbush
The short guy is having another secluded tryst (his gaze is very focused). — Samantha Rollins
Her dress is so cute! Also, the soft lighting and sad expressions are reserved for angsty couples the world over. Cheer up, lovebirds! — Sarah Eberspacher
He's literally just staring at her boobs — why does she seem totally unconcerned? — Meghan DeMaria, digital production assistant
Tyrion is having second thoughts about his fourth wife, Shae. Sure, she's ridiculously hot and crazy young. But she has a mole on her chest that he swears resembles his father, and it's having a grave affect on his libido. — Lauren Hansen
Not sure what Malfoy is doing here, but it looks like he just said something devastating to Mr. Potter or, possibly, to a dragon. — Jon Terbush
Boy King is planning something. — Samantha Rollins
I'm not so tuned out of pop culture that I haven't heard whispers of a Boy King. This is the guy, right? — Sarah Eberspacher
He has the face of someone who just caught his first glimpse of porn. — Meghan DeMaria
Joffrey figures out how to burn ants with a magnify glass. And it is AWESOME. Die little ants, die! Moments later, however, one magical ant doesn't catch on fire like his brethren. Instead, he grows to 10 times Joffrey's size and goes all Godzilla, ripping the smarmy little royal in half. — Lauren Hansen
The guy with the fake hand — that's a metal hand, right? — has a drinking problem, and the woman/elf won't share her martini with him. Fake hand man is also possibly Inspector Gadget's Dr. Claw. — Jon Terbush
I thought they would drink out of goblets and not martini glasses? Is this some kind of martini party? — Samantha Rollins
Apparently, there's a lot of sex in this show, so I'd say Jaime's angling for some afternoon delight, but Cersei isn't feeling it. — Sarah Eberspacher
Jaime tries relentlessly to convince Cersei that his one-of-a-kind gold-plated right hand, which he got after the Godzilla ant bit his real one off, will feel even better than a human one — if she'd just give it a try. But Cersei won't be convinced. Not after that man with the gold-plated left hand killed her father. — Lauren Hansen
Judging by the candles, this probably has something to do with dragons. Or it's another sex scene. — Jon Terbush
Something intimate and evil... — Samantha Rollins
Dark. Moody. This one's a trick: It's actually a still from Chanel's next perfume commercial. — Sarah Eberspacher
Oberyn and Ellaria just found out that their odd new friend, the one with the comb-over, just sold Oberyn out to the henchmen. Sure, Oberyn bought off a few royals in the other kingdoms, but it was all for the love of his Sun People. He was going to build up that boardwalk and the Sun region was going to be stronger than the Storm region. It was going to put him on the map. But now he has to be beheaded. — Lauren Hansen
More dragons. Also, scarecrows, apparently? So, combining the two: Those are scaredragons in the background and, judging by this guy's face, they don't work. — Jon Terbush
Jon Snow looks like he needs a hug. — Samantha Rollins
Are those scarecrows behind him? Jon looks sad, though, so I'm betting his dog, horse, or beloved just died. — Sarah Eberspacher
Jon Snow watches his 23rd — 23rd, for God's sake — dog die at the hands of one of his many frenemies. I mean, why does he even try. The companionship is nice, but then he's stuck with all this extra kibble. — Lauren Hansen
A princess grudgingly hangs out with her mom, who, yeah, is a queen, but a stodgy old nagger, too. — Jon Terbush
This lovely lady is doing the good deed of visiting her grandma in assisted living. They have that in Westeros, too, right? — Samantha Rollins
Those two are the fictional versions of Kate Hudson and Goldie Hawn. Getting older's tough, and Olenna's not handling it very well. — Sarah Eberspacher
Julianne has just told her mother-in-law, the widow Queen, that for the sake of the realm she must be wed to that short fellow who disgusts her. — Michael Brendan Dougherty
Tough times in the kingdom have forced Margaery to move back in with her grandmother, Olenna. As if that wasn't humiliating enough, Margaery has to walk Olenna around the compound once a day as part of her "chores," because she has to contribute to the household somehow. — Lauren Hansen
The shaggy man just stole that girl's lunch money, but a dragon is about to swoop in and kill him so it's sort of a wash. — Jon Terbush
This girl is about to deck this guy in the face over something. — Samantha Rollins
Classic. Arya's asking for some spending money, probably to use as a down payment on a throne, but the Hound is too stingy. — Sarah Eberspacher
The Hound has just revealed to Arya that he isn't actually the Hound. His real name is the Walrus and he's been living under this guise for nearly 20 years, having stolen the identity from an army buddy who died in combat. — Lauren Hansen
Everyone in the background dies. The woman in the middle-ground stays locked in the Rock's eyebrow-raising pose for a full hour, pausing only briefly to yell "Can you dig it!?" Meanwhile, the woman in the foreground throws off her cape and dances — dances all through the night! Still, she receives a middling score from the judges and comes in second on Dancing With the Stars. — Jon Terbush
Dragon lady is trying to make sure the people she's addressing see her good side — literally. — Samantha Rollins
Daenerys is throwing some serious shade here. Does she own dragons? If she does, I bet someone just insulted her dragons. — Sarah Eberspacher
This is one of the most epic bitchfaces I have ever seen. Is this a meme that I just don't know about? This has real potential to become a nerd's version of Condescending Wonka. — Meghan DeMaria
Missandei took one of Daenerys' dragons out late last night without asking and of course Daenerys found out — she knows everything. Now Daenerys is weighting whether she needs to punish her "friend," or if simply not being Daenerys is punishment enough for poor Missandei. — Lauren Hansen
Continue reading for free
We hope you're enjoying The Week's refreshingly open-minded journalism.
Subscribed to The Week? Register your account with the same email as your subscription.
Sign up to our 10 Things You Need to Know Today newsletter
A free daily digest of the biggest news stories of the day - and the best features from our website