Google Glass: A mind meld with the surveillance state
Our cyborg future is here. And it is terrifying.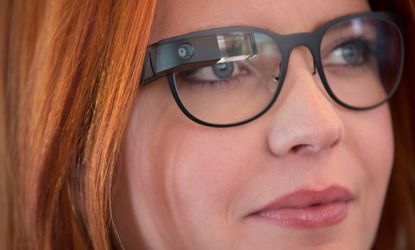 (Image credit: (AP Photo/John Minchillo))
Sign up to our 10 Things You Need to Know Today newsletter
A free daily digest of the biggest news stories of the day - and the best features from our website
Thank you for signing up to TheWeek. You will receive a verification email shortly.
There was a problem. Please refresh the page and try again.
The eyes are the "windows of the soul" in Western culture. So how do we make sense of eyes that are both looking at the world and looking at augmented reality? Eyes that might be flicking back and forth from ours, to a tiny screen, and then back again? In other words, how do we make sense of Google Glass, the networked eyeglasses/computer that allows its wearer to check email, get directions, take photos and video, all while never taking his or her eyes off the world? What sort of soul is behind the windows of Google Glass?
We can get an answer from two Glass folk stories.
First is the story of a Seattle restaurant which has banned the use of Glass. The Lost Lake Café made headlines last November after a server there asked a Google Glass-wearer to leave. According to Forbes, one of the owners of the restaurant explained, "It's one thing to take out a camera and capture a moment, people see you doing it, they have a chance to step out if the want to. With glass people don't have a chance to do that. We want our customers to feel comfortable, not like they're being watched." Of course, a story about a man wearing an expensive, exclusive new technology from one of the most powerful tech firms on the planet getting kicked out of a restaurant got a lot of press coverage and inspired countless comments across social media. This story is now part of Glass folklore.
Subscribe to The Week
Escape your echo chamber. Get the facts behind the news, plus analysis from multiple perspectives.
SUBSCRIBE & SAVE
Sign up for The Week's Free Newsletters
From our morning news briefing to a weekly Good News Newsletter, get the best of The Week delivered directly to your inbox.
From our morning news briefing to a weekly Good News Newsletter, get the best of The Week delivered directly to your inbox.
Second is a more recent story of a man who wore his prescription Google Glass in an Ohio movie theater. On January 20, tech blog The Gadgeteer broke the story of how this Glass-wearing moviegoer was forcibly removed from the theater by agents of the Department of Homeland Security because of their fear that he was pirating the movie with Glass's recording feature. He was detained and questioned for several hours. Like the Lost Lake Café story, the story of the Department of Homeland Security protecting Hollywood from Glass will also enter into our cultural understanding of this new technology.
So how do we make sense of these stories? Clearly, we have a new fear of the latest cyborg.
Part of the fear of Google Glass arises from the fact that these devices network our eyes. To capture an event with a smartphone camera, the user has to hold the thing up and "point" it at the event. To capture something with Glass, it's as easy as saying "Ok, Glass, record a video" and then pointing your eyes at the event. Our eyes become windows to a digital world, constantly watching, constantly augmenting what we see, constantly inscribing our vision into databases.
Thus, Glass allows for nearly surreptitious surveillance. We've already seen what happens with nearly ubiquitous, personally-owned cameras in public spaces: Every public moment is potentially a publicized moment, reproduced endlessly across social media. Stepping out the door means that we're on camera and we must perform correctly. Glass makes such publication easier.
So to watch as a camera sinks into a person's very eyes is indeed frightening. If you felt as though you're always being watched before Glass, the feeling is only going to get worse. Hence the reaction to the Google Glass wearer in the Seattle restaurant.
But of course, this fear doesn't explain what happened to the Glass wearer at the Ohio theater. It only makes sense that government agencies will try to curtail the use of Glass when this device is pointed at sensitive things. If people are able to surreptitiously record and distribute things like Hollywood movies, police beatings, or lobbyists writing our laws for us, what next for those in power? How could they sell tickets to movies, oppress protesters, or accept bribes if they're always being recorded and watched?
And yet, given that Google and agencies like the NSA can simply share data about us, perhaps the real fear of Glass should be how the NSA, DHS, FBI and the rest of the alphabet will be able to literally see what we see. Google Glass doesn't operate in a vacuum: All Glass data flows to Google's centralized servers – an easy target for a secret warrant or secret monitoring. If you happen to see something you shouldn't while wearing Glass, a record of your sight will be available to the state to build a case against you. Your digitized sight becomes a government memory. Likewise – as in the case of the Ohio moviegoer – you can try to use Glass to prove you didn't see what you shouldn't have.
Even if the NSA isn't watching, Google itself is. With its search, blogging, video sharing, online tracking, operating systems, office applications, browsers, and social media systems, Google's reach into our lives was pretty extensive before Glass. Now Google will see what we see and remember what we see for us. Or Google can see us, if we're in the line of sight of a Glass wearer. This visual data can be used to know us better and thus sell us more efficiently to the massive marketing system that's working to categorize us and get us to buy things.
Google Glass, in other words, is another set of eyes that merges the wearer with something else: A surveillance system that inevitably will remember everything we see and do. Ultimately, this explains our newest fear of the latest, always-watching cyborg. This is the soul behind the eyes of Google Glass.
Continue reading for free
We hope you're enjoying The Week's refreshingly open-minded journalism.
Subscribed to The Week? Register your account with the same email as your subscription.
Sign up to our 10 Things You Need to Know Today newsletter
A free daily digest of the biggest news stories of the day - and the best features from our website
Robert W. Gehl is an assistant professor of communication at the University of Utah. His research is on the culture of technology. His book, Reverse Engineering Social Media (2014, Temple U Press) is a critical exploration of the history of social media software and culture.