Why sabotaging condoms should be illegal
Amazingly, tampering with a partner's contraception isn't covered by any existing U.S. law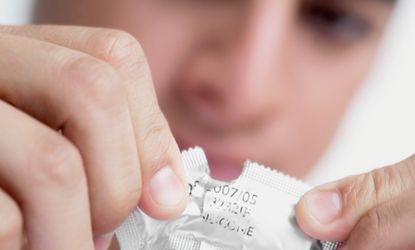 (Image credit: (Thinkstock))
Guy meets girl. Guy falls in love with girl. Guy realizes the relationship with the girl has hit the skids, so he pokes holes in a pack of condoms to get her pregnant so she'll stay with him. That's birth control sabotage, and there's no clear punishment for it in the United States.
Birth control sabotage falls under a category of domestic abuse called "reproductive coercion." Katie Ray-Jones of the National Domestic Violence Hotline (NDVH) describes it to The Daily Beast as "a pattern of acts and behaviors in which one partner exerts control over another over reproduction, birth control, pregnancy that relate to reproduction." It can include poking holes in condoms, destroying or hiding birth control pills, and ripping out IUDs.
Both men and women can be perpetrators of birth control sabotage. In fact, women have often been stereotyped as purposefully trying to get pregnant against their partner's desires as a way to "trap" a man. But the issues of reproductive coercion and birth control sabotage have recently gained more attention because of a Canadian case, in which a man poked holes in a pack of condoms so his girlfriend would get pregnant and stay with him. When she still left him despite her pregnancy, he confessed. She called the police and had an abortion, from which she subsequently suffered an infection in her uterus and other painful complications. After two trials deemed him not guilty of sexual assault, a judge convicted him and sentenced him to 18 months in jail.
Subscribe to The Week
Escape your echo chamber. Get the facts behind the news, plus analysis from multiple perspectives.
SUBSCRIBE & SAVE
Sign up for The Week's Free Newsletters
From our morning news briefing to a weekly Good News Newsletter, get the best of The Week delivered directly to your inbox.
From our morning news briefing to a weekly Good News Newsletter, get the best of The Week delivered directly to your inbox.
While this Canadian man is ultimately being punished, Keli Goff at The Daily Beast writes, "According to legal experts in the United States, he would not be guilty of any crime south of the border."
She explains that the Canadian court ultimately based its decision on its conception of consent. "The victim consented to only intercourse that involved the use of effective contraception, so in sabotaging the birth control, the perpetrator engaged in a sexual act to which the victim did not consent." But she notes that U.S. courts are less likely to care about the details once general consent to intercourse has been established.
The absence of legal protections in cases of birth control sabotage is all the more disturbing considering its relatively high occurrence in the U.S. A survey of over 600 women ages 18 to 41 showed that 16 percent had been victim to their partner's birth control tampering. A 2010 survey by the NDVH reports that about quarter of all abused women who contacted the organization said their partners were trying to coerce them into pregnancy.
But what's the best way for the legal and judicial systems to handle birth control sabotage?
Because the sabotage doesn't necessarily involve physical abuse nor forced sexual contact, it's hard to prosecute it within the traditional categories of abuse and assault. Besides, Amanda Marcotte at Slate writes, "it's probably not a great idea to lump condom-hole punchers with rapists."
Instead, creating a separate category of criminalization for birth control sabotage may ultimately be the best remedy. Shane M. Trawick writes in the California Law Review that treating it as an "independent crime of sabotage" is "essential in curtailing domestic violence" and that "without state criminal intervention, abusers will continue to function freely at the expense of their victims' safety."
Of course, there would need to be careful considerations in creating such a law. For example, some argue that men who say they will "pull out" and don't do so in time should be prosecuted, Marcotte says, but it would be very hard to prove that wasn't accidental. Also, in cases where men and women lie about birth control without the intention of getting someone pregnant, would the law still hold? Consider an awkward episode of According to Jim, in which the protagonist lies to his wife about getting a vasectomy because he's too nervous about it, not because he wants to secretly impregnate her.
Yet, though it is important to hash out these concerns, it shouldn't impede the efforts to put a law in place. And although instances of birth control tampering by men has sparked the debate, such a law should clearly apply to both sexes as either can be the perpetrator of birth control sabotage. There's no evidence indicating one sex is more likely to turn to birth control sabotage — and both women and men deserve the protection.

Continue reading for free
We hope you're enjoying The Week's refreshingly open-minded journalism.
Subscribed to The Week? Register your account with the same email as your subscription.