The best performances we saw in 2013
From movies to TV shows to concerts, TheWeek.com's writers and editors weigh in on the most impressive performances of the year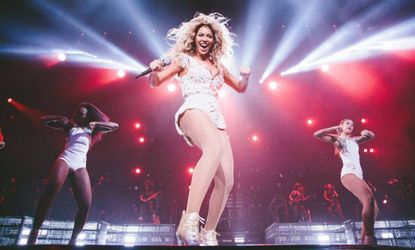 (Image credit: <a href="https://www.facebook.com/photo.php?fbid=10153648738205601&amp;set=pb.28940545600.-2207520000.1386800953.&amp;type=3&amp;theater">(Facebook/Beyonce)</a><a></a>)
Sign up to our 10 Things You Need to Know Today newsletter
A free daily digest of the biggest news stories of the day - and the best features from our website
Thank you for signing up to TheWeek. You will receive a verification email shortly.
There was a problem. Please refresh the page and try again.
Beyoncé, "The Mrs. Carter Show"
There's a lot to be said for intimacy when seeing an artist perform live. It's incredible to be so close and personal with someone whose work you've enjoyed. But if you're going to have to miss out on that closeness, it might as well be in an over-the-top feast for the senses. That's exactly what Beyoncé brings to her current tour, "The Mrs. Carter Show," which I attended at the Staples Center in Los Angeles on July 1.
The show was sumptuous in its attention to detail, including gorgeous video vignettes that played between set and costume changes. The theme was one where Beyoncé imagined herself a queen — which isn't a far cry from her place in pop culture. Beyonce didn't miss a note during the entire two-hour experience, and is able to dance more (and better) than almost any other pop star can muster live. She effortlessly segued from high-energy numbers like "Survivor" — which had her soaring over the entire crowd in a purple glitter jumpsuit — to heart-wrenching ballads like her cover of "I Will Always Love You," which she dedicated to the late Whitney Houston. Her all-female band and backup dancers, including the incredible twin brother duo, Les Twins, were just added bonuses to an already stuffed, entirely thrilling show. —Jessica Jardine, writer
Subscribe to The Week
Escape your echo chamber. Get the facts behind the news, plus analysis from multiple perspectives.
SUBSCRIBE & SAVE
Sign up for The Week's Free Newsletters
From our morning news briefing to a weekly Good News Newsletter, get the best of The Week delivered directly to your inbox.
From our morning news briefing to a weekly Good News Newsletter, get the best of The Week delivered directly to your inbox.
Bryan Cranston, Breaking Bad
The reason so many people got sucked into the world of Breaking Bad was Bryan Cranston's performances as Walter White, the high school chemistry teacher who gets a cancer diagnosis and decides to become a drug-cooking criminal. Cranston made the transformation — gradual, but radical — believable. And this year, he went out with a big bang. (That is, unless you believe the alternate ending in which Hal from Malcolm in the Middle wakes up and reveals the whole thing was a dream.) —John Aziz, business and economics correspondent
Cate Blanchett, Blue Jasmine
Cate Blanchett's performance in Woody Allen's Blue Jasmine is one of the strongest performances I've seen in years. Her martini-swilling, passive-aggressive Jasmine gave me shivers. Taken alone, Blue Jasmine isn't an extraordinary piece of cinema, but Blanchett takes everything Allen gave her to work with and exceeds it. Jasmine is a fully realized, nervous mess of a woman who has never stood on her own and has absolutely no idea how the world works. She's narcissistic, alcoholic, and terrible to her sister Ginger (Sally Hawkins), who has been nothing but wonderful to her. Blanchett lounges about in the role, in her perfectly coordinated Chanel suits, charming acquaintances with stories about travels to Europe and her former husband. However, she can switch that easy charm off in a second and go into a crazed rage — all pupils, smudged eyeliner, forehead sweats, and muttering to herself.
Blanchett makes the transition look easy. The more we learn about Jasmine, the less we like her, and it gradually becomes clear there's no easy redemption for her (even if she doesn't realize it). Despite Jasmine's grandiose self-delusions and Missoni sweaters, her life will never be as it was, as she tells anyone who will listen to her mumbled ramblings. Cate Blanchett's vanity-free, venomous performance shows the darkest depths of where Jasmine's life has gone, as we see her soaked in vodka washed down with Xanax, talking to the only person left willing to hear her sob story: Herself. —Kerensa Cadenas, writer
Cut Copy, Boston's House of Blues
Going to school at a fairly hipster college, I had the opportunity to see several amazing bands, including Cut Copy, perform at intimate venues. But seeing a Cut Copy show at Boston's House of Blues in November was entirely different. The energy that Dan Whitford puts into his performances was palpable from even the third floor, but being steps from the stage was nothing short of electrifying. Surrounded by audience members screaming at the opening chords of fan favorite "Hearts on Fire," I had to smile and scream along with them. Yes, the band was great, but the truly amazing part of that concert was the atmosphere: Rainbow-colored strobe lights, spilled beer, and hundreds of other people dancing as awkwardly as you are. These are the joys of seeing an indie band play a huge venue, and everyone should experience it at least once. —Meghan DeMaria, intern
Dean Norris, Breaking Bad
In a year packed with a wide range of strong performances on both film and television, nothing has moved or haunted me more than Dean Norris' performance as Hank Schrader on Breaking Bad. Series creator Vince Gilligan has admitted in interviews that Walt's brother-in-law Hank was a relatively ill-conceived character — a boorish, one-dimensional cop introduced primarily to inspire Walt's entry into the meth trade. But as Breaking Bad grew outward every season, Norris got the chance to flesh out some of Hank's surprising complexities, which culminated in his realization that his brother-in-law was the Heisenberg he'd been looking for all along.
But for all the strength of his performance throughout the series, it was at the very end of Breaking Bad that Norris really got the chance to shine. With just a handful of episodes to convey a massive emotional journey, Norris conjured up a staggering array of emotion. There was the deep wound caused by Walt's betrayal; the dogged resolution to take Walt down; the shock at Skyler's complicity in Walt's crimes; the awkwardness of his partnership with Jesse Pinkman; the recklessness that led to his fatal missteps; and his sad, silent acceptance of his inevitable death. Norris played every moment to the hilt (and I'll be writing a long, long rant if he doesn't win an Emmy for it next year).
When I reviewed the Breaking Bad season premiere, I watched Hank's episode-ending confrontation with Walt several times, trying to figure out how Norris managed to imbue his eyes with that glassy, haunted look. It was easily the best performance I had seen in 2013 — and it only improved as the season progressed. Breaking Bad may be Walter White's story, but when I look back on the show's final episodes, the character I'll remember is Hank Schrader. —Scott Meslow, entertainment editor
Kanye West, Madison Square Garden
I didn't really like Kanye when College Dropout dropped. I blame my freshman year roommate. A few years later, though, a switch flipped inside, and I became something of a Kanye apologist. (I hope it wasn't "Gold Digger.")
Fast forward to over a decade later, and I'm watching Kanye West at Madison Square Garden during the Yeezus tour on November 23. He has chandelier on his face, and he's yelling into a microphone from the top of a makeshift glacier. The whole spectacle is gorgeous and insane, sure, but the most gripping thing about any Kanye performance is, well… Kanye. He cares. It's obvious even from the nosebleed seats. He throws his body into every syllable with a violent abandon that absorbs you into songs you didn't even know you knew all the words to.
And that's the thing about Kanye: More often than not he's dismissed by critics — but watching his creativity take form live, you get the sense he cares more about making things for people to enjoy than most people care about their immediate families. He'll gladly take a bullet for his music (or, as illustrated by the Jimmy Kimmel blowup, for his fashion sketches for leather jogger pants). Underneath all outward-facing id, ego, and Maison Martin Margiela is a sparkling intelligence and clarity of vision. Kanye mumbles, but he has a lot to say. I'm glad I stopped tuning him out. So #blessed. —Chris Gayomali, science and tech editor
"Michael Shannon Reads the Insane Delta Gamma Sorority Letter"
This has been a great year for performances, but there is one internet bit that is so perfect, so repeatedly watchable, and so wish-fulfilling that it deserves its own remembrance: "Michael Shannon Reads the Insane Delta Gamma Sorority Letter."
After The Runaways, it was clear that Shannon's quirky performances were just as impressive as his dramatic work (though this might've already been clear if you've seen Cecil B. Demented). Shannon's reading of that crazy letter did more than trump the media's obsession with skilled actors reading silly screeds. It revealed what we're missing: Michael Shannon starring in a fun, inevitably cult film where we can relish in his magnetic insanity for a solid 120 minutes. He has his dramatic, award-making gigs, and big blockbusters like Man of Steel, but it's time to unleash more of the dark humor. In the meantime, I'm going to daydream about Shannon and Bruce Campbell in a cult movie "poetry" slam. —Monika Bartyzel, Girls on Film columnist
Lupita Nyong'o, 12 Years a Slave
In a year full of great on-screen performances, there were only a few that left me stunned leaving the theater. Lupita Nyong'o's performance as Patsey in 12 Years a Slave was one of them.
As a supporting member of the cast, the little-known actress shows the danger that female slaves were sometimes subjected to at the hands of both their masters and their spouses. In the movie, Patsey is raped by her owner and despised by his psychotically jealous wife. Patsey has no choices to make in the matter, and Nyong'o brings this character to life in a way that few other actresses could do. She personifies the character and by doing so, helps paint a devastating portrait of slavery that should be seen by everyone. —John Hanlon, writer
Miley Cyrus at the VMAs
I know what you're thinking. But the mere fact that the phrase, "Miley Cyrus at the VMAs" probably conjured some strong emotion in you — perhaps one so strong that you skipped this paragraph entirely — means something. Hear me out.
By now, we've been through all the phases of a pop-culture implosion. There was the initial shock of watching The Artist Formerly Known As Hannah Montana does the unspeakable with a foam finger. There was the predictable backlash, the backlash-to-the-backlash, and the inevitable meme-ification of the event (Miley Halloween costumes, anyone?). But whatever your opinions are about the content of Miley's performance, it's undeniable that her brief time onstage at the Barclays Center had a massive cultural impact. The twerk that launched a thousand thinkpieces led to an exhausting, mostly angry, but occasionally really smart discussion about everything from cultural appropriation to child stars. While it might be extreme to call spanking a midget and gyrating on Alan Thicke's son "art," it's safe to say that any event that garners 306,000 tweets per minute is a damned memorable — and culturally valuable — performance. —Sam Rollins, news editor
Megan Mullally and Nick Offerman, the Largo
Husband-and-wife team Megan Mullally and Nick Offerman have primarily distinguished themselves for their starring roles on TV. Mullally left her stamp on Will and Grace and Party Down, and a thousand memes have been launched from Offerman's virtuoso performance as macho-man libertarian Ron Swanson on Parks and Recreation. These accomplishments should be enough for any star couple to rest on their laurels.
But that ignores the sheer energy and unpretentious passion that the duo has for both music and each other, which I saw firsthand during Mulally's and Offerman's live performance at the Largo in Los Angeles on August 17. Taken alone, Mullally's music act Nancy and Beth is a countrified romp, with some songs landing better than others. But put Mullally and Offerman on a stage together and they frolic, emote, and exude the joy of two people who genuinely enjoy performing together. Wicked humor runs throughout all the lyrics and poses. The highlight of the evening: A stirring, super-serious cover of Riskay's "Smell Yo Dick." Yes, Ron Swanson can rap. —John Hendel, writer
Simon Pegg, The World's End
Simon Pegg has never really been afraid to come across as a not-so great guy. Beyond his characters' selfish immaturity in films like Shaun Of The Dead, he's played a mustache-twirling villain on Doctor Who and a straight-up jackass in How To Lose Friends And Alienate People. But Simon Pegg's performance as Gary King in The World's End takes the unlikeable aspects of Pegg's persona to a whole new level.
For the first half of the film, Pegg fearlessly plumbs miserable, grating depths as a narcissistic, oblivious man-child trying to bully his childhood friends into a pub-crawl. Though the film eventually heads into sci-fi territory (and validates King's actions) Pegg is both absolutely despicable and completely mesmerizing in those first 45 minutes. And though The World's End ultimately attempts to redeem King's selfish awfulness, it never fully recovers from the scathing critique of the first act. Funny as Pegg is, here's hoping someone gives him a meatier, dramatic role worthy of Gary King, and soon. —Eric Thurm, writer
Tatiana Maslany, Orphan Black
It would be easy to dismiss Orphan Black — a BBC America show about a young mother named Sarah Manning who discovers that she's a clone — as just another cheesy sci-fi show. And it could have been, were it not for Tatiana Maslany's incredibly nuanced performance playing multiple versions of herself. The clones of Orphan Black are not exactly an army full of Jango Fetts: Each woman has a distinct personality, a distinct accent, and, sometimes, a distinct hair style. Maslany makes each woman so different that you forget you're watching the same person — from Alison, the wound-up soccer mom, to Helena, the erratic and violent Ukrainian killer, to the hip evolutionary biologist Cosima, and then back to Sarah herself, a British thief and a con-artist. Expectations are high for the second season, which premieres in April 2014. But those expectations arose from the increasingly twisty, mysterious, and completely addictive first season, which was expertly anchored by Maslany. —Jillian Rayfield, writer
Tom Hanks, Captain Phillips
The problem with Tom Hanks is that he's just too damn good — whether he's dancing on giant pianos, storming Normandy's beaches, or merely slinging an arm around wasted fans to pose for Facebook photos. Sure there have been a few recent career missteps — his bewildering decision to continue bringing the dull Robert Langdon to the big screen being chief among them.
But even The Da Vinci Code can be forgiven in the light of Tom Hanks' starring role in Paul Greengrass' Captain Phillips. Throughout the film, Hanks delivers the kind of characterization and emotional integrity we've all come to expect. But it's the film's final 15 minutes that really resonate. With virtually no dialogue, Hanks stretches every fiber of his being to reflect the sheer physical and emotional shock that Phillips must have experienced after his rescue. The end result is captivating. It's a performance that left my jaw agape and reminded me that even with all of the modern bells and whistles that they have at their fingertips, all a good director really needs is a camera, some celluloid, and an actor willing to go that extra mile. —Daniel Bettridge, writer
Tom Mison, Sleep Hollow
A show with a concept as bonkers as Sleepy Hollow's could have easily gone off the rails in its freshman season, but Tom Mison's deft lead performance as Ichabod Crane has kept the supernatural suspense series steaming confidently along in its first ten episodes, offering humor and heart in equal measure.
As the charismatic Crane — a Revolutionary War hero transported to the present day to help avert the apocalypse — Mison is a swashbuckling Sherlock Holmes-type whose displacement positions him to comment on the traditions we've forgotten and the conveniences we take for granted. Mison's acerbic delivery makes him an undeniable scene-stealer, but it's the humanity that we see in Crane's quieter moments — mourning the life he lost or bonding with his equally compelling partner Abbie Mills (Nicole Beharie) — that makes Sleepy Hollow truly unmissable. —Laura Prudom, writer
Continue reading for free
We hope you're enjoying The Week's refreshingly open-minded journalism.
Subscribed to The Week? Register your account with the same email as your subscription.
Sign up to our 10 Things You Need to Know Today newsletter
A free daily digest of the biggest news stories of the day - and the best features from our website