Homeland recap: 'Big Man in Tehran'
In the penultimate episode of its third season, Homeland revisits the age-old question: Where do Nicholas Brody's loyalties really lie?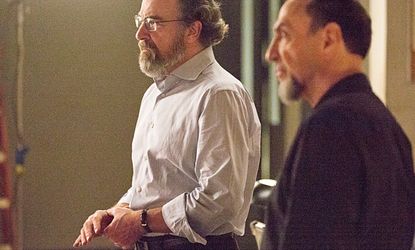 (Image credit: Kent Smth/SHOWTIME)
Sign up to our 10 Things You Need to Know Today newsletter
A free daily digest of the biggest news stories of the day - and the best features from our website
Thank you for signing up to TheWeek. You will receive a verification email shortly.
There was a problem. Please refresh the page and try again.
There's no show that creates high stakes quite like Homeland.
Sunday night's "Big Man in Tehran" — the penultimate episode in the show's third season — dropped Nicholas Brody in a situation that seems like a guaranteed death. Of course, Homeland's concern has always been less about plausibility and more about building suspense to nightmarish levels. Two governments may now be out to kill Brody, and it'll be a miracle if he survives the finale's first five minutes.
Let's pause on the final moment of "Big Man in Tehran." Brody has achieved his CIA mission, which was the brainchild of acting director Saul Berenson. Brody killed General Akbari — the head of Iran's Revolutionary Guard — right in the man's office, with visceral and unplanned passion. Namely: He grabbed a glass bowl, slammed the official across the head, and then suffocated him with the handiest pillow.
Subscribe to The Week
Escape your echo chamber. Get the facts behind the news, plus analysis from multiple perspectives.
SUBSCRIBE & SAVE
Sign up for The Week's Free Newsletters
From our morning news briefing to a weekly Good News Newsletter, get the best of The Week delivered directly to your inbox.
From our morning news briefing to a weekly Good News Newsletter, get the best of The Week delivered directly to your inbox.
As pure drama and psychological play, "Big Man in Tehran" works quite well — especially in the frenzied scenes leading up to the assassination. "I came here to redeem myself," Brody tells Akbari moments earlier, as he learns how deceased terrorist Abu Nazir once told Akbari of Brody in this very office. Nazir was the mastermind who once converted Brody into his own terrorist causes. Yet it's an assassination conducted out of desperation, successfully maneuvered only through the boldest, wildest gestures on Brody's part that saves his own life.
But we'll see how long that remains true, because this killing was not the assassination Saul planned. The episode moves fast but does not feel especially rushed. Brody is delivered into Iran, and as Saul and others intended, is welcomed with great pleasure. He becomes a celebrity, a hero, and the "big man in Tehran" of the episode's title. But the initial assassination scenario fails to come together when Akbari ducks out of a proposed meeting with Brody. Instead, Brody finds himself face-to-face with Nazir's widow, a kind woman who tries to appeal to Brody's sense of faith and duty to Nazir. Brody shows real emotional honesty with this woman, whom he once lived alongside. Brody taught her son and was trained by her husband. That tenderness is real. It compels him to open up about even the harder details of his life, like his daughter Dana's attempted suicide.
Days go by after that first plan's failure. Here come several scenes of delightful ambiguity and doubt. At the heart of the ambiguity is an age-old Homeland question: Where do Brody's loyalties lie? For several scenes, it seems he may have turned once again from his loyalties to U.S. forces. He crushes the poison with which he intended to kill Akbari, and he rebuffs the U.S. attempts to extract him, choosing instead to give interview after interview denouncing America.
So Saul tries to kill Brody. It only takes a week for CIA forces to get scared and plot Brody's own assassination. They don't want him to compromise Majid Javadi, the Iranian intelligence official they have blackmailed to work for the agency.
Carrie, in a wild warning delivered at the very last minute, clues Brody in to potential dangers he faces from the U.S. Brody dashes off, and tells Nazir's widow he needs to see Akbari. He says he has vital Javadi information to share, and indeed, once delivered to Akbari, confesses the true details of the Javadi blackmail and Brody's planned role in assassinating Akbari. And then proceeds to assassinate Akbari, proving his real loyalties.
This is a powerful character moment for Brody. He could have run off with Carrie instead of going to Nazir's widow and killing Akbari. But Brody revealed another true detail earlier when speaking with her: "I want to stop running." Yet up until this moment, Homeland hangs the old Brody question in the air again. It's tempting to believe he may have given up on the U.S. forces and reveled in the idea of a real home, a place where he's admired and worshipped, where people want to shake his hand and bow down and take his picture on their camera phones.
Instead, the episode closes in Akbari's office in the most desperate of straits. "It's me," Brody tells Carrie on a phone he grabbed from the desk. "I'm in Akbari's office. I killed him. Get me out of here." End scene. Not a bad setup for a finale at all and sure to guarantee high ratings.
If only it made more sense. First, crucially, why would Akbari's guards leave Brody and Akbari alone together? Even with Brody's celebrity, that seems like a stretch. Equally surprising is that his office wouldn't be monitored in some fashion. Brody doesn't kill Akbari in one quick move. It's several minutes of struggle, as Brody holds the pillow down despite the official's struggling. Where are Akbari's men during all this?
The other holes come in the form of the CIA reaction. Saul, Dar Adal, and Sen. Andrew Lockhart (soon to be confirmed as the new CIA director) all agree Brody has turned against the U.S. and needs to die far too quickly for believability's sake. Did no one try to make contact with Brody to see where he stood on the plan? After all, Carrie was able to find him easily enough to warn him. "The president is furious," Saul reflects, watching a Brody interview that Saul dubs "the latest insult." Lockhart calls Brody's turn "obvious." But is it? The quick decision to kill Brody does feel knee-jerk and falls short of what viewers might expect of Saul and his master plan.
And not all the character beats ring quite true, either. Bizarrely, Lockhart calls for Brody's death to save Javadi's cover, which he dubs "a huge victory worth preserving." This, from the man who recently slammed Saul for sending Javadi back to Iran, and the entire philosophy of action undergirding the attempt? What gives, Lockhart? Is this a genuine change of heart — or just sloppy and inconsistent writing to help craft this episode's (admittedly suspenseful) conclusion?
Any Akbari assassination would have been an outrageous feast of tension. Any Brody extraction plan would have been fraught. But now, Brody is alone in the man's office with only Carrie clued in to help him. How could Brody possibly survive the next few minutes, once Akbari's men find their boss dead? Perhaps that answer lies with Javadi, who suspects Brody may be blowing his cover. If he intervenes, Brody may survive long enough for Carrie to help with his extraction. But it's a real thriller, given the genuine threat from two different governments that Brody may face. Brody showed his cards — bloodily, bluntly, and dramatically. After so much planning, let's hope Saul is happy.
Read more Homeland recaps:
Homeland recap: 'Good Night'
Homeland recap: 'One Last Time'
Homeland recap: 'A Red Wheelbarrow'
Homeland recap: 'Game On'
Homeland recap: 'Tower of David'
Continue reading for free
We hope you're enjoying The Week's refreshingly open-minded journalism.
Subscribed to The Week? Register your account with the same email as your subscription.
Sign up to our 10 Things You Need to Know Today newsletter
A free daily digest of the biggest news stories of the day - and the best features from our website
John Hendel writes about technology and media policy on Capitol Hill for Communications Daily. He has published articles for The Atlantic, The Millions, Splitsider, and elsewhere.