Homeland recap: 'Gerontion'
The Showtime drama is back on track with a twisty, powerful episode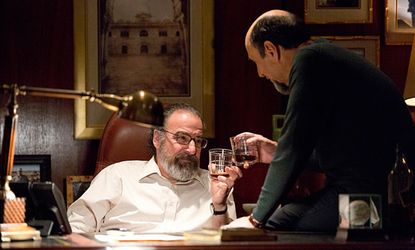 (Image credit: (Kent Smith/SHOWTIME))
It's been a slow-to-get-going season for Homeland, but Sunday's episode proved that not all ships cast adrift are lost. With sharp writing, fresh tensions, and several looming questions of consequence, "Gerontion" signaled that the show may actually be more on track than any viewer imagined during the season's shaky first half. "Gerontion" is heavy on conversation, with lots of cuts from one chat to another, but all the converging plotlines move the narrative forward, offering a welcome break from earlier malaise.
The episode's title comes from a 1920 T.S. Eliot poem. "I an old man," the poem reads. "A dull head among windy spaces." It describes the impotence of age, filled with longing and sexual restlessness — the "thoughts of a dry brain in a dry season." Acting CIA Director Saul Berenson alludes to the perils of age himself when chatting with his former friend and current adversary Majid Javadi, the Iranian official and financier behind the Langley bombing that killed scores of officials last season. Both Saul and Javadi are now old men, Saul tells Javadi, as he reflects on how much he wants to change international intelligence battles and the warfare that inevitably accompanies them.
The question Homeland constantly asks is whether any one actor in our global war on terror is to blame. The show did it successfully in earlier seasons when examining the role of U.S. drones and just why American soldier Nick Brody felt compelled to turn against his government, and it's doing it again with Javadi.
Subscribe to The Week
Escape your echo chamber. Get the facts behind the news, plus analysis from multiple perspectives.
SUBSCRIBE & SAVE
Sign up for The Week's Free Newsletters
From our morning news briefing to a weekly Good News Newsletter, get the best of The Week delivered directly to your inbox.
From our morning news briefing to a weekly Good News Newsletter, get the best of The Week delivered directly to your inbox.
"Even I have never done anything so cruel," Javadi tells Carrie when they drive to the airport together to send Javadi back to Iran as a blackmailed double agent for the United States. He's referring to Saul's long, undeniably painful deception that left Carrie committed in a mental ward. But recall that this is a terrorist talking and a man who very recently shot his daughter-in-law in the head and stabbed his ex-wife, all within feet of his baby granddaughter. Carrie rightly calls him "seriously deluded."
Unfortunately for Carrie, it's never quite that simple, and Homeland always plays with the guilt that also belongs to the American side. Local cops peg the CIA's Peter Quinn as the killer of Javadi's relatives due to a stray photo of him at the crime scene — a crime scene Saul hopes to bury to preserve the Javadi double agent deception. To get the cops off their back, Quinn goes to meet with them and blames the deaths on national security concerns. He confesses to the murders to quietly escape scrutiny and later tells Carrie that the confession felt wonderful. He no longer believes "that anything justifies the damage we do" in the CIA. Quinn is a machine of a man, but he still ticks with a guilty conscience, troubled by the stray death of a child at the beginning of this season. The cop interrogating Quinn shares that distaste. "Have you ever done anything but make things worse?" the officer asks of intelligence agencies.
Saul, at least, wants to end the cycle of violence and — somewhat inexplicably — seems to believe sending Javadi back to Iran as a double agent is key to doing it. His archrival Senator Lockhart, who will take over as CIA director in a mere 10 days, wants to publicly punish Javadi and disrupt Saul's plotting. "This is a once-in-a-lifetime operation that can transform everything, the entire Middle East!" Saul declares. The senator scoffs: "You sound like you're fucking high." Lockhart dismisses Saul's plot as "Cold War bullshit" and "human intelligence nonsense" — perhaps preferring the relative simplicity of drones, as he attested earlier this season. But Saul knows when to push back. If they get rid of Javadi, Iran will just replace him with another Javadi, he insists. Saul wants inside knowledge, and believes his plan is the only way to achieve it.
The questions of guilt underscoring the episode cut just as deeply on a personal level. One undercurrent of Homeland has always revolved around loyalty and betrayal and the delicate nature of trust. Dar Adal blasts Quinn for not being forthright, calling Quinn "my guy" because Dar recruited him. With that loyalty unreturned, Dar curses Quinn and says he hopes he gets his ass nailed to the wall for the Javadi relatives' deaths. The sense of betrayal has the potential to creep in again when Dar learns details of Saul's long-running plot. Saul played Dar for a fool as much as anyone, using him to persecute Carrie over and over. But after initial concerns, Dar happily toasts Saul: "Here's to continued success," Dar says. Quinn, for his part, seems torn about Nick Brody's role in the Langley bombing but pledges loyalty to Carrie in aiding her quest to prove Brody innocent.
But for all the governmental plotting, the most painful example of these betrayals is Saul's ongoing struggle with his wife. They live together, but as he discovered not long ago, she's now with another man. This week, we see Saul call her to reminisce about their Tehran days all while the other man is in bed behind her. By the episode's end, a triumphant Saul begs forgiveness. For "forgetting how beautiful [she is]," he whispers, going in for a kiss. Saul's control of the CIA is about to slip away, and his whole arc exudes his desperation and longing for dignity and a better world. Never before has Saul played such a central role to the show, and the character has shouldered these episodes well.
Thankfully, Homeland has also finally begun to deliver on a bevy of powerful questions. Until now, the show never properly explained whether the CIA believed Brody was guilty of working for Javadi. The terrorist denies to both Carrie and Saul that Brody knew about or planted the Langley bomb, and while Javadi is hardly a reliable source, it's encouraging to see Saul weigh the question of Brody's involvement — even as Javadi recognizes and mocks the CIA confusion: "I thought it was Brody. That's what you told the Senate. That's what you told the entire world."
Seven episodes into season three, the show will have to grapple with what Brody's exact role really was at the Langley bombing, not to mention the possible role of Javadi's lawyer, who the terrorist claims was the real culprit on the ground with the bomb. Given all that struggle, Carrie's pregnancy, Lockhart's imminent CIA ascent, and Javadi's return to Iran, Homeland has never felt stronger this season — though still at the disconcerting risk of spiraling out of control. Here's to hoping for a far more vibrant (and maybe even plausible) half of season three.
Read more Homeland recaps:
Homeland recap: 'Game On'
Homeland recap: 'Tower of David'

Continue reading for free
We hope you're enjoying The Week's refreshingly open-minded journalism.
Subscribed to The Week? Register your account with the same email as your subscription.