What every TV show can learn from Sleepy Hollow
Fox's hit freshman drama has laid out a blueprint for how to make a new TV series soar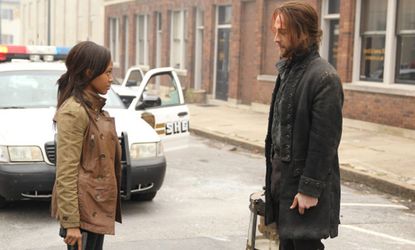 (Image credit: (Kent Smith/FOX))
Sign up to our 10 Things You Need to Know Today newsletter
A free daily digest of the biggest news stories of the day - and the best features from our website
Thank you for signing up to TheWeek. You will receive a verification email shortly.
There was a problem. Please refresh the page and try again.
Now that we're halfway through the traditional TV season, it's clear that viewers and critics are still losing their heads over Fox's Sleepy Hollow — and the show's success is refreshingly well-deserved. In an increasingly fragmented pop culture landscape, it's proving more challenging than ever for networks to distinguish themselves with bona fide successes each year, which makes shows that dominate the cultural conversation a rarity.
Only three new series can truly be considered breakout hits, according to the data: ABC's Agents of S.H.I.E.L.D., NBC's The Blacklist, and Fox's Sleepy Hollow. But while all three shows are hits, they've connected with audiences for completely different reasons.
The success of S.H.I.E.L.D. was all but guaranteed. Based on The Avengers — one of the highest-grossing films of all time — it launched with TV deity Joss Whedon at the helm and fan-favorite Clark Gregg front and center. But while Agents of S.H.I.E.L.D. is almost too big to fail, its ratings have continued to erode almost every week since its gangbusters series premiere, and critics have mauled it on a near-weekly basis. For its part, The Blacklist had its own bump from its powerhouse lead-in, The Voice. It currently occupies the same place in the schedule that made freshman hits out of Revolution and Smash — two hotly tipped dramas that cratered in their second seasons when they were removed from the singing competition's orbit.
Subscribe to The Week
Escape your echo chamber. Get the facts behind the news, plus analysis from multiple perspectives.
SUBSCRIBE & SAVE
Sign up for The Week's Free Newsletters
From our morning news briefing to a weekly Good News Newsletter, get the best of The Week delivered directly to your inbox.
From our morning news briefing to a weekly Good News Newsletter, get the best of The Week delivered directly to your inbox.
And then there's Sleepy Hollow, which has thrived without the help of a tie-in franchise, a famous cast member, or a monstrous lead-in.
Sleepy Hollow follows Ichabod Crane (Tom Mison), a soldier in the Revolutionary War and compatriot of George Washington and Thomas Jefferson, who is transported from 1781 to the present day to battle a resurrected Headless Horseman. It's soon revealed that the Horseman is Death, one of the Four Horsemen of the Apocalypse, so Ichabod partners with Lieutenant Mills (Nicole Beharie) to avert the Apocalypse as prophesied in the Book of Revelation. Yes, it's every bit as nutty as it sounds, and that's half the fun.
Sleepy Hollow's independent success is testament to the power of its unique blend of horror, humor, escapism, and mystery, which has been augmented by a uniformly excellent cast and breakneck, twist-laden storytelling. It was renewed for a second season less than three weeks after it premiered.
How did it happen? Sleepy Hollow's assets are numerous, yet each one is comparatively hard to find on network TV (and, in many cases on cable). Let's look at each:
1. Race: First and foremost, the series boasts one of the most diverse casts anywhere on television. Two of its four series regulars are African-American (Nichole Beharie and Orlando Jones), while all three of its most frequently recurring characters — played by John Cho, Lyndie Greenwood, and Nicholas Gonzalez — are people of color.
That diversity has led to a refreshingly candid attitude toward race — never shying away from commentary when appropriate, but never defining its characters by it. The pilot wastes no time in addressing Ichabod's experience with slavery, as the displaced revolutionary asks Beharie's skeptical Abbie whether she's been emancipated. In a later episode, when Ichabod praises Jefferson, Abbie and Frank immediately point out the Founding Father's hypocrisy in denouncing slavery while owning many slaves and fathering children with Sally Hemings — a view which Ichabod grudgingly comes to accept.
Though it shouldn't be remarkable for shows to address racism in realistic or emotionally honest ways, sidestepping those issues is still the norm in mainstream media. A recent diversity report from UCLA's Ralph J. Bunche Center for African American Studies noted that while minorities make up 36 percent of the U.S. population, minority actors held just 11 percent of lead roles in broadcast TV's 2011–12 TV season, and 15 percent on cable. The same study observed that shows with the highest percentage of racial diversity in their casts also performed better in the ratings than shows with less inclusive casts. As the study's author, Darnell Hunt, pointed out: "It's clear that people are watching shows that reflect and relate to their own experiences."
2. Gender: The show's diversity of gender is just as impressive. Thankfully, many broadcast shows now feature a female lead — although aside from Sleepy Hollow, only ABC's Scandal features a female lead who's also African American — but far fewer feature more than one strong woman in a regular or recurring role. Sleepy Hollow boasts three: Beharie; Greenwood, who plays Abbie's sister Jenny; and Katia Winter, who co-stars as Ichabod's wife, Katrina. All three are capable of saving the day in their own way, and in one memorable episode, the trio work together to save a kidnapped Ichabod, deliciously subverting the traditional "damsel in distress" narrative.
The relationships are stronger, too. Despite the fervent fan base rooting for something romantic to develop between Ichabod and Abbie (regardless of the fact that he's still married to Katrina) and the palpable chemistry between the two, there's a refreshing lack of jealousy or cattiness between the show's women. Abbie has done nothing to undermine Ichabod's relationship with his wife, nor shown anything other than a platonic affection for him; Katrina hasn't hesitated in turning to Abbie for help when necessary, and the friction between Abbie and Jenny stems solely from their strained relationship as children, not from disagreements relating to men. It's as if women can maintain relationships without being defined by who they're dating — a novel concept!
3. Self-aware humor: For all those genuine landmarks, Sleepy Hollow also has an admirable sense of humor about itself. A show that's mashing up Biblical prophecy with urban legends, the Founding Fathers, and time travel can't exactly take itself too seriously, but the show has toed the line between playful campiness and pure cheesiness to great effect so far. It's not afraid to poke fun at its own surrealism in places, but it never becomes so self-aware that it undermines the drama of what's occurring on screen. We still need to invest in what these characters are going through and believe in the danger they face — but thankfully, jokes about the proliferation of Starbucks and the cost of bottled water don't distract from the tension and scares of the storytelling.
4. Social media: Finally, Sleepy Hollow takes advantage of social media to a staggering extent. Not only are the cast, writers, and executive producers active on Twitter (and engaging in playful "wars" and gleeful crossover ideas with rival shows), they participate by live-tweeting episodes and creating memes, interacting with their ardent fans in a way that few shows can manage. This habitual fourth-wall breaking (generally spearheaded by the comedic genius that is Orlando Jones via his Tumblr and Twitter feeds) removes the traditional barriers between fans and the objects of their fandom; Jones has embraced fan fiction, fan art, gifs, and the art of "shipping" — for both Sleepy Hollow and similarly fan-friendly shows like Supernatural — endearing himself to the show's growing audience and helping to bring fan activities that were once considered niche or somehow shameful into the mainstream, reducing the stigma that's still generally attached to demonstrating your appreciation for a piece of pop culture.
While it remains to be seen whether Sleepy Hollow can maintain its zippy, progressive storytelling without going off the rails, it's reassuring that Fox is showing patience with the series: Despite it being their No. 1 new show, the network wisely decided that a less-is-more approach was more prudent, commissioning a second season without insisting on a back-nine episode order — a risk that might have led to a reduction in quality as the writers attempted to stretch a 13-episode story into 22 installments. Far too many network series wear out fans with too many meandering episodes, but Fox has ensured that Sleepy Hollow will leave viewers wanting more instead of overstaying its welcome.
Let's hope that other networks are paying enough attention to emulate the many smart decisions that have turned Sleepy Hollow into the fall's most surprising and rewarding new drama — because if they do, the modern TV landscape will become a much richer, more compelling place.
Continue reading for free
We hope you're enjoying The Week's refreshingly open-minded journalism.
Subscribed to The Week? Register your account with the same email as your subscription.
Sign up to our 10 Things You Need to Know Today newsletter
A free daily digest of the biggest news stories of the day - and the best features from our website
Laura Prudom is a freelance entertainment reporter, formerly of The Huffington Post, whose work has appeared on TV Fanatic, Moviefone, Vulture, and in the pages of Signature LA Direct magazine. A devourer of all things geek, she'll happily bore you with talk of Star Wars, Batman, and the underrated masterpiece that is Flash Gordon.