How Obama's Iran deal screwed up Homeland's third season
Saul Berenson's grand scheme to assassinate an Iranian official as part of a CIA-orchestrated coup has been bettered by a simpler real-life option: Diplomacy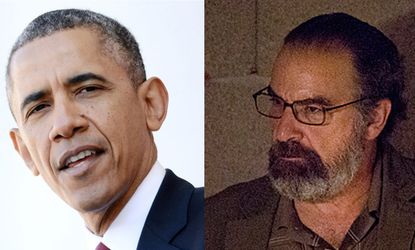 (Image credit: (Olivier Douliery-Pool/Getty Images, Kent Smith/SHOWTIME))
In a press conference less than 24 hours before Homeland aired the ninth episode of its uneven, Iran-focused third season, President Obama took the podium to offer a brief statement about a breakthrough deal on Iran's nuclear program. The president described a diplomacy that had "opened up a new path toward a world that is more secure — a future in which we can verify that Iran's nuclear program is peaceful and that it cannot build a nuclear weapon. For the first time in nearly a decade, we have halted the progress of the Iranian nuclear program, and key parts of the program will be rolled back."
That announcement comes at a strange time for Homeland, which has built a big following by depicting a harrowing post-9/11 political landscape that feels eerily plausible. And the show's third season has been all about Iran. Homeland's vision of the U.S.-Iran relationship shares at least one compelling similarity to real life: The Western world is obsessed with whatever nuclear enrichment might be afoot. But otherwise, the events of this past weekend showcased a sharp contrast between Homeland's fiction and the facts of real-life U.S. diplomacy.
The Iran of Homeland's third season has fueled nuclear paranoia, and acting CIA director Saul Berenson's agency has done everything possible to infiltrate this foreign power. As Sunday night's "One Last Time" revealed, Saul wants to send Nick Brody, a Marine turned terrorist turned fugitive, to kill a high-ranking Iranian intelligence official. This assassination will allow another Iranian official (who the CIA has implausibly blackmailed into working with them) to assume a top position. Saul calls Brody's target — the head of Iran's revolutionary guard — "the single greatest impediment to peace" without explaining why. His plan to end a vicious cycle of violence is deploying an assassin. That plotline, brewing all of Homeland's third season, paints a Manichean picture of U.S.-Iran relations: An unending cycle of terrorist violence, hatred, and confusion.
Subscribe to The Week
Escape your echo chamber. Get the facts behind the news, plus analysis from multiple perspectives.
SUBSCRIBE & SAVE
Sign up for The Week's Free Newsletters
From our morning news briefing to a weekly Good News Newsletter, get the best of The Week delivered directly to your inbox.
From our morning news briefing to a weekly Good News Newsletter, get the best of The Week delivered directly to your inbox.
How strange to have all that murky plotting offset, in the real world, by the first inklings of real dialogue, and an agreement cobbled together in Geneva to buy time and cooperation for something more permanent. In exchange for a reduction in sanctions, Iran will place limits on its much-feared nuclear program. Such news would be unthinkable in Homeland's world, and these real-life details mark a sharp contrast to the unsettled post-9/11 world that Homeland revels in.
The drama of Homeland is the drama of the bomber. The show can't exist without that paranoia, not to mention that often ambiguous line between calm and violence, sanity and bipolar madness. Diplomacy is a distant dream in the world of Homeland. Enemy officials never call each other. Everything is built on backroom deals, blackmail, spying, trickery, and assassination. A deep moral guilt accompanies this battered landscape, as CIA agents like Peter Quinn question the stray causalities they leave behind. The lump-in-the-throat heartstopper of the early seasons revolved around Nick Brody's rebellion against U.S. drone use and the innocent deaths drones cause. Homeland says the world is already damned, and everyone's to blame for it.
But there's a startling disconnect between news of Obama's outreach, the tentative agreement, and the utter violence of the Iran of Homeland. Because what is Homeland's Iran if not violent? The series has reached deep into this well of history (often true and troubling, of course), and its convenient thriller narrative in the show's last several episodes. It assigned blame to Iran for a brutal bombing at Langley, killing more than 200 U.S. citizens. The show marketed this 12/12 attack as a second 9/11, the ghost of which always defines the dynamics at play in Homeland. The villainous Javadi isn't just the mastermind of killings from afar, but the murderer of his own kin on American soil. Iran, as depicted on Homeland, is incapable of negotiation.
In a recent episode, Sen. Andrew Lockhart scoffs at the idea of blackmailing an Iranian official with knowledge of the official's corruption. "Which in Iran just means it's Tuesday," the Senate Intelligence Committee chairman remarks, writing off the entire country as one of the U.S.'s "sworn enemies."
"We fry Javadi's ass publicly," Lockhart demands, as he seeks to take down the Langley bombing mastermind who serves as an Iranian intelligence chief. This sort of trial strikes Saul as "short-sighted." Saul would prefer having an asset within Iran, someone the U.S. can "control" to force regime change — the only acceptable option in his mind. (Note to Homeland: The U.S. did something kind of similar 60 years ago. Didn't work out so well!) To Saul, if the U.S. seizes Javadi and tries him, Iran will inevitably replace Javadi with someone just like him. "And the attack that happened here happens again and again and again," Saul tells the senator. All of this is fine for drama – but it also showcases the power of Iran in Western imagination, and the divergence between real Iran and TV Iran.
Really, that's why it's so bizarre to see this chilling, sinister vision of Iran contrasted with news of a deal crafted between Iran's government and the U.S., Great Britain, China, Russia, France, and Germany. What would Saul say? Who did the CIA control within Iran to make this possible, Saul? Consider Saul's explanation for killing an Iranian official and installing his blackmailed bomber in power:
Two countries that haven't been able to communicate. What timing.
This is, of course, the popular conception of Iran, and a testament to how startling the weekend's agreement really was. The deal blows past the action-movie fantasyland that CIA agents are about to plow into on Homeland. Don't blame Showtime or Homeland's show runners for entrenching that vision of Iran, of course — the frames are certainly common enough. And for a show about U.S. intelligence officials, what better drama than conspiracies and assassinations? But for all the dense plotting of Homeland's third season, the real-life events of this weekend punctured Saul's theories in a big way. It was a welcome dissonance.

Continue reading for free
We hope you're enjoying The Week's refreshingly open-minded journalism.
Subscribed to The Week? Register your account with the same email as your subscription.