The invisible island where New York buries its poor and unidentified
Nearly one million people are buried in mass graves off of the Bronx. But the city prefers you know nothing about it.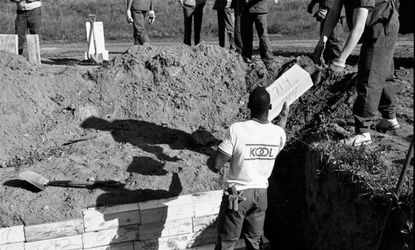 (Image credit: (AP Photo/Claire Yaffa))
Sign up to our 10 Things You Need to Know Today newsletter
A free daily digest of the biggest news stories of the day - and the best features from our website
Thank you for signing up to TheWeek. You will receive a verification email shortly.
There was a problem. Please refresh the page and try again.
Hart Island does not appear on the MTA's subway map or the Department of Transportation's bicycling maps. The AAA map in my car shows the blue dotted line of a public ferry from City Island to Hart Island, but the ferry closed to the public in 1976. Panorama, the room-sized Robert Moses-commissioned sculpture at the Queens Museum of Art — which displays every street and nearly every building in New York City — excludes the island entirely.
From an airplane at night, Hart Island is invisible from the west. It can be seen only on clear nights, only from the east and by inference, when lights from the city bounce off the water of the Sound and leave the island backlit. It appears as negative space, the darkest ink spot on a page of black.
Hart Island can be found on Google Maps, which labels the northern half of the island "Potter's Field," a term commonly used to refer to a place where unknown or unclaimed bodies are buried. The location is no longer accurate, and the name never was. When the city bought Hart Island for $75,000 in 1868, the new potter's field was set on 45 acres at the island's northern tip. Administration was handed over to what was then called the Department of Charities and Correction, which operated a prison and a technical school for delinquent boys on the island. Inmates were given the job of burying the dead, a practice that continues to this day. The Department of Correction estimates that more than 850,000 people are now buried on Hart Island, noting that the actual number may be somewhere between 750,000 and a million, a standard deviation that is jarring when you think about it.
Subscribe to The Week
Escape your echo chamber. Get the facts behind the news, plus analysis from multiple perspectives.
SUBSCRIBE & SAVE
Sign up for The Week's Free Newsletters
From our morning news briefing to a weekly Good News Newsletter, get the best of The Week delivered directly to your inbox.
From our morning news briefing to a weekly Good News Newsletter, get the best of The Week delivered directly to your inbox.
(More from Narratively: Reinventing the 'oldest profession')
In the last few years the old cemetery filled up, so the burials moved to Hart Island's south side. In 2010, there were 695 adults and 504 babies buried there. Four days a week, prisoners from Riker's Island lay plain pine boxes into two mass graves. In the adult grave, coffins are stacked three high. It will be filled with between 150 and 165 bodies (depending on the number of extra-wide coffins), plus separate coffins for body parts, and covered with 36 inches of dirt. The other grave, for fetuses and stillborn babies, will be loaded with 1,000 miniature coffins buried five deep. Both trenches are already open, dug by a yellow Caterpillar backhoe.
And then there is the name. In Matthew 27:3-10, Judas cast the 30 silver pieces he received for betraying Jesus onto the temple floor, and then hung himself in shame. The priests, concerned that adding blood money to the temple's treasury would violate church law, "bought with them the potter's field to bury strangers. Therefore that field has been called the 'Field of Blood' to this very day." We are lucky the name "potter's field" stuck, since printing the alternative on maps would be rather purple.
Lots of unidentified people are buried on Hart Island, and lots of poor people, too. But not everyone interred there is unknown and destitute. The first person buried in the potter's field died in Charity Hospital on Roosevelt Island — then called Blackwell's Island — with no relatives or friends to claim her body, but we do know her name: Louisa Van Slyke, and she was 24. It's reasonable to assume that Slyke was laid in the ground by inmates because the wife of Fred Bartels, the island's first warden, recorded the burial on April 20, 1869. Since then, Hart Island's dead have included victims of yellow and typhoid fever; veterans who died in Veterans Administration hospitals (whose names were known, and who should have been buried in individual graves in a national cemetery); and the first child to die of AIDS in New York, who received the field's only private grave and the only personal gravestone, reading "SC B1 1985" [Special Child, Baby 1, and the year of death]; well-known writers and actors including Bobby Driscoll, who played Peter Pan in the 1953 Disney movie; and Lewis Haggins, who founded an advocacy group called Picture the Homeless. Haggins was buried as an unidentified body in 2004 even though he had received food stamps, spent time in prison, and lived in city shelters, which meant at least three government agencies held his fingerprints on file. His friends later had him disinterred and buried elsewhere.
"Sometimes people wind up in city cemetery when they shouldn't be there at all," says Amy Koplow, executive director of the Hebrew Free Burial Association, which works to arrange burials for indigent Jews and keep them out of the potter's field. "They're not indigent. They're not unknown. Sometimes they just slip through the system."
One person who is buried on Hart Island who should not be is Laurie Grant's daughter. Grant was an obstetrician and gynecologist with a successful private practice in Westchester County. Her pregnancy in 1993 was hard. She felt nauseous for months, became dehydrated and malnourished, and required a feeding tube. At 33 weeks she was admitted to Lenox Hill Hospital. Tests on July 12, 1993 found the fetus had no heartbeat.
(More from Narratively: How a woman from Queens became a man)
Grant's stillborn baby was delivered by Caesarian section. Grant nearly died. The epidural numbed only one side of her body, leaving the other half in stabbing pain. A few days later, a nurse asked what she wanted to do with the body.
"The city can arrange it," Grant remembers the nurse saying.
"How?" Grant asked.
The city could take care of the burial, the nurse said. Grant would be able to visit the grave, which would be marked with a number instead of a name. Grant was grieving, malnourished and delirious with pain. She was on so much medication she was barely conscious.
"I don't remember signing any papers. I was really out of it," says Grant, who is now 59.
As a doctor, Grant easily could have afforded private burial in the cemetery plot her family already owned in the Valhalla area of Westchester County, a few minutes' drive from her current home. Grant was too sick to think if it, however, and hospital staff did not ask her relatives about other burial options. So the baby's body was placed in a pine coffin and buried in a mass grave on Hart Island.
Grant's experience was typical, says Melinda Hunt, an artist who has been fascinated with Hart Island since the early 1990s, and went on to publish a book and produce a film about it. In 2011 she founded the Hart Island Project, a charity that helps families around the world search for relatives who went missing in New York, and who may be buried in the potter's field. Many families were told by hospital nurses or social workers to "Let the city handle it," Hunt says, maybe to smooth the ordeal's jagged edges, and possibly to speed things along. Parents are commonly assured that the grave will be marked (which is sometimes true, but not always), and that parents will be allowed to visit the graves (which is almost never true)."It's not explained that this is a mass grave and you can't go visit it," Hunt says. "If families were made aware of that, I think most would opt for a private burial."
(More from Narratively: Sexless in the city)
Sometimes it's adults who get buried on Hart Island by mistake. The Office of the Chief Medical Examiner and the police department's missing persons unit use personal records, prescription bottles and fingerprints to identify people who die in hospitals, nursing homes and on the street without identification. They do a good job. Of the nearly 1,200 people buried on Hart Island last year, only about fifteen were unidentified, says Dan Stevelman, deputy commissioner for operations at the medical examiner's office.
But some advocates doubt whether officials are as diligent about tracking down next of kin as they are about identifying the deceased. Hunt regularly receives emails from family members who can easily afford an individual grave in a private cemetery, but who never received word that a loved one was dead. Leonard Melfi, an influential playwright in the 1960s, was buried on Hart Island by mistake when he died in 2001. His family had the body disinterred and re-buried in a private grave. Amy Koplow remembers a man who was buried on Hart Island despite his sizable pension from his career as a backstage technician at CBS television studios. The man had the misfortune of dying on Presidents' Day weekend; that meant city employees responsible for locating his family did not get to his case until the man was already buried on Hart Island.
"His case got lost in the shuffle," Koplow says. "There's all kinds of rotten stuff that happens."
Elaine Joseph's daughter Tomika was born premature at Beth Israel Hospital during the blizzard of 1978. The baby suffered Tetralogy of Fallot, a heart deformation. Joseph was sent home to Brooklyn, and her baby was transferred to Mt. Sinai Hospital for surgery. There, the baby died. With the subways closed and all transportation to Manhattan shut down, Joseph called the hospital morgue for four days, getting no response. When someone finally answered, Joseph was told that she had signed papers allowing Tomika to be buried in the potter's field.
This was impossible, since the storm had prevented Joseph from ever getting to the hospital.
"People say, 'Who cares about the potter's field? It's just a bunch of bums,'" says Joseph, 58, who went on to serve 23 years in the Navy and retire as a lieutenant commander. "Well, I'm no bum. My daughter was not a bum."
Read the rest of this story at Narratively.
Narratively is an online magazine devoted to original, in-depth and untold stories. Each week, Narratively explores a different theme and publishes just one story a day. It was one of TIME's 50 Best Websites of 2013.
Continue reading for free
We hope you're enjoying The Week's refreshingly open-minded journalism.
Subscribed to The Week? Register your account with the same email as your subscription.
Sign up to our 10 Things You Need to Know Today newsletter
A free daily digest of the biggest news stories of the day - and the best features from our website