Homeland recap: 'A Red Wheelbarrow'
In tonight's episode — surprise, surprise! — Carrie acts with wild irrationality. Again.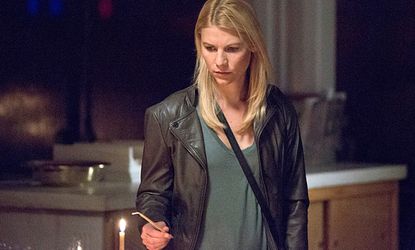 (Image credit: (Kent Smith/SHOWTIME))
Tonight's Homeland ended with yet another reminder of how frustrating the show can be, namely due to a protagonist who's completely off the wall.
Carrie Mathison is forever at war with her impulses. She prioritizes control to the point of obsession, and trusts her intuition above all. But these impulses have also constantly derailed her. Her bipolar condition helps inspire her and hone her focus, but also sends her spiraling out of control. She drinks heavily. She doesn't know the meaning of tact and is one of the more abrasive leads on television. There's a reason Carrie seems to have no real friends. She's an outsider, just as Brody was. Homeland suggests these traits may be vital in the pursuit of some of the international terrorists we've encountered, but it also highlights the knee-jerk jitteriness that comes along with them.
Because Carrie can't rein herself in, in "A Red Wheelbarrow" she threatens the CIA's mission that, let's remember, she entered the psych ward for earlier this season. Somehow, the CIA's plot to infiltrate Iran's intelligence service has played out remarkably well, despite its extreme implausibility. And now Carrie is ready to blow her cover, all to potentially clear Nick Brody's name.
Subscribe to The Week
Escape your echo chamber. Get the facts behind the news, plus analysis from multiple perspectives.
SUBSCRIBE & SAVE
Sign up for The Week's Free Newsletters
From our morning news briefing to a weekly Good News Newsletter, get the best of The Week delivered directly to your inbox.
From our morning news briefing to a weekly Good News Newsletter, get the best of The Week delivered directly to your inbox.
In last week's episode, Javadi dropped the news that his D.C. attorney Leland Bennett knows who killed scores of officials at Langley, and confirmed that Brody had nothing to do with it.
Cue Carrie's manic obsession. The agency targets the Bennett law firm and, with implausible success, Carrie manages to play the law firm, clueing them in to the CIA investigation and thus convincing firm lackey Peter Franklin, unaware of the CIA surveillance already in place, to visit the real bomber. But rather than help get the real bomber (a scruffy, plaid-wearing dude, if this is really him) out of the country, Franklin brings a gun to the bomber's motel and shoots him.
Carrie, aware of the murder about to happen as she sits in a CIA surveillance van, darts out to try to stop it. Saul promised her the bomber would be brought in alive. For Brody! Any mention of Brody brings out the most addled of Carrie's instincts. What is she really hoping to accomplish by running out into the motel parking lot? Her crazed focus has led her into several fumbles before, the illegal tracking of and subsequent romance with Brody foremost among them. "The bomber's the only way to prove Brody's innocent!" she declares.
"You're fucking us, Carrie," Quinn tells her via the CIA's radio as Dar Adal requests taht the agents bring her down. "Months of work. Your work."
No matter. She scurries out, and Quinn takes fire, if not immediately. Franklin murders the alleged real bomber with ease and sets out to destroy the corpse in the tub with chemicals, a la Breaking Bad. Who knew lawyers could be so violent? Carrie, meanwhile, is carted away to a hospital, cursing at Quinn.
Spare the sympathy. The sheer unhinged nature of Carrie's action earns her little understanding. She's a cold, hard character and not at all immediately likeable. Her impulses are entirely reckless. That unpredictability fires the engines of Homeland but also shows that perhaps characters are right never to trust her.
The show increasingly reveals a world where both Saul and Carrie are likely to be stripped of their status as CIA agents. Saul has mere days until Sen. Lockhart is set to take over, and Carrie's impulsiveness won't earn her a spot in Lockhart's CIA. Both their personal lives, limited as they are, also teeter on the brink. Carrie checks in on her pregnancy with doctors, who tell her she's many weeks in as she rattles off the lithium and heavy drinking she engaged in at the pregnancy's start. Saul attempts to revive his romance with his wife, who, to her credit, immediately tries to end things with her lover.
Little moments distinguish "A Red Wheelbarrow." Fara in particular has evolved, and we see more of the young CIA analyst here than ever before. The Javadi encounters rattled her, and it's refreshing to see her caring for her father and see his fears for their Iranian relatives back home. Or to see her skipping two days of work and visiting the house where Javadi murdered his two relatives. The slick law firm duo of Franklin and Bennett also pose a fun threat and have been consistently interesting players in the Javadi drama all season, even if the show created a contrived social history between Dar Adal and Bennett this episode. And no Brody family yet again, thankfully.
Homeland is gearing up for the final four episodes and is consciously pulling its threads together. Saul, very suddenly and in his final days as acting CIA director, flies off to Venezuela. In the final scene of the episode, Saul comes face-to-face with the glassy-eyed, bald Brody, still a prisoner in the haunting, strange Tower of David. Brody has been the card in Homeland's back pocket all season, but the show has not really suffered for his absence in recent episodes. Let's hope bringing him back into play actually pays off.
Read more Homeland recaps:
Homeland recap: 'Game On'
Homeland recap: 'Tower of David'

Continue reading for free
We hope you're enjoying The Week's refreshingly open-minded journalism.
Subscribed to The Week? Register your account with the same email as your subscription.