10 things you need to know today: November 7, 2013
Twitter stock goes on sale, a top HealthCare.gov official retires, and more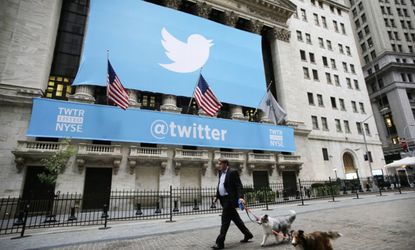 (Image credit: (AP Photo/Mark Lennihan))
1. Twitter boosts its shares' price before its IPO
Twitter priced its initial public offering of stock at $26 a share, giving the microblogging site a value of $14.4 billion. The 70 million shares begin trading Thursday on the New York Stock Exchange. Despite years of negative cash flow, the company boosted the price at the last minute from an earlier range of $23 to $25. The deal is set to raise as much as $2.1 billion, making it the biggest tech IPO since Facebook's last year. [Wall Street Journal]
………………………………………………………………………………
Subscribe to The Week
Escape your echo chamber. Get the facts behind the news, plus analysis from multiple perspectives.
SUBSCRIBE & SAVE
Sign up for The Week's Free Newsletters
From our morning news briefing to a weekly Good News Newsletter, get the best of The Week delivered directly to your inbox.
From our morning news briefing to a weekly Good News Newsletter, get the best of The Week delivered directly to your inbox.
2. The top HealthCare.gov tech official retires
The chief information officer of the agency responsible for the botched rollout of the ObamaCare website is leaving the government at the end of next week, according to an internal memo reported Wednesday. The official, Tony Trenkle, was in charge of Deputy CIO Henry Chao, the point person on the launch of HealthCare.gov for the Centers for Medicare and Medicaid Services. CMS declined to respond to questions about whether Trenkle was forced out. [Washington Post]
………………………………………………………………………………
3. Swiss investigators say Arafat was probably poisoned
A Swiss forensics team found high levels of radioactive polonium in the remains of Palestinian leader Yasser Arafat, who died in 2004, supporting the theory that he was poisoned, Al Jazeera reported Wednesday. Officially, the cause of death is listed as a stroke resulting from a blood disorder, but Arafat's body was exhumed after Palestinians insisted he had been murdered. Israel said the investigation was "more soap opera than science." [Los Angeles Times]
………………………………………………………………………………
4. Justices question a town board's public prayers
The Supreme Court, wading into the controversial topic of public prayer, considered arguments Wednesday on the constitutionality of a New York town board's practice of opening its meetings with prayers. Two people — one an atheist, the other Jewish — sued. The town said members of all faiths were welcome. A lower court ruled that since most of the prayers were Christian the practice amounted to an endorsement of a particular religion. [New York Times]
………………………………………………………………………………
5. Super typhoon hammers Pacific islands
With sustained winds topping out at 175 mph, super typhoon Haiyan barreled toward the Philippines early Thursday, after blowing through Palau and the Federated States of Micronesia. The storm could hit Manila, which has 12 million people, by late Friday or early Saturday. Thousands of villagers have fled their homes. Weather Channel lead meteorologist Michael Palmer said Haiyan could cause "a significant loss of life." [USA Today, NBC News]
………………………………………………………………………………
6. Greek police remove occupiers from shuttered state TV station
Greek riot police raided former state broadcaster ERT's headquarters on Thursday and removed 50 former employees who had been occupying the building since the government closed it down over wasteful spending. A replacement for ERT — Nerit — is scheduled to launch next spring. The raid prompted fresh protests outside the building by opponents of the debt-plagued government's attempts to slash spending in exchange for a foreign bailout. [New York Times]
………………………………………………………………………………
7. Diplomats begin a second round of nuclear talks with Iran
The U.S. and five other world powers started two days of talks with Iran over its controversial nuclear program on Thursday. Iranian Foreign Minister Mohammad Javad Zarif said a deal was possible "if everyone tries their best." European diplomats said they were cautiously optimistic. The meeting, in Geneva, marks the second round of talks since Iranian President Hassan Rouhani was elected in June and began pushing for better ties with the West. [Reuters, BBC News]
………………………………………………………………………………
8. A 1980s hijacker returns from Cuba to face justice
A former Black Panther militant who hijacked a plane to Cuba in 1984 returned to the U.S. on Wednesday, seeking "closure." William Potts, now 56, had expected the Cuban government to train him for guerrilla warfare; instead, it jailed him for 13 years for piracy. He later settled in Havana. Now he says he's ready to face the U.S. justice system. He hopes for leniency, and plans to return to Cuba once the case is settled. [BBC News]
………………………………………………………………………………
9. Blockbuster is closing its stores and focusing on video streaming
The parent company of Blockbuster announced that the once dominant video rental business is shutting down its 300 remaining stores. Leaders of DISH Network, which bought Blockbuster in 2011, said the move was necessary because consumers now want to download or stream videos — not rent them on DVDs. Blockbuster will continue its Blockbuster On Demand streaming service and Blockbuster @Home on DISH. Fifty independent stores might also remain open. [CNN]
………………………………………………………………………………
10. George Strait takes top honors at the Country Music Awards
Country legend George Strait, who is in the middle of a farewell tour, won entertainer of the year at Wednesday night's 47th Annual Country Music Awards in Nashville. The night's other big winners included Taylor Swift, who won the Pinnacle award, and newcomers Florida Georgia Line, who took the prize for vocal duo of the year, and single of the year for their hit "Cruise." [Boston Globe]

Continue reading for free
We hope you're enjoying The Week's refreshingly open-minded journalism.
Subscribed to The Week? Register your account with the same email as your subscription.