Are U.S. drone strikes really war crimes?
Two new reports say the U.S. has indiscriminately killed civilians in Pakistan and Yemen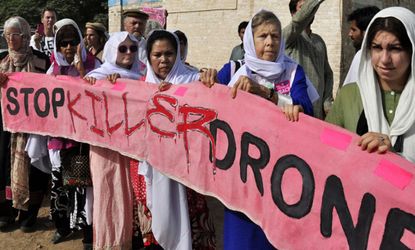 (Image credit: (AP Photo/Mohammad Hussain, File))
On Tuesday, human rights groups Amnesty International and Human Rights Watch released separate reports on the use of armed U.S. drones to target al Qaeda and other terrorist groups. Coming as President Obama prepares to host Pakistan Prime Minister Nawaz Sharif at the White House on Wednesday, the reports collectively accuse the U.S. of killing more civilians in Pakistan and Yemen than it has admitted, illicitly targeting rescue parties, and shrouding the drone program's rules and operational details in secrecy.
However, the most explosive allegation is that some U.S. drone strikes amount to probable war crimes. Here's Amnesty:
With few official numbers to rely on, the human rights groups did some legwork of their own. Amnesty studied 45 drone strikes in the North Waziristan region of Pakistan between January 2012 and August 2013, nine of the attacks in detail. Amnesty researchers, led by Mustafa Qadri, traveled to the area and conducted 60 interviews with strike survivors, relatives of victims, armed militants, and Pakistani government officials. The group tallied 29 noncombatant deaths.
Subscribe to The Week
Escape your echo chamber. Get the facts behind the news, plus analysis from multiple perspectives.
SUBSCRIBE & SAVE
Sign up for The Week's Free Newsletters
From our morning news briefing to a weekly Good News Newsletter, get the best of The Week delivered directly to your inbox.
From our morning news briefing to a weekly Good News Newsletter, get the best of The Week delivered directly to your inbox.
Meanwhile, Human Rights Watch looked into six unacknowledged attacks in Yemen between 2009 and 2013, interviewing some 90 people. The group says that the attacks, mostly by drones but also warships and cruise missiles, killed 82 people, at least 57 of them civilians. "Two these attacks were in clear violation of international humanitarian law — the laws of war — because they struck only civilians or used indiscriminate weapons," the report says. The other four "may have violated the laws of war" but "require further investigation."
So, is the U.S. committing war crimes? Broadly speaking, war crimes are grave violations of the Geneva Conventions and a few other binding international treaties. The number of civilian deaths in Pakistan and Yemen "suggests they are are not 'one-offs' but part of a systematic policy that appears inherently illegal," says Simon Tisdall at The Guardian. But the Obama administration may get off on a technicality:
That doesn't let the U.S. off the hook entirely. If the targeting of a specific individual isn't covered by international humanitarian law, the U.S. still must comply with international human rights law, say researchers from Stanford and New York University in an in-depth legal analysis of America's drone warfare.
The reports provide heartbreaking anecdotal evidence of the human cost of America's drone war. In fact, that seems to be their primary purpose. Amnesty, for example, says its report isn't "a comprehensive survey of U.S. drone strikes in Pakistan; it is a qualitative assessment based on detailed field research."
These gruesome tales of blown-apart grandmothers, 14-year-old laborers, and anti-extremist Muslim clerics "illustrate what's missing from most of the numbers-heavy policy discussions" about drone warfare, says Nate Rawlings at TIME. But tugging at heartstrings, even when fully justified, doesn't make for a very solid legal argument.
There are two basic problems with accusing the U.S. of war crimes, or even violations of international humanitarian law. The first is proof.
"The authors of the reports acknowledged that in many cases it was difficult to say with certainty whether adult men killed in a particular strike were members of al Qaeda or associated forces who had participated in or were planning attacks on U.S. interests," notes Ken Dilanian at the Los Angeles Times. U.S. intelligence officials and the members of Congress overseeing them say the drones almost always hit their legitimate marks, but "relatives of the dead often insist that their loved ones had no connection to extremism."
Relatedly, there's the fact that the U.S. covers its drone programs in layers of secrecy. Both human rights groups are stridently calling for the U.S. to issue clear rules on its drone policies and release its data on strikes and deaths, so the U.S. can have an open, democratic conversation about the havoc being wreaked overseas.
It's also hard to pin down how much permission the U.S. has from foreign governments to conduct these strikes. Pakistan, for example, routinely condemns the drone strikes, but Pakistani officials admit they've authorized a few, and it's widely believed most of the strikes are conducted with at least tacit approval if not active involvement.
Finally, the second big problem is best summed up by a quote attributed to Soviet leader Josef Stalin, who, when advised by a French diplomat in 1935 that currying favor with the Vatican might help weaken Nazism, answered derisively: "The pope? How many divisions has he got?" Even if the U.S. is guilty of war crimes — as it almost certainly was in torturing prisoners after the al Qaeda attacks of September 2001 — who's going to do anything about it?
The U.S. isn't a party to the International Criminal Court, which would have been able to press charges against alleged U.S. war criminals if the U.S. was unwilling or unable to do so. In theory, the United Nations Security Council could set up a special tribunal at The Hague to litigate U.S. drone strikes, similar to the ad hoc tribunals it approved after the bloody wars in the former Yugoslavia and Sierra Leone, but the U.S. would use its veto to sink such a resolution.
There's also almost zero domestic pressure for Obama to curb the overseas drone strikes or open up the books, national security journalist Joshua Faust tells TIME. In polls, Americans say they're not all that disturbed by using drones to attack targets overseas, and Congress is hardly chomping at the bit to shift drone policy. Until that changes, Foust adds, "none of the other calls for redress or openness will come to pass."

Continue reading for free
We hope you're enjoying The Week's refreshingly open-minded journalism.
Subscribed to The Week? Register your account with the same email as your subscription.