Peak soil: Why nutrition is disappearing from our food
The secret to good health may start with dirt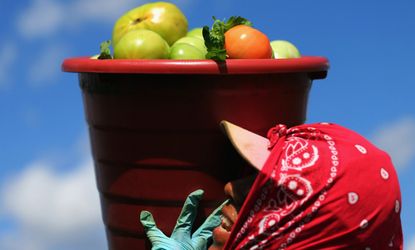 (Image credit: (Joe Raedle/Getty Images))
The fountain of youth may be made of dirt.
So supposes Steve Solomon in The Intelligent Gardner: Growing Nutrient-Dense Food. He asserts that most people could "live past age 100, die with all their original teeth, up to their final weeks, and this could all happen if only we fertilize all our food crops differently." It's a bold statement, but mounting evidence suggests that remineralization could be the definitive solution to our nutrient-light diet.
Concerns about the quality of our food tend to focus on the many evils of modern industrial farming, but 10,000 years of agriculture have created a more insidious problem. The minerals and phytonutrients historically derived from rich soil are diminishing in our produce and meat. It takes 500 years for nature to build two centimeters of living soil and only seconds for us to destroy it. While pesticides, chemical-rich fertilizers, and agro-tech exacerbate the problem, even natural gardening can leach soil of vital minerals. When the same land is constantly re-cultivated without replenishing phytonutrients it yields more disappointing and nutrient-deficient crops.
Subscribe to The Week
Escape your echo chamber. Get the facts behind the news, plus analysis from multiple perspectives.
SUBSCRIBE & SAVE
Sign up for The Week's Free Newsletters
From our morning news briefing to a weekly Good News Newsletter, get the best of The Week delivered directly to your inbox.
From our morning news briefing to a weekly Good News Newsletter, get the best of The Week delivered directly to your inbox.
Jo Robinson of The New York Times writes:
This is the same reason new gardeners often see generous harvests in their first few years, followed by diminishing results. The natural ecosystem is based on wild and diverse plant life, which creates more balanced and healthy soil. Agriculture, by nature, is designed to reap the maximum yield of crops, a process that has been honed and perfected over the centuries. It's quantity at the expense of quality, in other words.
As Nafeez Ahmed, executive director of the Institute for Policy Research & Development, notes:
Many experts believe the depletion of nutrients in our soil is responsible for many of the degenerative diseases that are more prevalent now than they were in our ancestors. Our predecessors had shorter lifespans than we do, but their primary cause of death was injury and infection. Research indicates that even those who lived into their seventies were far less likely than we are to die from degenerative diseases.
Solomon offers a solution: Remineralization. The process is relatively simple in concept. Through soil-testing, farmers can determine which minerals are deficient and regularly reintroduce them into their farmland. But the economics of it are quite challenging. At current food prices, artificially reduced by government subsides, the cost of remineralization could put many commercial farmers out of business.
Take phosphorus, for example. Vegetables and fruits grown in phosphorus-abundant soil have less starch and sugar, and feature higher concentrations of other important minerals and nutrients. Yet, the nutrient-rich produce looks the same as if it had been grown in phosphorus-deficient soil, making it difficult for consumers to rally behind the cause. Getting a critical mass of consumers is especially important because the cost of reintroducing a healthy supply of phosporus into just an acre of soil is about $10,000.
That's the crux of the problem for remineralization. While reintroducing phytonutrients and minerals into our soil would require a widespread commitment to invest more in our food, rallying the masses to get behind soil enhancement poses some unsurprising challenges. As David Montgomery, author of Dirt: The Erosion of Civilizations says, "Unfortunately, saving dirt just isn't a very sexy issue."

Continue reading for free
We hope you're enjoying The Week's refreshingly open-minded journalism.
Subscribed to The Week? Register your account with the same email as your subscription.