Girls on Film: Hollywood should embrace women — just as TV has
The small screen has long surpassed film in the opportunities it offers for women both in front of and behind the camera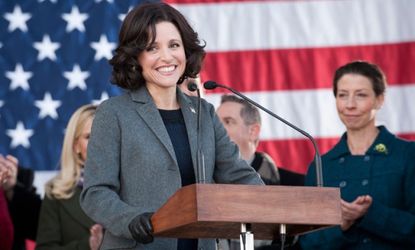 (Image credit: (HBO/Lacey Terrell))
Less than a year after announcing his retirement from film, Oscar-winning director Stephen Soderbergh has officially joined the television revolution.
"TV is where it's at," said Soderbergh after the Emmy Awards on Sunday. "You saw what happened tonight. Something like Breaking Bad would never happen in the studio system."
This is a refrain that's been repeated ad infinitum in recent years, drowning out the skepticism that dogged the TV industry for decades. Leading talent both behind and in front of the camera have flooded the industry, obliterating the line that used to divide "TV talent" and "cinematic talent" as series like The Wire, Sex and the City, Breaking Bad, Downtown Abbey, The Sopranos, and more have changed the face of the format.
Subscribe to The Week
Escape your echo chamber. Get the facts behind the news, plus analysis from multiple perspectives.
SUBSCRIBE & SAVE
Sign up for The Week's Free Newsletters
From our morning news briefing to a weekly Good News Newsletter, get the best of The Week delivered directly to your inbox.
From our morning news briefing to a weekly Good News Newsletter, get the best of The Week delivered directly to your inbox.
Opinions volley back and forth about which is "better" — an argument that will never be resolved while both mediums feature both stunning art and brain cell-killing duds. But there is one clear point where television undeniably excels: Opportunities for women.
Unlike film, where male-centric fare usually dominates the big screen, you can turn on your television any night of the week and see a varied selection of female characters and stars. On Sunday, ladies range from The Good Wife's Alicia Florrick to the lovely Belcher girls on Bob's Burgers. On Monday, there's everything from politically incorrect cupcake mavens to the wildly skilled professionals of Bones. On Tuesday, Fox's sexist new sitcom Dads can't drown out the multiple comediennes, cops, and superhero hunters that flood the rest of the schedule. On Wednesday, a female-led Revolution starts the night before the country singers of Nashville end it. Thursday is stuffed with everything from Parks & Recreation's Leslie Knope to scientists, investigators, princesses, diverse doctors, and more. Friday begins the weekend slow-down, but still offers young women quality programming in The Carrie Diaries. Even Saturday, the patchiest day in the weekly lineup, offers perks on cable like Tatiana Maslany's multiple roles in Orphan Black — which opens the list to the packed world of cable shows with leading women throughout the week, from Cougar Town to Showtime's new Masters of Sex to Claire Danes' Emmy-winning starring gig on Homeland.
Television was once viewed as a stepping stone to a career in cinema. It has now evolved into a better career alternative for many talents. Established actresses like Toni Collette, Laura Dern, and Glenn Close have joined actors like James Spader, Martin Sheen, and Beau Bridges on television, while Oscar winners like Jane Campion and Jessica Yu craft stellar miniseries or helm episodes on notable primetime shows. Television is where women get a chance to expand their resumes, and new talents get a chance to broaden their appeal. Diablo Cody followed up her Juno whirlwind with the cable drama The United States of Tara, and Lena Dunham became an overnight success when she followed her small indie Tiny Furniture with social media's ongoing obsession Girls.
Of course, television isn't perfect. While the diversity statistics are generally better than film, television has its own set of questionable representations and skewed numbers that echo the imbalance found in film (For one of many examples, characters with high-clout jobs are 96.6 percent male in family films and 86 percent in prime-time programs). Advancements don't change the fact that this is also the format that's given Seth McFarlane the space to give us animated, live-action, and awards show sexism, and a world where an increasingly gender-balanced show like the uber-popular The Big Bang Theory sits alongside Chuck Lorre's deeply sexist mega-hit, Two and a Half Men.
While the numbers aren't perfect, television's importance is a matter of access — and more importantly, cultural impact and resonance. Diverse women are rare enough in cinema that asking someone to name a recent, powerful female character can lead to tongue-tied silence. Television, however, is full of them (especially thanks to its current obsession with female lawyers). Behind the camera: How many influential female filmmakers creating mainstream fare can you name, to compete with high-profile female showrunners Shonda Rhimes, Tina Fey, and Lena Dunham?
Public recognition is matched with a willingness to take risks that's just not present in contemporary Hollywood. "You can be more adventurous in TV than you can in film," said Top of the Lake's Jane Campion earlier this summer. "Viewers know the world's a strange place and don't mind seeing it." Though TV may be padded with reality TV and cop shows, it has also offered the diversity of female-led series Enlightened, Veep, American Horror Story, Nurse Jackie, and The Big C. Unlike film, television's riskier fare isn't indie-relegated to a handful of screens for a week or two.
Even better, gender openness has gone hand-in-hand with greater racial inclusion. Fox's New Girl/The Mindy Project block is not only femme-centric, but also an unprecedented case of back-to-back network shows with Indian American characters — one of which, Mindy Kaling, is the first South Asian American to headline her own network show ever. The tropes are often still rigid — shows like Person of Interest, Sleepy Hollow, and Elementary all boast intrepid and skilled women of color to help the clever and white male leads — but even when they're not ideal, they seem downright heavenly in comparison much cinematic output.
In a film system focused on standard remakes and reboots, where even a popular character like Wonder Woman seems to be a challenge that scares the living crap out of creatives, there is no real space for anyone other than white men to make progress. "It's the contemporary woman that movies don't know what to do with, other than bather her in a bridal glow in romantic comedies where both the romance and the comedy are artificial sweeteners," wrote James Wolcott of television's rise and film's fall last year for Vanity Fair. "To trace the arc of Reese Witherspoon from Legally Blonde to This Means War is a depressing business. […] it's a famine zone, apart from a few indies and whatever screenwriter Diablo Cody (Young Adult) has brewing. If it's complex, prickly women you find wanting — the successors to the unlikely 1970s feministas played by Jane Fonda (Klute), Ellen Burstyn (Alice Doesn't Live Here Anymore), Jill Clayburgh (An Unmarried Woman) — then it's TV that'll hook you up."
Television also boasts a business model where super-popular, male-centric shows are continually infused with more and more female characters. Where we get one Black Widow in a team of male Avengers, Kaley Cuoco can now hang with the likes of Melissa Rauch and Mayim Bialik on the increasingly popular The Big Bang Theory. Person of Interest went from a 3:1 ratio to 3:3 male:female ratio for its third season this year.
By contrast, cinematic attitudes are easily encapsulated in comic-book legend Stan Lee's recent comments when asked whether a female superhero movie is coming. "Probably at one time they'll make a movie of the Black Widow," Lee said. "But the thing is, the women like these movies are much as the guys, so we don't have to knock ourselves out to find a female." Lest he receive the wrath of legions irked by the lack of Wonder Womans, Ms. Marvels, and more, he added: "But we will."
Of course, it helps that television doesn't require a massive budget beforehand, and can be axed after a failed pilot or a handful of episodes. But that wouldn't be much of a cinematic problem if Hollywood used even a small fraction of its blockbuster billions to allow the creative types fleeing the form to flourish with smaller-scale projects. Even better, studios could offer good starring gigs to women, instead of shrugging off the desires of female audiences because they choose to see something with men rather than nothing at all.
In the interim, we wait for more filmmakers like Joss Whedon to take a cue from television and add more women as blockbuster franchises march on. (Scarlet Witch will be introduced in Avengers 2). But while we wait, we can be glad that any night of the week, we can curl up and find dynamic women in the comfort of our own homes, crafted by the skill that's long since fed up with the film industry.
Girls on Film is a weekly column focusing on women and cinema. It can be found at TheWeek.com every Friday morning. And be sure to follow the Girls on Film Twitter feed for additional femme-con.

Continue reading for free
We hope you're enjoying The Week's refreshingly open-minded journalism.
Subscribed to The Week? Register your account with the same email as your subscription.