The hidden downsides of cheap ObamaCare insurance
It looks like the new health insurance plans are surprisingly affordable. But there's some fine print...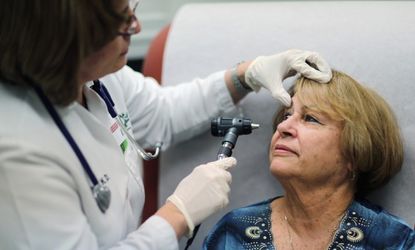 (Image credit: (Joe Raedle/Getty Images))
The Patient Protection and Affordable Care Act — as ObamaCare is formally known — makes a pretty explicit promise in its title: Affordable health care. Affordable is a pretty subjective term, but on Wednesday, the Obama administration released some hard figures for the state health insurance exchanges that are set to start enrolling people on Oct. 1. The numbers are generally better than expected.
The health care exchanges will offer four different levels of coverage: Bronze, silver, gold, and platinum, with bronze being the cheapest and least-comprehensive. The federal government is using the silver plans — covering about 70 percent of health care expenses — as its benchmark, and nationally, premiums for those plans are about 16 percent lower than the Congressional Budget Office estimated last year.
That's nice for the federal government, since the news lowers the estimated cost of ObamaCare's subsidies for people earning up to 400 percent of the poverty level (about $94,200 a year for a family of four, or $46,000 for an individual).
Subscribe to The Week
Escape your echo chamber. Get the facts behind the news, plus analysis from multiple perspectives.
SUBSCRIBE & SAVE
Sign up for The Week's Free Newsletters
From our morning news briefing to a weekly Good News Newsletter, get the best of The Week delivered directly to your inbox.
From our morning news briefing to a weekly Good News Newsletter, get the best of The Week delivered directly to your inbox.
How do the lower costs translate for the estimated seven million people who will buy insurance under these new exchanges? Nationally, the average premium will be $328 a month without subsidies. In the states where the feds are running or helping run the exchanges, consumers will have an average of 53 health plans to choose between. While the costs will vary widely, there will still be some real bargains: In Jackson, Miss., a 27-year-old could pay as little as $8 a month for a bronze plan.
So that's the good news, generally speaking. For anyone who has tried to buy insurance on their own, those aren't bad prices, and — assuming they pan out — they sort of undermine the dire warnings of price shock from ObamaCare critics. But this is insurance. Inevitably there's some fine print.
The first big caveat is that prices will vary a lot by where you live. A resident of Brooklyn will pay more than her socioeconomic doppelgänger in Rochester, for example. In some states, like New Hampshire and West Virginia, many areas will have only one insurer offering plans on the exchange.
The second caveat: There's scant information about how much gold and platinum plans will cost. "Want to know what you might pay for health coverage in an exchange next year?" say Politico's Brett Norman and Jason Millman. "Too bad. The report gives lots of examples of the kinds of people who will get good prices — but everyone else will remain in the dark until at least next Tuesday, when ObamaCare is supposed to open its doors."
The third, and potentially biggest, caveat: People enrolled in exchanges may not have a very broad choice of doctors or hospitals to choose between. Your mileage will vary by state and plan, says Robert Pear in The New York Times, but "from California to Illinois to New Hampshire, and in many states in between, insurers are driving down premiums by restricting the number of providers who will treat patients in their new health plans."
We'll know more when the exchanges open on Oct. 1 — probably. "Expect trouble," cautions USA Today in an editorial. The health care exchanges "are brand new, and like anything this big, glitches are inevitable. Exchanges intended to be friendly online stores will be less seamless than Expedia or Amazon, at least at first."
Eventually, the exchanges will allow people to buy health insurance. But assuming about half of the 15 million uninsured Americans sign up, that's still a small slice of the health insurance pie. About 157 people — or 55 percent of Americans — are still covered under employer-sponsored health plans, and another 30 percent are covered by Medicare and Medicaid.
If you're interested in what you could pay under the exchanges, the Kaiser Family Foundation offers this calculator. And this infographic:

Continue reading for free
We hope you're enjoying The Week's refreshingly open-minded journalism.
Subscribed to The Week? Register your account with the same email as your subscription.