The media's mind-boggling failure to understand Pope Francis
This raises all sorts of questions about journalists' ability to cover all religions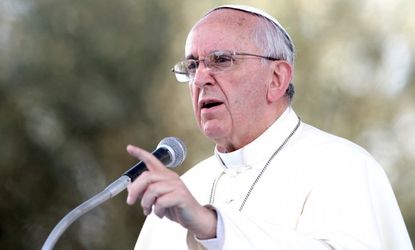 (Image credit: (Franco Origlia/Getty Images))
Sign up to our 10 Things You Need to Know Today newsletter
A free daily digest of the biggest news stories of the day - and the best features from our website
Thank you for signing up to TheWeek. You will receive a verification email shortly.
There was a problem. Please refresh the page and try again.
As a practicing Catholic working in the media, perhaps the five most frightening words I hear are "Pope Francis gave an interview." They aren't scary because of anything Pope Francis actually says; the former Cardinal Jorge Bergoglio spent decades choosing his words carefully as an Argentine priest and then prelate of Buenos Aires, emphasizing the pastoral care of the Catholic Church while the extremes of politics from both left and right engulfed Argentina for decades. The first Jesuit pontiff knows how to speak about faith and clearly enjoys doing so — and Catholics aren't alone in their enthusiasm for listening.
So where does my anxiety come from? Well, from having to read what the media think Francis said.
Often, I find out from U.S. newspaper headlines that the pope has declared faith irrelevant to salvation or that same-sex marriage is acceptable. I stumble on these breaking-news bulletins before most Catholics are even aware of the interview itself.
Subscribe to The Week
Escape your echo chamber. Get the facts behind the news, plus analysis from multiple perspectives.
SUBSCRIBE & SAVE
Sign up for The Week's Free Newsletters
From our morning news briefing to a weekly Good News Newsletter, get the best of The Week delivered directly to your inbox.
From our morning news briefing to a weekly Good News Newsletter, get the best of The Week delivered directly to your inbox.
But here's the truth: The media seem incapable of understanding the pope, and Catholicism itself.
It's not as if they haven't had the practice. The problem first became apparent in the spring, shortly after Pope Francis's installation, when USA Today reported about the pontiff's supposed "obsession with Satan," which must have come as a shock to Catholics, Christians, and others who have, er … actually read the Bible. Having "mentioned the devil on a handful of occasions," the newspaper took an innocuous incident in which Pope Francis gave a blessing to a disabled young man and speculated that the Jesuit pontiff was an exorcist. Or perhaps from The Exorcist. The Vatican had to inform the world press that no priest performs ad hoc exorcisms, and that popes usually pray with and bless visitors to St. Peter's Square.
There is nothing secret about exorcisms in the Catholic Church, nor about papal blessings or the belief that Satan is a real and malevolent force in the universe. Any media organization could have flipped through the Catholic catechism, canon law, or even the Bible — all of which are online. Instead, USA Today and other media outlets around the world seemed stunned that a pope would talk about Satan, which led Fox News's Kirsten Powers to quip on Twitter, "The @AP should just change the title to this story to BREAKING: Pope Francis believes the Bible."
Just a couple of days later, the international media reported that Francis had declared that atheists would get into heaven as long as they performed good deeds. This time, the media took Francis's words rather than his actions out of context. Francis spoke of ecumenical communion between believers and good-hearted atheists, where work for the poor and downtrodden would provide a meeting place of hearts, and pointed out the basic tenet of Christianity that Jesus Christ came to redeem all sinners. The last time this position was considered an innovation might have been when Jesus Himself first said it, and the church has taught it ever since. One has to choose redemption, though, in order to be saved, and nothing Francis said has contradicted that.
Two months later, the media breathlessly reported that Francis had declared that the Catholic Church would no longer "judge" homosexuality. This time, when Francis said, "Who am I to judge?" in response to a question at a press conference, he explicitly referred to the catechism to explain that orientation itself wasn't an issue of sin, but that fornication and adultery are, neither of which are limited to gays and lesbians. And in fact, Francis was actually responding to a question about a purported "gay lobby" at the Vatican and was emphasizing that having "lobbies" of all kinds focused on narrow segments of society destroys Christian unity and brotherhood.
Last week, Francis gave a lengthy interview to America Magazine, published by and for the Society of Jesuits in the U.S. Among the many topics he discussed was evangelism, and the pope's image of the church as "a field hospital" to heal those wounded by sin. "We have to find a new balance" in that triage by starting with the good news of salvation, rather than a litany of rules and dictates, including those about abortion, divorce, and homosexuality. "[T]he proclamation of the saving love of God comes before moral and religious imperatives," Francis told his fellow Jesuits, and used the model of a homily as an example of true evangelization:
The media takeaway from this rather common-sense approach to evangelization — and the centrality of Jesus Christ and the message of salvation to Christianity — was that Pope Francis was going to change doctrine, or at least soften it up a lot. ABC News reported this as Francis scolding the Catholic Church over "divisive rules." A few days later, the European wire service AFP reported that the "pope seeks easing of rigid Catholic doctrine," with references to other reporting by media outlets of "revolutionary words" and that Francis was "pushing a shift" in the Catholic Church. The abortion-rights group NARAL even went as far as publishing a thank-you note to Francis, only to have him excoriate abortion a few days later and the "throwaway culture" that abortion promotes.
Even with all of the resources available to research the hardly secret doctrine of the mainstream Catholic Church, the media either fail at putting Francis in the proper context or can't resist attempting to fit him into the narrative as the Pope Who Will Create Secular Catholicism. In this narrative, the retired Benedict XVI plays as some kind of moss-backed, benighted conservative for whom Francis is the cure. That ridiculous notion got skewered by National Catholic Register's Pat Archibold in an article that offers 10 quotes that prove Pope Francis is a liberal — only to discover that all 10 came from Pope Emeritus Benedict XVI.
While this continuing media failure exasperates Catholics who actually understand what Pope Francis says, it raises a more significant question of media credibility on religious matters, and perhaps even more broadly than that. Catholic doctrine and teachings are easily accessible and understandable, and yet the media don't appear interested in checking facts first before publishing news stories that inevitably mischaracterize the words of Francis and the teachings of the Catholic Church. Just how well do they report on other religions making news, whether that is Islam, Hinduism, Buddhism, or even atheism? Do they research those topics before publication, or are they building fact-deficient narratives on those topics, too — and at what cost to clarity?
Even with the exasperation and dread of having to explain that Francis isn't actually rewriting the doctrine of the Catholic Church, we Catholics do have to admit that we benefit from the media failures in one respect. Suddenly, cheering the pope is hip in a way we haven't seen since John Paul II took on the Soviets early in his papacy. The gentle pastor of the Vatican has made Catholicism cool again, thanks to the press's futile attempts to pigeonhole him. The Lord works in mysterious ways — even more mysterious than the media, it seems.
Continue reading for free
We hope you're enjoying The Week's refreshingly open-minded journalism.
Subscribed to The Week? Register your account with the same email as your subscription.
Sign up to our 10 Things You Need to Know Today newsletter
A free daily digest of the biggest news stories of the day - and the best features from our website
Edward Morrissey has been writing about politics since 2003 in his blog, Captain's Quarters, and now writes for HotAir.com. His columns have appeared in the Washington Post, the New York Post, The New York Sun, the Washington Times, and other newspapers. Morrissey has a daily Internet talk show on politics and culture at Hot Air. Since 2004, Morrissey has had a weekend talk radio show in the Minneapolis/St. Paul area and often fills in as a guest on Salem Radio Network's nationally-syndicated shows. He lives in the Twin Cities area of Minnesota with his wife, son and daughter-in-law, and his two granddaughters. Morrissey's new book, GOING RED, will be published by Crown Forum on April 5, 2016.