Forget Better Call Saul: 6 popular franchises that actually deserve spin-offs
From Game of Thrones to James Bond to The Walking Dead, these are the series that could benefit from a new perspective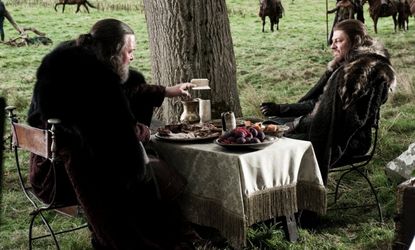 (Image credit: (Facebook.com/<a href="https://www.facebook.com/GameOfThrones" target="_blank">GameofThrones</a>))
Earlier today, Muggles across the world celebrated the announcement that J.K. Rowling will return to the world of Harry Potter to write a screenplay, set 70 years before the events of the Harry Potter stories, called Fantastic Beasts and Where to Find Them. But before you start spouting off about a Harry Potter prequel, Rowling has an important distinction to make. Fantastic Beasts and Where to Find Them is "neither a prequel nor a sequel to the Harry Potter series," insists Rowling, but "an extension of the wizarding world."
It may sound like semantics, but the kind of "extension" that Rowling is talking about has grown very common. Like it or not, we have officially entered the spin-off era of the entertainment world, with franchises like The Avengers and Breaking Bad picking up supporting characters and launching them into their own distinct narratives. Though this trend has existed for decades, it's never been more prevalent than now, as Hollywood grows increasingly desperate to milk every dollar from a hot property.
But before you get too cynical about Hollywood's lack of creativity, recognize the potential if such spin-offs are handled right. There are plenty of franchises ripe for alternative trajectories that would offer new and genuinely fascinating perspectives on popular stories. Here are six:
Subscribe to The Week
Escape your echo chamber. Get the facts behind the news, plus analysis from multiple perspectives.
SUBSCRIBE & SAVE
Sign up for The Week's Free Newsletters
From our morning news briefing to a weekly Good News Newsletter, get the best of The Week delivered directly to your inbox.
From our morning news briefing to a weekly Good News Newsletter, get the best of The Week delivered directly to your inbox.
1. Game of Thrones — "Robert's Rebellion"
Game of Thrones' main story continues to surge forward, but there's an equally riveting tale in the show's rearview mirror: The legendary Robert's Rebellion, in which erstwhile protagonist Ned Stark rose up alongside his friend Robert Baratheon to wage war against the mad king Aerys Taragaryen.
As a miniseries, Robert's Rebellion would have several attractions. It would revisit rich characters like Ned Stark and Robert Baratheon, adding further context to the main series. It would offer a fascinating window into Westeros during the rule of the Targaryens, and into characters we never got to meet, like Rhaegar Targaryen and Lyanna Stark. And, from a more practical perspective, it would give the show a chance to take a breather while everyone waits for George R.R. Martin to finish the last two novels. Game of Thrones is a rich enough world to sustain all kinds of stories, but Robert's Rebellion is the crown jewel that should be tackled first.
2. James Bond — "MI6"
For a franchise that has endured for more than 50 years, the James Bond series has remained laser-focused on its lead character. But there's loads of untapped potential in 007's fellow allies. Agents like 002 and 006 have appeared in supporting roles in previous 007 films, but Bond's fellow Double-0 agents have been missing since the 2006 reboot Casino Royale — and there's no better time to learn what the rest of MI6 has been up to.
Much as ABC's upcoming Agents of S.H.I.E.L.D. focuses on the governmental organization that played such a major role in The Avengers, MI6 could give us new insight into the organization that dispatches 007 on his missions. Who are Bond's fellow Double-0 agents? Who are the geniuses at Q Branch? And who's pulling the strings? Think the intergovernmental intrigue of 24 or Homeland with the action of a top-tier thriller. And a film or TV series about the inner workings of MI6 would be the perfect way to expand the scope of the James Bond franchise without cannibalizing the Daniel Craig films altogether.
3. The Walking Dead — "New York City"
The Walking Dead is a great premise for a show, but it's continually in search of great characters. Fortunately, the show is also uniquely suited to reinvention; any character that's not working can be seamlessly killed off and replaced with someone more interesting.
But my proposal would be a little more radical: Keep the main series going, but give us spin-offs set in entirely different parts of the world — if it worked for The Office, there's no reason it couldn't work here. The Walking Dead is largely set in rural parts of the American South, so my first instinct is to go in the opposite direction by showing what the zombie apocalypse has done to a major urban center, like New York City. But you could just as easily substitute any other city in the world: Just write some interesting characters, throw in some zombies, and see what happens.
4. Star Wars — "The Galactic Empire"
One of the biggest problems with the Star Wars prequels is that they end just when the story is getting really good. Episode III concludes with the infant Luke Skywalker being delivered to Tattooine, but Episode IV picks up the story a full 19 years later, when Luke has already reached adulthood. Forget J.J. Abrams' upcoming Episode VII — give me an Episode III 1/2, following a variety of people adjusting to life under the increasingly sinister Galactic Empire. It's a sci-fi Game of Thrones set in one of the most complete and diverse fictional universes in entertainment history — who wouldn't watch that?
The stories practically write themselves: An idealistic young Stormtrooper who slowly recognizes that something is wrong; a tradeswoman who's forced to become a smuggler when the Empire takes over her route; the young skeptics who quietly plant the seeds of the Rebellion. Yes, we know how the story will end, but there's infinite room for characters we've never met, and planets we've never visited, within those margins.
5. The World's End — "And I Feel Fine"
This summer's terrific sci-fi/comedy The World's End closes — spoiler alert! — with the dawn of a new world order, as humankind adjusts to a post-apocalyptic world without any technology but the robotic "blanks" the invaders left behind. The movie deliberately closes on that wide-open note — but I can't help but imagine all the incredible stories that could be told in the film's universe.
And I Feel Fine wouldn't even need to feature any of the characters from The World's End; in fact, it could take place pretty much anywhere on Earth, as the rest of the world adjusts to a status quo that's essentially plunged us into a second dark age. Think NBC's Revolution, but infinitely funnier and more character-focused, and you're not far off.
6. Breaking Bad — "The Empire Business"
I may have some doubts about Better Call Saul, but I'm not inherently opposed to the idea of a Breaking Bad spin-off. I'd just rather see the spin-off focus on a different character — like, say, Gustavo Fring. The Empire Business would focus on Gus as a young Chilean chemistry student working alongside his partner Max as he learns the ins and outs of the meth trade.
The Empire Business could fill in the many tantalizing gaps in Gus' backstory: The reason he fled Chile, the beginning of his (possibly romantic) relationship with Max, and the reason he's marked as a "protected man" by the Mexican Cartel. Most importantly, it would also give some of the show's most enduring secondary characters — including Mike Ehrmantraut and, yes, Saul Goodman — a little more time in the spotlight. Plus, for anyone who's mourning the end of Breaking Bad, it would offer a similar tragic arc about a man whose skill and ambition led to a tragic fall.

Continue reading for free
We hope you're enjoying The Week's refreshingly open-minded journalism.
Subscribed to The Week? Register your account with the same email as your subscription.