Should the U.S. go it alone in Syria?
With allies urging caution, the Obama administration appears headed toward a unilateral strike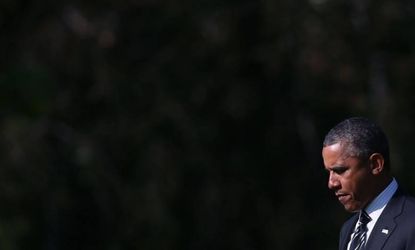 (Image credit: Getty Images/Mark Wilson)
In the immediate aftermath of an alleged Syrian chemical weapons attack last week, widespread international outrage seemed to be building toward an imminent retaliatory attack.
Secretary of State John Kerry called the attack a "moral obscenity," and said evidence "strongly indicates" Syrian President Bashar al-Assad was responsible for it. France and Britain, too, indicated that they were ready to join the fight, with the latter nation introducing a United Nations resolution to muster more support.
Yet by Thursday, that would-be coalition appeared to be falling apart.
Subscribe to The Week
Escape your echo chamber. Get the facts behind the news, plus analysis from multiple perspectives.
SUBSCRIBE & SAVE
Sign up for The Week's Free Newsletters
From our morning news briefing to a weekly Good News Newsletter, get the best of The Week delivered directly to your inbox.
From our morning news briefing to a weekly Good News Newsletter, get the best of The Week delivered directly to your inbox.
The U.N. Security Council, led by a veto-wielding Russia, nixed the resolution seeking authorization for the use of force. And in a stunning defeat, British lawmakers during an emergency session of Parliament shot down Cameron's request to endorse military action.
That followed news earlier this week that the Arab League, which supported Western intervention in Libya, would not officially condone a campaign in Syria, even though many of the league's members privately want the U.S. to take such a course.
With potential allies dwindling, it appears the Obama administration has been left with two unpalatable options: Back off, or forge ahead alone. And according to a New York Times report late Thursday, the administration has already determined that it is willing to launch a limited, unilateral strike if necessary.
From the Times:
Should the U.S. pursue a limited strike on its own, it would certainly have the muscle to do so. The proposed attacks would likely involve launching cruise missiles at military sites within Syria from ships stationed in the region; the U.S. on Thursday moved a fifth warship armed with cruise missiles into the Mediterranean Sea.
The wisdom of launching such an attack is another matter entirely.
Much of the reason why international momentum for a strike has stalled has to do with the minimal evidence directly tying Assad to the chemical weapons attack. Call it the legacy of the Iraq War.
American officials acknowledged that there were gaps in the intelligence picture, with several telling the Associated Press the evidence tying Assad to chemical weapons was "not a slam dunk" — a reference to former CIA chief George Tenet's assertion in 2002 that evidence proving Iraq had weapons of mass destruction was a "slam dunk." That claim famously blew up in President Bush's face soon after Saddam Hussein was ousted.
Those gaps, officials said, made it difficult to trace the chemical weapons attack back to Assad, and left open the possibility that rogue members of the military had launched it. Indeed, perhaps the rebels themselves were responsible, in an attempt to draw the U.S. into attacking Assad.
Austria, Spain, Italy, and others have cautioned against rushing to judgment until U.N. inspectors report back with their findings from Syria. Those inspectors are to return from Syria over the weekend.
To push ahead without any allies would be a dangerous move for the president, since he would effectively be thumbing his nose at the international community. As such, a unilateral attack would "threaten the fundamental principles of the international legal system and, in so doing, put us all at risk," Yale law professors Oona Hathaway and Scott Shapiro wrote at the Washington Post.
Indeed, at least Bush in Iraq had the veneer of an alliance with his so-called "coalition of the willing," even if it was widely known that it was basically a U.S. operation with British support. Furthermore, there is virtually no support among the American public for a military strike. A recent Reuters/Ipsos poll found that only 9 percent of Americans supported intervening in Syria.
Public opinion could sour even more if Obama were to be seen as bucking international opinion. And indeed, the White House on Thursday released a flurry of announcements sure to please liberals, which seemed to indicate that the administration was seeking to distract attention from Syria, or to placate liberal critics in the run-up to an attack.
The administration announced executive action to close a gun loophole; said it would not sue Colorado and Washington for legalizing marijuana; released two long-awaited energy-efficiency rules; and revealed that same-sex couples in every state could jointly file their tax returns. An administration official told Politico the timing was merely coincidental.
At this point, if Obama does decide to move forward with a unilateral strike, he would be at odds with the U.S.'s closest allies, the international community, and the American people. And it looks like members of Congress, who have been largely quiet before, are starting to complain.
Then again, it would be awkward, to say the least, for the president of the United States to telegraph an attack, only to back down. The White House may calculate that a backlash is a better option than conceding that the president's threats are empty.

Continue reading for free
We hope you're enjoying The Week's refreshingly open-minded journalism.
Subscribed to The Week? Register your account with the same email as your subscription.