22 songs that write themselves, from the Songwriter's Rhyming Dictionary
"Mildewy, St. Louis, chop suey" — it just needs a tune!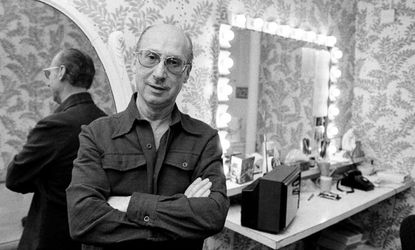 (Image credit: AP Photo/Jerry Mosey)
Sammy Cahn was a songwriter in the classic American mold. Raised Samuel Cohen by Jewish immigrants on the Lower East Side of New York City, Cahn cut his chops as a musician in Bar Mitzvah bands, Atlantic City hotels, and Catskills resorts before penning the English lyrics for "Bei Mir Bist Du Schoen," a breakout hit for the Andrews Sisters. With collaborators Saul Chaplin, Jules Styne, and Jimmy van Heusen, he went on to write some of the best-known lyrics of the '40s, '50s, and '60s, including "It's Been a Long, Long Time," "My Kind of Town," "All the Way," "Love and Marriage," "High Hopes," "Come Fly With Me," and "Let it Snow! Let it Snow! Let it Snow!"
He had a way with the vernacular and knew the difference between a rhyme and a singable rhyme. As he once said, "if the word orange is unrhymable, locksmiths is unsingable. And singability is the difference between a poem and a lyric." He also said, "I am often asked, 'Which comes first — the words or the music?' I answer that what comes first is the phone call asking you to write a song."
In 1983 Cahn decided to share some of his secrets with aspiring lyricists when he published The Songwriter's Rhyming Dictionary. The dictionary is arranged by vowel sound and number of syllables. While usual rhymes like moon/June are scattered through the lists, the true genius of the book is in pairings like better half/telegraph. Even the mundane lists have some kickers mixed in: remember, December, September, November, dismember. The words are not arranged alphabetically, but by what seems to be the most suggestive plotline. The lists are essentially songs that write themselves. Here are 22 songs just waiting for a melody from Sammy Cahn's rhyming dictionary.
Subscribe to The Week
Escape your echo chamber. Get the facts behind the news, plus analysis from multiple perspectives.
SUBSCRIBE & SAVE
Sign up for The Week's Free Newsletters
From our morning news briefing to a weekly Good News Newsletter, get the best of The Week delivered directly to your inbox.
From our morning news briefing to a weekly Good News Newsletter, get the best of The Week delivered directly to your inbox.
1. Vis-à-vis, Muscovy, eau-de-vie, c'est la vie, anchovy
2. Mildewy, St. Louis, chop suey
3. Anywhere, billionaire, debonair, Delaware, everywhere, millionaire, overbear, questionnaire, rocking chair, savoir faire, solitaire, thoroughfare, unaware, underwear
4. Percussion, concussion, discussion
5. Insulted, consulted, resulted, exulted
6. Chatterbox, paradox, orthodox, Goldilocks, chicken pox
7. Scuttlebutt, hazelnut, butternut, coconut
8. Undershirt, introvert, extrovert
9. Caliber, caliper, massacre, lavender, calendar, islander, pillager, villager, manager, voyager, challenger, passenger, messenger, scavenger, publisher, polisher, punisher, nourisher, Britisher, copier, connoisseur, amateur
10. Reproduce, introduce, Syracuse, charlotte russe
11. Sandbox, strongbox, jukebox, mailbox, pillbox, hatbox, smallpox, ham hocks
12. Avant-garde, bodyguard, boulevard, disregard
13. Iliad, iron-clad, ivy-clad, myriad, Leningrad, Trinidad, undergrad
14. Disbander, left-hander, Icelander, demander, expander, meander, philander, commander, withstander, Laplander
15. Bourgeoisie, chimpanzee
16. Annabel, Isabell, Jezebel, citadel, infidel, parallel, nonpareil, undersell, oversell, carousel, cockleshell
17. Dominoes, decompose, recompose, predispose, indispose, Irish rose
18. Shuffleboard, overboard, open-doored, unexplored, harpsichord, clavichord, overlord, diving board
19. Pentecost, Holocaust, double-crossed
20. Overjoyed, alkaloid, unemployed, asteroid
21. Myrtle, fertile, turtle
22. Vestibule, Istanbul, April fool, molecule, ridicule, Sunday school, swimming pool

Continue reading for free
We hope you're enjoying The Week's refreshingly open-minded journalism.
Subscribed to The Week? Register your account with the same email as your subscription.