Dispatch from Cairo: How I almost got beat up by an Egyptian mob
Xenophobia in Egypt is reaching dangerous levels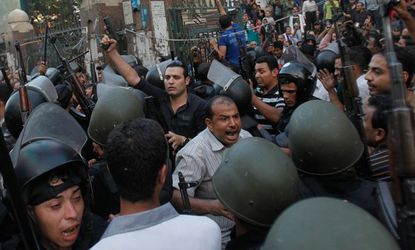 (Image credit: REUTERS/Amr Abdallah Dalsh)
CAIRO, EGYPT — Last Friday I was walking back home after covering a brutally violent clash between Islamist supporters of President Morsi and the police and pro-military partisans. The gunfire was fading away, and I felt relatively safe — safe enough to check my Twitter feed on my phone as I turned the corner onto the main avenue which leads to my neighborhood.
I had made it halfway down the block when I heard angry shouting. I looked up from my phone to see that I was obliviously walking toward a barricade manned by angry plainclothes men armed with heavy wooden sticks and metal pipes. These groups of vigilantes pop up whenever there is chaos here. They like to call themselves Ligan Shabeeah, or Popular Committees. Other Egyptians call them baltagaya, or thugs.
This group of guys began pointing at me, and then walking toward me. I briefly considered turning around and fleeing back toward the gunfire, but instead I decided to take my chances with the mob. I'm not entirely sure why I did this. But I did. So I smiled, walked toward them, and was quickly surrounded by a tense, armed group of pro-military guys.
Subscribe to The Week
Escape your echo chamber. Get the facts behind the news, plus analysis from multiple perspectives.
SUBSCRIBE & SAVE
Sign up for The Week's Free Newsletters
From our morning news briefing to a weekly Good News Newsletter, get the best of The Week delivered directly to your inbox.
From our morning news briefing to a weekly Good News Newsletter, get the best of The Week delivered directly to your inbox.
They weren't happy to see a foreigner, and immediately accused me of being a journalist, and by extension sympathetic to their enemies in the Muslim Brotherhood. The questions, all in Arabic, came quickly and from many directions. "No, I'm not a journalist," I lied. "I'm lost. I don't know what's going on. Egypt is the best country in the world. You guys are right, your enemies are dogs."
Then came the question I was dreading: "Meneen?!!" That means "Where are you from?" I usually say I'm Canadian, as the average street thug has no opinion about that country, but this time I had my American passport on me, and given the aggressive nature of the mob, I was afraid they would forcibly search me and find it. I took a deep breath and responded, "Ena Amriki." The scowls all around me got even angrier.
As Egypt continues to spiral out of control, the various violent groups on both sides of the political divide are increasingly targeting foreigners, religious minorities, and anyone else who stands out.

 Both the Islamists and pro-military factions have been using paranoid and xenophobic rhetoric to motivate their respective bases. Both sides claim to represent the vast majority of Egyptians, and paint their enemies as tools of a vast conspiracy against Egypt, not representatives of large segments of Egyptian society.
The Islamists like blaming the military takeover and anti-Islamist violence on the country's Christian minority. Islamist leaders and rank-and-file members of the movement have been spreading the absurd rumor that the coup was fomented by the Coptic pope and that rich Coptic Christians are backing the military to wage war on Islam.
As a result, dozens of Christian homes, businesses, and churches are being attacked and burned down across Egypt, apparently by Islamist mobs. Whether or not the Muslim Brotherhood leadership is directly ordering these attacks, their rhetoric has made this sectarian violence all but inevitable.
Meanwhile, the pro-military side also claims the mantle of the vast majority of Egyptians, saying only 5 percent of Egyptians support the former president. (It's probably more like 20 to 30 percent.) For the pro-military demagogues, who completely dominate the media here, the Muslim Brotherhood is not a mass movement with genuine support in Egypt, but rather a terrorist organization created by Jews and supported by America for the express goal of weakening Egypt and the Egyptian military. The fact that Israel hates the MB and has a decades-long working relationship with the Egyptian military never factors into the conversation.
Pro-military media personalities have said that most of the Muslim Brotherhood partisans are actually Syrian and Palestinian refugees and that westerners in Egypt, and especially western journalists, are actually spies sent by their countries to help destabilize Egypt. I have numerous western friends who have been harassed or attacked. In June, a 21-year-old English teacher from America was stabbed to death by an anti-Morsi mob in Alexandria. The sizable Syrian and Palestinian populations in Cairo are also facing discrimination and violence, although this is being underreported.
The irony is that the allegation that the foreign press is pro-MB often becomes a self-fulfilling prophecy. Morsi and his supporters strongly believe that my way of life is sinful and that I am destined for hell, but while they attack pro-military Egyptian journalists, they have the good sense not to alienate the foreign press.
I feel safe when I'm amongst pro-Morsi demonstrators. And on the few occasions I have been challenged for being a foreigner by some lone crazy, tough youths have always come to my aid, reminding everyone that I am not responsible for the actions of my government.
When I am with pro-military guys, who are generally secularists who share my basic values and love of cold beer, I am often aggressively challenged and accused of being an Israeli spy. While my journalist friends and I strive to be fair to both sides, it is unavoidable that our coverage is colored by the fact that one side protects us, and the other does not.
The fact that Christians, westerners, and outsiders in general are being attacked is obviously concerning for people like me, who have to deal with the mobs. But it also has dark implications for the future of Egypt and its economy. Despite the widespread nationalist rhetoric declaring Egypt's strength and self-sufficiency, the Egyptian economy is heavily based on foreign aid and tourism, and is actually reliant on the very foreigners whom the media are now demonizing.
Egyptians pride themselves on their hospitality and openness to other cultures, and I see this when I am with my Egyptian friends and their families. But on the street, it's a totally different story. This promotion of xenophobia might serve the military's short-term political interests, but it will not be an easy thing to turn off, and it could derail any attempts to revive the tourist industry.
All of this was on my mind last Friday during my time on the street: After I told the mob I was American, I knew I had to go into damage-control mode. "Obama is a member of the Muslim Brotherhood," said one man confrontationally. Not wanting to be associated with the American government at this point, I put my hands up and vulgarly insulted our president. This won me some friends and about half the mob began smiling. One even patted me on the back. The leader pointed toward the Muslim Brotherhood demonstration and told me in Arabic, "Those are not Egyptians, they are dogs." I eagerly agreed. Anything to get out of there in one piece.
I thought I was out of the woods. Then one of the angrier looking men spoke up. "He's an American, and he speaks Arabic well. We need to at least take him to the army." The smiles faded as everyone nodded. One guy snatched my passport and three men led me to a nearby checkpoint.
They marched me up to the ranking officer, a gentle-looking white-haired man with a neatly trimmed mustache and a Kalashnikov on his lap. They told him that I was an American who spoke Arabic and marched back to the roadblock. The officer was clearly less suspicious of me. He let me sit down and offered me water. After asking me some cursory and polite questions in Arabic, he smiled and gave me my passport back. As I was leaving he said in English, "Welcome to Egypt."

Continue reading for free
We hope you're enjoying The Week's refreshingly open-minded journalism.
Subscribed to The Week? Register your account with the same email as your subscription.