Girls on Film: How Lovelace fails to tell the real story
The new biopic, which stars Amanda Seyfried as the legendary Deep Throat star, fails to capture the tragedy and complexity of the real Linda Lovelace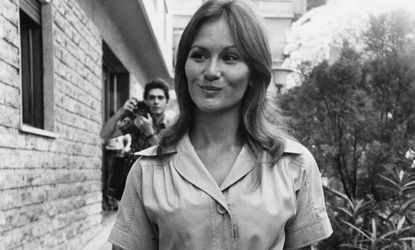 (Image credit: Keystone/Hulton Archive/Getty Images)
In 1972, an American cultural revolution was sparked by the most absurd premise imaginable: A frustrated young woman enjoys a sexual awakening when she learns that her clitoris is in her throat. The silly conceit took cinema by storm as Deep Throat hit theaters and became pornography's first big mainstream success. The genre, which had long been relegated to seedy peep shows, became the era's popular date night: Deep Throat's box office beat Hollywood classics like Cabaret as it rose through the year's top ten highest-grossing films, paving the way for other X-rated box office hits like Behind the Green Door and The Devil in Miss Jones. Star Linda Lovelace was the sexually liberated girl next door who loved sex, and the public loved — or loved to hate — Linda.
This was, however, only the first cultural revolution Lovelace would spark. In 1980, she returned with Ordeal, her autobiography about the darkness behind her meteoric rise. In the book, she alleged that her so-called sexual liberation was nothing more than a mask to hide a life of rape and abuse at the hands of Chuck Traynor, a man who she said used her for his own financial success by forcing her into pornography and prostitution. Her allegations were supported by noted feminists like Gloria Steinem, and rejected by a suspicious public. In her films, critics said, she looked too happy, too interested to possibly be a victim.
This same conflict is at play in this week's release, Lovelace, which stars Amanda Seyfried as the eponymous lead opposite Peter Sarsgaard as Traynor. At the New York premiere for the film, Seyfried described Lovelace's legacy: "Domestic violence is a thing, and unfortunately it will always be a thing. She brought awareness to it. She really did, and people don't credit her for that. They just define her as a porn star. She was an anti-porn crusader and a feminist." Unfortunately, that is also precisely what this new film does. It documents Lovelace's quick rise as a porn star struggling with a wildly abusive husband while failing to elaborate on the escalation of abuse that led to the filming of Deep Throat, and the subsequent struggles Lovelace faced as a result of her fame.
Subscribe to The Week
Escape your echo chamber. Get the facts behind the news, plus analysis from multiple perspectives.
SUBSCRIBE & SAVE
Sign up for The Week's Free Newsletters
From our morning news briefing to a weekly Good News Newsletter, get the best of The Week delivered directly to your inbox.
From our morning news briefing to a weekly Good News Newsletter, get the best of The Week delivered directly to your inbox.
On screen, Lovelace exists only in relation to Traynor. She's the fresh-faced innocent lured by the seemingly friendly man who, like Sarsgaard's similar character in An Education, schmoozes her strict parents and whisks her off into his world — only this world quickly escalates from risqué parties to sexual sadism, pornography, and prostitution. Lovelace unfolds as a two-act Rashomon, playing the events with no sharp edges before rewinding to reveal a much darker spin as Traynor beats Lovelace while no one stops him: Not her friends, not her family, and not the many celebrities she mingles with when Deep Throat becomes a hit.
In the film, Traynor's abuse appears to be an unfortunate twist on an otherwise carefree life. Lovelace is lucky enough to gain the watchful eye of Deep Throat producer Tony Romano (Chris Noth), and when Lovelace can bear no more, he helps her finally leave her abusive husband. She gets remarried — "that is where I found my joy," she says — and the film wraps before Ordeal is released and she faces the further struggles that characterized her later life. Lovelace's final title cards even frame Chuck and Linda as some pair of doomed, star-crossed lovers by ending on the note that Chuck died exactly three months after Linda on July 22, 2002. He has the last card — and the last word.
It's a maddening missed opportunity. By whittling this story to such narrow and problematic parameters, Lovelace ignores the compelling life that actually makes her story worth telling, and captures her in the same constrictive box she fought against. Her real life wasn't a relatively nice existence briefly sullied by Traynor until she found personal happiness in a new marriage. Her life was a long struggle for security. As she herself tells it, she was a desperate woman who felt victimized through every iteration of her life — as a child, a wife, a porn star, an anti-porn activist, and a woman struggling to make ends meet. She did once speak of the "joy" her family brought her, but that only came after years of heartache and struggle that filled multiple autobiographies. In her own words, Linda Boreman (her real name) was unable to "escape" her role as "Linda Lovelace."
Boreman was recuperating in Florida from a serious car accident in 1969 when she first attracted Traynor's attention, and her story of abuse began before they were even married. The gang rape that seemed to end Lovelace's marriage in the new film was actually what kicked off Traynor's abusive extremes in their relationship. Her body was his currency — as a source of income and a means of payment; he even allegedly pimped her out to a doctor to pay for the silicone breast injections he wanted her to have. Prostitution then paved the way for 8-millimeter smut films, as Traynor forced her into increasingly taboo scenarios that culminated with her infamous short, "Dogarama."
It's no wonder, then, that she seemed happy when she starred in Deep Throat. As she later wrote, "With the movie being shot, Chuck wasn't able to get me involved in any of his other ventures or adventures." She was still being beaten — her bruises are visible in the film — and being forced to have sex on camera, but Boreman relaxed and smiled, becoming the "Linda Lovelace" masses were sure loved every minute of her pornographic career. Her life had reached a low enough point that a mob-funded porno was a welcome respite, but in reality, there was no watchful father figure like Lovelace's Romano. There was just Deep Throat financial backer Louis Peraino — and though he might have helped her ultimately escape Traynor, he was also one of the men enjoying financial success from her talents. Lovelace herself made a mere $1,200 for her work — all of which went to Traynor.
After years out of the spotlight, Lovelace reappeared in 1980 without the positive spin. She hit the interview circuit to promote Ordeal, where her dark recollections met with all manner of suspicion. In her later book Out of Bondage, Boreman compiled the press' response:
"The questions were always the same. 'How come you couldn't get away?' and 'Why didn't you call the police?' and 'How is Chuck Traynor doing now?' and 'If you were telling the truth, how come he's not in jail?'"
Even Phil Donahue questioned her, focusing on her life and upbringing as if Boreman's experiences were her fault, and not that of the man who beat her. "I always heard that to be hypnotized, you had to be willing," one audience member challenged. It was an ongoing problem for Boreman that Gloria Steinem would neatly encapsulate in the title of a 1980 article: "Tell me, Linda, what in your background led you to a concentration camp?" Steinem became an ally, helping Boreman become, for a time, an anti-porn activist with speaking engagements across the country.
But Linda Boreman was always at odds with the people in her life, upset by the continuing struggles she faced and the fame others found through her body and experiences. She ultimately argued that feminists like Steinem and Andrea Dworkin used her too — and in a way, they did. She was a convenient talking point: Someone who could be used to make a point while Boreman herself still struggled to make ends meet with her modest income.
She didn't make enough to support herself or the many ailments she suffered. When she had a double mastectomy in 1986 — a necessary procedure to correct the faulty silicone injections Traynor insisted she had to get — doctors discovered that her liver was failing, the result of Hepatitis C traced back to a blood transfusion she was given after her earlier accident. She required medical care that cost hundreds of thousands of dollars, and life-long prescriptions to keep her from rejecting her new liver. Her fame made it hard to keep jobs, and Boreman did what she could to make money, which ultimately forced her to return to the world she had once run from: She donned lingerie for a pictorial in Leg Show and signed Deep Throat memorabilia to help pay the bills before passing away in 2002 after another serious car crash.
Her return to the world of porn did nothing to assuage suspicions about what really happened to Linda Boreman, even though her stance never really changed: "It's time for me to do what I can to earn an income from the abuse I went through, from the name," she explained in the documentary Inside Deep Throat. Traynor and collaborators, meanwhile, both denied and upheld her claims: They described her as a willing participant who loved sex, while also admitting to knowledge of the abuse she suffered. It didn't matter that she was asked to take a lie detector test about the experiences she wrote about in Ordeal, and passed with flying colors, or that viewers could see the bruises she suffered at Traynor's hands in the film and stills for Deep Throat.
Culturally, Linda Boreman is still treated as an unreliable source, with her struggles and later feminism serving as nothing more than a footnote to Deep Throat's story. And now there's Lovelace, a film that continues the trend by editing out Sarah Jessica Parker's role as Steinem, and reducing Boreman's life to the sex she sold on celluloid. Boreman is a problematic figure, and we'll never know exactly where the real line of truth rests, but one thing is clear: The importance of her story isn't just her marriage to Traynor and her subsequent rise to fame. It's her experience as a woman who survived abuse only to get caught in a revolution and carousel of misfortune that kept her from the simple human desire we all have: That of a happy and secure life.
Girls on Film is a weekly column focusing on women and cinema. It can be found at TheWeek.com every Friday morning. And be sure to follow the Girls on Film Twitter feed for additional femme-con.

Continue reading for free
We hope you're enjoying The Week's refreshingly open-minded journalism.
Subscribed to The Week? Register your account with the same email as your subscription.