WATCH: The 13 funniest Breaking Bad parodies
Be the one who laughs as you watch these brilliant spins on the critically acclaimed AMC drama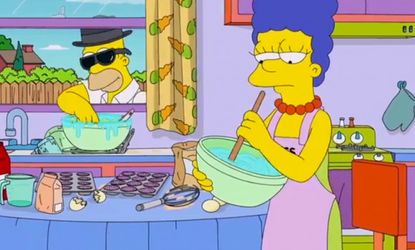 (Image credit: YouTube)
Our long national nightmare is finally over: AMC's Breaking Bad is returning to TV to air its final eight episodes. And while it seems likely that the show will be darker and grimmer than ever, fans have still managed to find the humor in Breaking Bad. Here, watch 13 of the best Breaking Bad parodies on the web, and come back to TheWeek.com on Sunday for the first of our weekly Breaking Bad recaps.
1. The Simpsons does Breaking Bad
The Simpsons just can't get enough of prestige dramas. In the wake of similar riffs on Mad Men and Game of Thrones, Fox's animated sitcom finally took on Breaking Bad, with Homer Simpson stepping in as Heisenberg in a montage set to Tommy James and the Shondells' "Crystal Blue Persuasion."
Subscribe to The Week
Escape your echo chamber. Get the facts behind the news, plus analysis from multiple perspectives.
SUBSCRIBE & SAVE
Sign up for The Week's Free Newsletters
From our morning news briefing to a weekly Good News Newsletter, get the best of The Week delivered directly to your inbox.
From our morning news briefing to a weekly Good News Newsletter, get the best of The Week delivered directly to your inbox.
2. Lego Breaking Bad
Would Breaking Bad work as a Lego-themed video game? It may seem like an unlikely pairing, but by the end of the clip, you'll be more than convinced — you'll be begging Lego game developer Traveller's Tales to fast-track the project.
3. What if Breaking Bad was a Super Nintendo game?
Sure, Lego Breaking Bad looks great, but maybe you prefer your video games to be a little more old-school. Fortunately, College Humor has you covered with this joke-laden (and impressively faithful) video recasting Breaking Bad as a Super Nintendo RPG in the vein of the Final Fantasy franchise.
4. If Breaking Bad had been on TV in 1995
It's safe to say that Breaking Bad could never have existed in an era before grim antiheroes became the norm on television. But what if the show had originally aired more than 20 years ago? This wonderfully cheesy opening credits sequence in the vein of a mid-90s drama sets the stage for a gentler, wackier Breaking Bad.
5. What if Breaking Bad was on ABC?
Cable networks like HBO and FX passed on Breaking Bad before AMC finally picked it up, but showrunner Vince Gilligan never even attempted to get it on one of the big four networks. And judging from this clip that shows what a laugh track–infused Breaking Bad might be like on ABC, it's easy to see why.
6. "We Are Never Ever Gonna Cook Together"
Just when you finally got Taylor Swift's inescapable breakup anthem out of your head, this parody version arrives, offering a clever and well-mounted rendition that focuses on Walt and Jesse's fraying relationship.
7. Middle School Musical: Breaking Bad
Even young Breaking Bad fans are a musical bunch. This brief musical adaptation of the series showcases a group of middle-schoolers acting out the show's various plot arcs, though adjustments are made to keep the content age-appropriate (guess what the "blue rock candy" is a stand-in for). Pro tip: Stick around for the musical version of "I am the one who knocks."
8. Breaking Bad: The board game
Would Breaking Bad work as a board game? Not without serious consequences for its players, as this rapidly degenerating family finds out the hard way.
9. Malcolm in the Meth Lab
Fans have long joked that Breaking Bad might turn out to be a prequel to Fox's mid-2000s sitcom Malcolm in the Middle, in which Bryan Cranston played the family patriarch Hal. But maybe they're actually on to something; this clip, in which Hal addresses a class of students about his job, offers some pretty compelling evidence that Hesienberg is lurking behind Hal's affable exterior.
10. Bill Nye breaks bad
It's hard to imagine Breaking Bad without Bryan Cranston's charismatic leading performance as Walter White. But what if a different kind of Science Guy ended up in his position? This clever clip features Bill Nye the Science Guy explaining the scientific principles behind meth production.
11. Breaking Bread
Want to have a Heisenberg-approved Thanksgiving this year? In this clip, Walter White shows his skill at a different kind of cooking, as he and Jesse turn their distinctive talents toward baking a pie.
12. Breaking Bad meets Andy Griffith
Even the cast of Breaking Bad likes to parody Breaking Bad. In this brief clip, which aired at last year's Emmys ceremony, Walt and Jesse pop up in The Andy Griffith Show's Mayberry, and deal with Barney Fife in their usual style.
13. Pizza of Destiny: Cranston's Greatest Shot
While it's not strictly a parody, this final video is just too good to leave off the list. In a special feature, the creative team behind Breaking Bad explains how Bryan Cranston miraculously managed to throw a massive pizza onto the roof of the White house on his very first take. Truly Emmy-worthy material.

Continue reading for free
We hope you're enjoying The Week's refreshingly open-minded journalism.
Subscribed to The Week? Register your account with the same email as your subscription.