An incredible miracle on Molokai
When a dying Honolulu woman prayed to Father Damien, "Apostle of the Lepers," her cancer disappeared. But could the Vatican be convinced it was a miracle?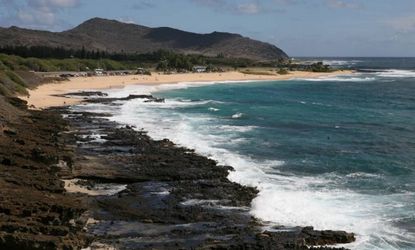 (Image credit: Justin Sullivan/Getty Images)
Sign up to our 10 Things You Need to Know Today newsletter
A free daily digest of the biggest news stories of the day - and the best features from our website
Thank you for signing up to TheWeek. You will receive a verification email shortly.
There was a problem. Please refresh the page and try again.
It was a little over a decade ago that Audrey Toguchi, a retired Hawaiian schoolteacher, first visited Father Damien's grave on the island of Molokai. Passing through the gate in a low cobblestone wall, where stray cats sometimes rested in the shade of St. Philomena Church, Mrs. Toguchi and her two sisters entered the graveyard. A few palm trees twisted towards the sky; beyond those stretched the open sea. Mrs. Toguchi walked to the side of the church and came to the grave, a tall marble monument festooned with rosaries and leis. She began to silently pray. Please, Father Damien. Put in a good word for me.
She had not traveled far. As an airplane climbs above Honolulu, the island of Molokai is often visible as a small blue mass, though dim and distant enough to waver like a mirage. Approached from the north, Molokai is a fortress: a vast wall of seacliffs rises above the surf, towering thousands of feet high and stretching for miles from end to end. Near the midpoint of that wall there juts from the base, suddenly and improbably, a low, level shelf of land that the early Hawaiians called Kalaupapa ("flat leaf"). That peninsula has a peculiar history. When, in the mid 19th century, leprosy grew rampant in the Hawaiian islands and panicked public health officials sought a suitable place to isolate the ill, they turned to the small tongue of land protruding from the north face of Molokai. Bound by the sea on all sides and walled off from the rest of the island by the tall cliffs to the rear, Kalaupapa was a natural prison.
It was a dark chapter in Hawaiian history. Bounty hunters roamed the islands in search of suspected leprosy cases; families were torn apart by what they called "the separating sickness." Since there was no cure for leprosy, to be sentenced to Molokai was to be sentenced to death. The prisoner-patients arrived by the boatload, and if the surf was too rough for landing, they might be cast into the sea and made to swim to shore. Misery reigned on the peninsula, which acquired an unofficial motto: Aole kanawai ma keia wahi — in this place there is no law.
Subscribe to The Week
Escape your echo chamber. Get the facts behind the news, plus analysis from multiple perspectives.
SUBSCRIBE & SAVE
Sign up for The Week's Free Newsletters
From our morning news briefing to a weekly Good News Newsletter, get the best of The Week delivered directly to your inbox.
From our morning news briefing to a weekly Good News Newsletter, get the best of The Week delivered directly to your inbox.
Into this land of exile came Father Damien de Veuster. The young Belgian missionary volunteered, in 1873, to go to the forsaken place — "the self-exiled priest," one admirer later described him, "the one clean man in the midst of his flock of lepers." Newspapers trumpeted his good works, with reports of how he tended to the sick, how he built churches and homes, how he consoled the dying with promises of an afterlife. His bravery and charity became the stuff of legend, and upon his death, many clamored for his canonization. Though he might have seemed a shoo-in for sainthood, a small minority cast doubts on Damien's character, claiming the man had "lived evilly" with women. Without believing the darkest of the charges, some members of Damien's own missionary order of the Sacred Hearts were reluctant, at first, to advance a cause for his sainthood.
(More from The Big Roundtable: My weekend at Adolf's)
But by the mid-20th century, Damien's order finally proposed him for canonization, beginning a long vetting process by the Vatican. Damien's body was exhumed from its grave on Molokai and returned to his native Belgium; soon, the Church began to pore over all writings by and about Damien for clues to his life. By the late 1990s, the Vatican had declared Damien "Blessed," an intermediate step towards sainthood. However, one crucial piece of evidence of Damien's sanctity was still missing: a miracle. According to Catholic doctrine, God is the ultimate font of all miracles, but saints, like members of the president's cabinet, can sometimes persuade the executive to act. If Damien had indeed made it to heaven — if his life had indeed been virtuous — then he ought to have influence with God: he ought to be able to deliver a miracle.
By September of 1998, Audrey Toguchi needed a miracle. An x-ray had revealed three wispy masses in Mrs. Toguchi's lungs: metastases from a tumor originally found near her hip. The doctors told her that surgery was impossible, and that chemotherapy might extend her life a few months at most. Her surgeon, Dr. Walter Chang, told her there was nothing he could do. The cancer would take her life.
Declining the chemo, Mrs. Toguchi turned exclusively to prayer. She had been deeply devout and prayerful from an early age. Throughout her life, she had prevailed on the Holy Spirit, or the Blessed Mother, or Saint Joseph, or many other saints for help in matters great or small: during her exams in college, which she was the first in her family to attend; or much later, when her husband was ill; or most recently, the time she had to negotiate with a rude contractor. She said her rosary three times a day and never missed a weekend mass at St. Elizabeth Church, her vibrant congregation in Aiea, the Honolulu suburb in which she lived. Her whole world was prayer, she'd say.
That piety ran in the family. Her sister Velma could rustle up prayers around the diocese the way a deft canvasser turns out votes, and when she had learned of her sister's illness, Velma had called upon the nuns of Regina Pacis, the retired priests of the St. Patrick Monastery, and the children of Kapahulu Pre-School. She also phoned a Sacred Hearts priest she knew named Father Christopher Keahi, and asked him for advice. Father Keahi suggested that Mrs. Toguchi might pray to Father Damien. Who better, he suggested, than this man who had loved and cared for afflicted Hawaiians?
The idea resonated with Mrs. Toguchi: her own aunt, uncle, and grandfather had all been banished to Kalaupapa. And she could still remember the day when she was only eight years old and Damien's coffin was paraded down 4th Street in Honolulu, passing many tearful observers on its way to the wharf, and then to Belgium. She never forgot how he had earned the people's aloha, their love.
She eagerly told another priest, her longtime friend Dan MacNichol, of her plan to visit Molokai. After they spoke, Father MacNichol, who had seen terminal patients in denial before, got out his calendar to see if he had time next month to perform a funeral.
(More from The Big Roundtable: Burn)
Then something remarkable happened. Upon her return to Honolulu, Mrs. Toguchi's doctors noticed something unusual in a follow-up x-ray. It appeared that her cancer — her vicious, aggressive, metastasized cancer — hadn't spread at all. In fact, looking closely, it seemed to the doctors as though one of the masses had become smaller. Another x-ray the following month showed all three masses were shrinking, and one the month after that showed them smaller yet. Finally, an x-ray in early spring showed her lungs to be completely clear. "She appears to have had a spontaneous complete remission, which is unexplained and thus far durable," her oncologist noted in a report.
As word spread from one member to another of Mrs. Toguchi's team of doctors, no one could explain what had happened. It was simply unheard of for someone to survive a pleiomorphic liposarcoma with lung metastases.
"I don't know how you did it," one of her doctors told her.
But it hadn't been her, Mrs. Toguchi explained serenely. She had had help, she said, from above.
READ THE REST OF THIS STORY AT THE BIG ROUNDTABLE.
This story originally appeared at The Big Roundtable. Writers at The Big Roundtable depend on your generosity. All donations, minus a 10 percent commission to The Big Roundtable and PayPal's nominal fee, go to the author. Please donate.
Continue reading for free
We hope you're enjoying The Week's refreshingly open-minded journalism.
Subscribed to The Week? Register your account with the same email as your subscription.
Sign up to our 10 Things You Need to Know Today newsletter
A free daily digest of the biggest news stories of the day - and the best features from our website