Hey, Hollywood: Don't let The Lone Ranger stop you from making Westerns
Conventional wisdom says that audiences are tired of the genre. Conventional wisdom is wrong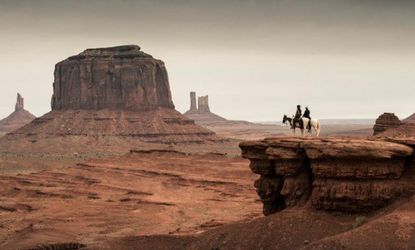 (Image credit: Facebook.com/<a href="https://www.facebook.com/TheLoneRanger" target="_blank">TheLoneRanger</a>)
Sign up to our 10 Things You Need to Know Today newsletter
A free daily digest of the biggest news stories of the day - and the best features from our website
Thank you for signing up to TheWeek. You will receive a verification email shortly.
There was a problem. Please refresh the page and try again.
The seeds of the modern cinematic Western were planted more than a century ago with the release of The Great Train Robbery in 1903. Over the course of the still-compelling 12-minute film, bandits hold up a locomotive, take off on a daring horseback chase, and engage in a fatal shootout. The Great Train Robbery's budget has been estimated at $150 (or, adjusted for inflation, around $3,300) — and today, it's widely regarded as one of the most groundbreaking and compelling films of its time.
Now, 110 years later, we have The Lone Ranger — a bloasted, blustery modern Western, starring Armie Hammer and Johnny Depp, that critics and audiences alike have deemed neither groundbreaking nor compelling. Like The Great Train Robbery, the action in The Lone Ranger hinges on a locomotive; unlike The Great Train Robbery, The Lone Ranger cost a whopping $215 million to produce, and debuted to a limp $73 million last week.
There are plenty of explanations for The Lone Ranger's dismal box-office performance — including a jumbled marketing campaign, scathing reviews, and Johnny Depp's weirdest hat ever — but in their attempts to determine exactly what went wrong here, many box-office analysts have aimed their sights squarely at the Western. "Westerns get made only because some powerful director, producer, or star wants to pay tribute to the sagebrush sagas he loved as a kid," says Richard Corliss at TIME. "Westerns have always been a tough sell with foreign audiences," explains Pamela McClintock at The Hollywood Reporter. The entire Western genre has "a very low, low bar" for success, says Ray Subers at Box Office Mojo.
Subscribe to The Week
Escape your echo chamber. Get the facts behind the news, plus analysis from multiple perspectives.
SUBSCRIBE & SAVE
Sign up for The Week's Free Newsletters
From our morning news briefing to a weekly Good News Newsletter, get the best of The Week delivered directly to your inbox.
From our morning news briefing to a weekly Good News Newsletter, get the best of The Week delivered directly to your inbox.
But here's the thing about the increasingly common wisdom that audiences have no interest in Westerns: It isn't true. In recent years, movies like Quentin Tarantino's Django Unchained and the Coen Brothers' True Grit have earned both massive box-office grosses and significant attention at the Oscars. (As for the claim that foreign audiences simply aren't interested in Westerns: Django earned $261 million of its $423 million abroad.) And the recent successes in the genre aren't just confined to film; over the past few years, the Western has scored just as successfully into other mediums. FX's popular drama Justified is an ingenious modern-day riff on the genre, and Rockstar Games' Xbox 360/Playstation 3 hit Red Dead Redemption sold more than 13 million copies in its first year of release. Even Lone Ranger director Gore Verbinski's previous riff on the Western — the 2011 animated comedy Rango, which featured the voice of Johnny Depp in the title role — scored with critics and audiences, and went on to earned the Academy Award for Best Animated Feature.
Of course, there are also several high-profile Westerns that have flopped in recent years, including 2010's Jonah Hex and 2011's Cowboys & Aliens. Like The Lone Ranger, each of those films was something of a gamble in the midst of the summer blockbuster season; like The Lone Ranger, each of those films tanked with audiences. But before you use that unholy trinity of summer Westerns to write off the genre altogether, it's worth noting the other thing they have in common: They're not any good. According to review aggregator Rotten Tomatoes, Jonah Hex received 12 percent positive reviews, Cowboys & Aliens received 44 percent positive reviews, and The Lone Ranger earned 25 percent positive reviews. Audiences aren't avoiding Westerns; they're avoiding bad Westerns, just as much as they're ponying up for good ones.
Using The Lone Ranger to say the Western is dead is like using Green Lantern to say audiences aren't interested in superhero movies anymore. There's a reason that the Western genre has endured for more than a century, and that filmmakers and audiences continue to be drawn to it. There are plenty of lessons to be learned from the failure of of The Lone Ranger — don't spend $200 million on an untested franchise; don't let your summer blockbuster run for two and a half hours; don't open your family-oriented summer blockbuster against a Despicable Me sequel — but "don't make Westerns" isn't one of them. In its place, I'd offer any Hollywood executives who are newly skeptical of the genre a simpler piece of wisdom: Don't make bad movies.
Continue reading for free
We hope you're enjoying The Week's refreshingly open-minded journalism.
Subscribed to The Week? Register your account with the same email as your subscription.
Sign up to our 10 Things You Need to Know Today newsletter
A free daily digest of the biggest news stories of the day - and the best features from our website
Scott Meslow is the entertainment editor for TheWeek.com. He has written about film and television at publications including The Atlantic, POLITICO Magazine, and Vulture.