Mad Men recap: Fifty shades of Draper
Tonight's episode, "Man With a Plan," finds Don Draper shirking his new professional duties in favor of an extended tryst with his mistress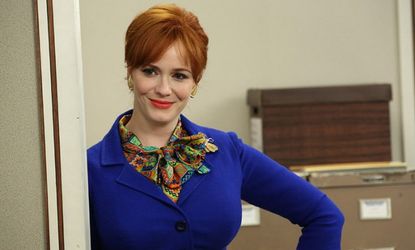 (Image credit: Michael Yarish/AMC)
Sign up to our 10 Things You Need to Know Today newsletter
A free daily digest of the biggest news stories of the day - and the best features from our website
Thank you for signing up to TheWeek. You will receive a verification email shortly.
There was a problem. Please refresh the page and try again.
When Mad Men premiered in 2007, it offered audiences the chance to meet Don Draper, an adman so perfect at his work that he bordered on superheroic. Draper was immaculately dressed, cartoonishly handsome, and able to make everything he said sound meaningful and important (even if it was about Clearasil or Secor Laxatives). From there, Mad Men's first season ended by depicting Don as a flawed and somewhat tragic hero, a self-made man who delivered a paean to the importance of family before returning home to discover that his family was already gone. And having established Don as the archetypal man's man of his era, the show has spent the remainder of its run illustrating just how empty, callous, and indefensible he really is.
But before we get to the new lows reached by our leading man in tonight's "Man With a Plan," let's talk about his adversary-turned-partner, Ted Chaough — who has, despite the grand merger in last week's episode, retained a Don-sized chip on his shoulder. Since Ted's introduction as a rival for the Honda account in season four's "The Chrysanthemum and the Sword," Mad Men has worked overtime to turn us against Ted, who's spent the past few years showing up to gum up the works at SCDP.
Now, season six has showed us a different Ted Chaough: Insecure but talented, intelligent, strategic, and hard-working. (It's interesting to imagine a parallel-plotted version of Mad Men in which Ted and the team at CGC have been our protagonists all along, with Ted occasionally being thwarted by the irritatingly charismatic Don Draper.)
Subscribe to The Week
Escape your echo chamber. Get the facts behind the news, plus analysis from multiple perspectives.
SUBSCRIBE & SAVE
Sign up for The Week's Free Newsletters
From our morning news briefing to a weekly Good News Newsletter, get the best of The Week delivered directly to your inbox.
From our morning news briefing to a weekly Good News Newsletter, get the best of The Week delivered directly to your inbox.
As it turns out, it's the "hard-working" bit that separates Ted from Don, who spends "Man With a Plan" desperately shirking anything that even resembles work. In the wake of the merger, the office is in chaos, but Don abstains to engage his neighbor/mistress Sylvia in a game of Fifty Shades of Draper. Both personally and professionally, Don's relationships are predicated on control, and he's generally very good at getting people to go along with what he wants. It's why Don was so unnerved by Megan's freewheeling, seductive performance of "Zou Bisou Bisou" in the season five premiere, and why he was incredulous when Peggy actually quit to work for Cutler, Gleason, and Chaough. In those cases, he found ways to draw both women back into his fold, but his power is clearly waning; Megan cries alone at the news of Robert Kennedy's death, and Peggy bitterly insists that Don "move forward."
Not that either moment seems to reach him. As we've seen, Don is uncommonly skilled at finding new ways to keep from growing — but Sylvia, waiting patiently at his command in a hotel room, is an even bigger distraction than usual. (For anyone looking to seduce Don Draper in a single sentence, we now know the magic words: "I need you and nothing else will do.") Don's idea of a hot midday tryst means telling Sylvia exactly what he wants her to do — to crawl around, take her clothes off, stay away from the phone, wear the clothes he sends her, and be ready for sex the moment he returns. For most of the episode, Sylvia is more than willing to play along with his game.
But Don's apparent self-possession is a total illusion; as we discover by the end of "Man With a Plan," Sylvia held the cards in their relationship all along. When Sylvia suddenly refuses to stay just because Don orders her to stay, he tries "please," but she's already made up her mind. All he can do is close the door on their used-up hotel room and wander back to his actual life. It feels like a cheat to use Sylvia's out-of-nowhere dream to let Don out of yet another affair unscathed — and with Megan none the wiser — but I suspect this last tryst will somehow come back to haunt him. (It seems particularly ominous that we never saw Don return the hotel key; if he's inadvertently still carrying it, it could lead Megan straight back to his love nest.)
But sexual misadventures aside, the business side of Don's life is in just as much chaos, and his grasp on it is just as tenuous. Last week's merger with CDC brought Don the Chevrolet account, but it came at the cost of something he may not have expected: Control. As Joan said in last week's episode, Don expects everyone to cheer for him from the sidelines as he decides what's right for them — and he's virtually never challenged. Pete Campbell complains, but doesn't have the power or finesse to make Don change his behavior. Bert Cooper is too checked out on the day-to-day events at SCDP to keep Don in check (though he has noted Don's failings before). Roger Sterling doesn't care, and his new doppelganger Jim Cutler seems just as disinterested in the details of his new partner's work. But Ted expects Don to do his job, and he has the power and savvy to represent a genuine threat if he decides Don isn't pulling his weight at the firm.
Tonight's episode did not mark an auspicious beginning from Don's end of the SDCP-CGC merger. The only "work" Don did in "Man With a Plan" was coming up with a half-coherent pitch for margarine between gulps of whiskey. Don's concept for the margarine ad was truly awful: In addition to relying on bland, old-fashioned clichés about breakfast, it centered on a dairy farmer — the least likely person in the world to use the imitation butter they're trying to sell.
But Don Draper can't coast forever, and whether they know it yet or not, there are plenty of people eminently qualified to replace him. Ted Chaough may lack Don's innate confidence, but he's a far more dedicated and professional adman. The copy we've heard Peggy delivering is stronger than anything we've heard from Don in weeks. And both Ginsberg and Bob Benson have demonstrated a hunger to rise in the company's ranks.
"Man With a Plan" finds Don without a plan. Sylvia has realized she can live without his toxic presence, and he's clearly troubled to see just how easily his control-based relationship spiraled out of his hands. How long will it be before his wife or his co-workers realize they can live without him, too?
Read more Mad Men recaps:
* Mad Men recap: 'For Immediate Release'
* Mad Men recap: 'The Flood'
* Mad Men recap: To have and to hold
* Mad Men recap: Sex, lies, and a ketchup account
Continue reading for free
We hope you're enjoying The Week's refreshingly open-minded journalism.
Subscribed to The Week? Register your account with the same email as your subscription.
Sign up to our 10 Things You Need to Know Today newsletter
A free daily digest of the biggest news stories of the day - and the best features from our website
Scott Meslow is the entertainment editor for TheWeek.com. He has written about film and television at publications including The Atlantic, POLITICO Magazine, and Vulture.