Did the Israelis use nuclear blackmail against the U.S.?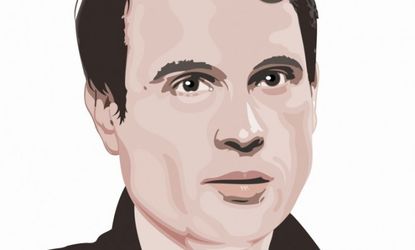 In 1973, when Egypt and Syria invaded Israel by surprise, did Israel respond in part by artificially heightening its level of nuclear alert in order to force the U.S. to help it end the conflict more quickly?
In other words, did Israel use nuclear blackmail against the U.S.? That's long been the claim by some historians and investigative reporters like Sy Hersh.
The question has relevance for our conflicts with North Korea and Iran today. How will both countries use the perception of their nuclear forces to correct or instigate policy responses by the United States? Could Israel prompt American action in Iran, by, say, fitting its bombers with nuclear warheads and leaving them on alert status on runways? How should countries respond to threats of nuclear escalation?
Subscribe to The Week
Escape your echo chamber. Get the facts behind the news, plus analysis from multiple perspectives.
SUBSCRIBE & SAVE
Sign up for The Week's Free Newsletters
From our morning news briefing to a weekly Good News Newsletter, get the best of The Week delivered directly to your inbox.
From our morning news briefing to a weekly Good News Newsletter, get the best of The Week delivered directly to your inbox.
The ability of any Arab government to detect any changes to Israeli readiness posture was slim at best, although the Soviets could have figured out something by looking at satellite imagery. So the implicit claim is that IF Israel did increase its nuclear readiness in a way that was out of proportion to the threat it faced, it would only have done so if it wanted the U.S. to know. After all, it knew, or suspected, that the U.S. was listening to all of its own communications and was watching the Israeli response carefully even as the U.S. facilitated it.
The sensational version of the claim that Israel directly decided to blackmail the U.S. is made in The Sampson Option, Sy Hersh's history of the Israeli nuclear program. He contends that because Israel was so blindsided and had suffered such shocking losses to its conventional forces, the cabinet, based on Dayan's suggestion, suggested a demonstration of sorts to both remind Egypt about the nuclear deterrent and convince the U.S. to speed up help. Directly, the message was conveyed by the then Israeli ambassador to the United States, Simcha Dinitz, to Henry Kissinger.
A new paper from CNA (which doesn't stand for anything but does oversee the Center for Naval Analysis, which is affiliated with the Department of Defense), written by serious proliferation historians and analysts, concludes that the evidence of deliberate manipulation by Israel is scant at best, although some Israeli policy-makers (like Defense Minister Moshe Dayan) may have considered trying to force America to be more aggressive by using the threat of nuclear war.
The best available evidence suggests that everyone involved in the Arab-Israeli conflict was aware that Israel had nuclear weapons and would use them if they were pushed too far. "... [Because i]t never crossed American decision-makers' minds that Israel would actually use its nuclear weapons in the circumstances that were unfolding, any manipulation of nuclear forces that did occur did not enter into the discussion."
Israel likely placed its nuclear arsenal and forces, controlling about 13 bombs, on defensive alert — it corralled its weapons and assigned them to particular forces — but there's no evidence it ever considered using weapons to deter the Egyptian and Syrian aggression. That said, had the situation not turned in their favor so quickly, Israel might have started to discuss nuclear weapons employment openly.
The U.S., which would have picked this up, might have reacted differently. In some ways, the strategic goals of the Arab nations were limited by the Israeli nuclear deterrent. Both countries wanted a military victory against Israel. Syria wanted the Golan Heights back. Neither country had any intention of taking over Israel. Egypt's own WMD deterrent — its biological weapons program — was deemed sufficient by its leaders to go ahead and proceed with the attack in the first place, especially since Israel had all but promised not to use nuclear weapons unless the state of Israel itself was in jeopardy.
One irony of history: The first part of the war went almost too well for the Arab side, so much so that there is evidence that commanders had to essentially hold their positions after achieving their limited goals, which is one way that Israel, once it got its footing and soldiers back from the Yom Kippur holiday, was able to counter-attack to devastating effect.

Continue reading for free
We hope you're enjoying The Week's refreshingly open-minded journalism.
Subscribed to The Week? Register your account with the same email as your subscription.