The Tsarnaev brothers: What we know about the Boston bombing suspects [Updated]
One is dead. The other is still at large. And details about their personal histories are rushing in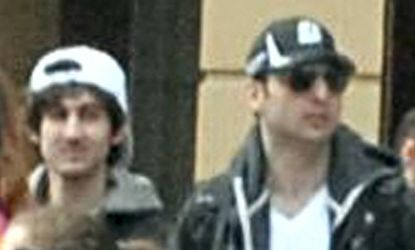 (Image credit: REUTERS/FBI/Handout)
The FBI has identified the two suspects in the Boston Marathon bombings: Brothers Dzhokhar Tsarnaev, 19, and Tamerlan Tsarnaev, 26. Tamerlan Tsarnaev was killed in a dramatic gun battle with police in the wee hours of Friday morning, while Dzhokhar Tsarnaev escaped and is now the target of a massive manhunt.
Details are still in some dispute. But here's what's being reported so far.
"They came from the Russian region near Chechnya, which has been plagued by an Islamic insurgency stemming from separatist wars," says the Associated Press. The brothers moved to the United States with their parents in 2002 after living in the city of Makhachkala, capital of Russia's Dagestan region, for a year, according to The New York Times. And this from NBC's Chuck Todd:
Subscribe to The Week
Escape your echo chamber. Get the facts behind the news, plus analysis from multiple perspectives.
SUBSCRIBE & SAVE
Sign up for The Week's Free Newsletters
From our morning news briefing to a weekly Good News Newsletter, get the best of The Week delivered directly to your inbox.
From our morning news briefing to a weekly Good News Newsletter, get the best of The Week delivered directly to your inbox.
Tamerlan was featured in a photo essay called "Will Box for Passport," in which he claimed he had been living in the United States for five years. He also said, "I don't have a single American friend, I don't understand them."
That five-year timeline seems to contradict what the young men's uncle told the AP: "An uncle, Ruslan Tsarni of Montgomery Village, Md., told the Associated Press that the men lived together near Boston and have been in the United States for about a decade."
According to BuzzFeed, Dzhokhar had been living in Cambridge since at least 2010, and was a student at the Cambridge Rindge and Latin School. He appears to have won a $2,500 scholarship from the city of Cambridge.
Brynn Gingras of NBC New York tweeted his yearbook photo:
Dzhokhar is now enrolled at University of Massachusetts Dartmouth, which closed its campus after realizing he was a student there, according to The Boston Globe. A classmate of his, Pamala Rolon, said he was studying marine biology. Dzhokhar became an American citizen, ironically enough, on Sept. 11, 2012.
Tamerlan studied engineering at Bunker Hill Community College in Boston, according to USA Today. In an interview with Comment, a magazine published by Boston University, Tamerlan said he wanted to box in the Olympics, and would rather represent the United States than Russia if he could not represent Chechnya.
What do they believe?
Tamerlan appears to have posted videos from Islamic extremist preachers on his YouTube page, according to Mother Jones. One video refers to the Black Banners of Khurasan, a prophecy popular with al Qaeda that predicts "the Islamic version of Armageddon." The Washington Post said it could not confirm that the YouTube page belonged to the same Tamerlan Tsarnaev involved in the shoot-out with police.
The photo essay on Tamerlan also included this:
Dzhokhar wrote this on the day of the bombings on his Twitter account, which has been verified by CNN and BuzzFeed:
His last tweet was on April 16:
Dzhokhar listed "Islam" as his worldview and "career and money" as his priority on VK, a Russian social media site, according to Reuters. He also linked to websites calling for independence for Chechnya, as well as to Islamic sites with such titles as "There is no God but Allah, let that ring out in our hearts."
What their friends and family are saying about them
The AP talked to the suspects' father, Anzor Tsarnaev, by phone from Makhachkala: "My son is a true angel. Dzhokhar is a second-year medical student in the U.S. He is such an intelligent boy. We expected him to come on holidays here." Anzor reportedly left the U.S. two years ago because of health problems.
"He was a good student in high school," Sierra Schwartz, a former classmate of Dzhokhar at Cambridge Rindge and Latin School, told FOX 5 News. "Something must have happened."
Rebecca Mazur, another former classmate, told BuzzFeed: "I think he seemed to keep to himself in that he was kind of reserved, but his demeanor was always friendly and he would show up at the big social gatherings. He was a familiar part of the community, he didn't isolate himself."
Dzhokhar and his friends were "stoners," Ashraful Rahman, a former classmate who called the FBI tip line after recognizing Dzhokhar's photo on TV on Thursday night, told The New York Times. "Regardless of whether you knew him as well as I did, as someone who wrestled with him, hung out and chilled with him, or whether you were people who saw him the hallway, he was always the same — a generally nice guy," he said.
Robin Young, host of Public Radio International's Here & Now, tweeted a photo of Dzhokhar posing with her nephew:
The suspects' uncle, Ruslan Tsarni, had less charitable things to say about his nephews. "He absolutely deserved his," Tsarni said of Tamerlan, after calling him a "loser" to CBS Boston. "They do not deserve to live on this earth."

Continue reading for free
We hope you're enjoying The Week's refreshingly open-minded journalism.
Subscribed to The Week? Register your account with the same email as your subscription.