4 reasons the media (mostly) ignores the Kermit Gosnell trial
A rogue abortion doctor is accused of horrible crimes. And partisans on both sides point fingers over the ensuing media silence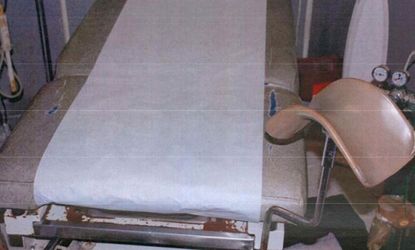 (Image credit: AP Photo/Philadelphia District Attorney)
The gruesome murder trial of Philadelphia abortion doctor Kermit Gosnell entered its fifth week on Monday, as prosecutors continue to call witnesses as they seek the death penalty for Gosnell for allegedly killing a woman in a botched abortion, and seven babies born alive in illegal late-term procedures. Former patients and employees have testified in grisly detail about dangerous mistakes by poorly trained staff, and "beheadings" of infants delivered alive. Yet until recently, the awful story received little media attention. Commentators on the left and the right are accusing each other of looking the other way for political reasons. Here, four explanations analysts are giving for the shortage of coverage:
1. It's just too gruesome for the front page
Perhaps details of the case are simply to lurid for prime time. "I'll tell you why I haven't covered it," says Megan McArdle at The Daily Beast. "To start, it makes me ill. I haven't been able to bring myself to read the grand jury inquiry." Other journalists have described the charges against this accused rogue abortionist — the "snipping" of spines, essentially beheadings, of babies delivered alive in late-term abortions at Gosnell's clinic. "Abortion is not my beat," McArdle says. "But that doesn't totally let me off the hook. I knew about the Gosnell case, and I wish I had followed it more closely, even though I'd rather not."
Subscribe to The Week
Escape your echo chamber. Get the facts behind the news, plus analysis from multiple perspectives.
SUBSCRIBE & SAVE
Sign up for The Week's Free Newsletters
From our morning news briefing to a weekly Good News Newsletter, get the best of The Week delivered directly to your inbox.
From our morning news briefing to a weekly Good News Newsletter, get the best of The Week delivered directly to your inbox.
2. Liberal journalists are covering it up
Many conservatives think liberal news outlets are ignoring the story because they are biased in favor of abortion rights, and figure that exposing the horrors of this case will hurt their cause. "The fear... seems to be that Gosnell may change media coverage and public perception not only of infants born alive, but of abortion more generally," says William A. Jacobson at Legal Insurrection. After all, Gosnell is accused of killing late-term fetuses, but "aborting these children is legal using the procedures used by Gosnell, albeit in utero," up to 24 weeks in Pennsylvania. The mainstream media ignore the horrors of this case because, if they don't, people might look more closely at the horrors they ignore all the time.
3. Conservatives don't want to show what happens when women are denied options
Some commentators push back against the suggestion that the right has given any more attention to the trial than the left. Fox News, Breitbart.com, and others in the conservative media didn't latch onto this case until recently, either, says the Baltimore Sun in an editorial. Nor did Republicans in Congress. "Perhaps it's because the trial is such a cautionary tale for those who want to deny poor women the right to decent medical care, including abortion." Gosnell was able to employ untrained staff and operate under barbaric conditions because he was providing abortions to poor minority and immigrant women. He's "a poster child for what happens when the poor lack sufficient family planning services," the Sun says.
4. It's a local story that isn't really about abortion
Some argue that the Gosnell trial, no matter how shocking, is essentially a local crime story. Not only that, says Conor Friedersdorf at The Atlantic, but a common thread in left-of-center commentary is that the case isn't really about abortion. One writer at Feministing put it this way: "If this doctor delivered these infants, live infants that were breathing and then killed them? Let's make something clear: That is not abortion." It's murder. Only 1.5 percent of abortions occur after 21 weeks, and a tiny percentage of those occur significantly later. That, Friedersdorf explains, is why some people "emphatically believe Gosnell is an aberration that says nothing larger about abortion in America."

Continue reading for free
We hope you're enjoying The Week's refreshingly open-minded journalism.
Subscribed to The Week? Register your account with the same email as your subscription.