10 super-helpful mnemonic tricks
Your guide to never forgetting anything again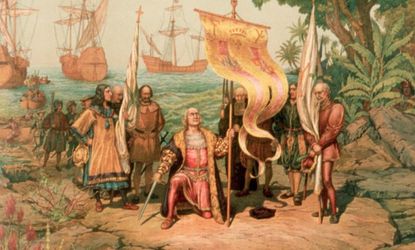 (Image credit: CORBIS)
1. The rhyme. For hundreds of years, schoolchildren started the study of American history with: "In 1492 Columbus sailed the ocean blue."
2. The verbal gimmick. Clearly, modern civilization would be impossible without these four words: "Spring forward. Fall back."
3. The poem. Probably a million people every day resort to this famous six-liner:
Subscribe to The Week
Escape your echo chamber. Get the facts behind the news, plus analysis from multiple perspectives.
SUBSCRIBE & SAVE
Sign up for The Week's Free Newsletters
From our morning news briefing to a weekly Good News Newsletter, get the best of The Week delivered directly to your inbox.
From our morning news briefing to a weekly Good News Newsletter, get the best of The Week delivered directly to your inbox.
4. The easy association. Many people have trouble with these similar words — desert, dessert — until they remember that when it comes to tasty treats like cake and ice cream, you always want an extra helping — just as the word itself has an extra s.
5. The contrived association. The essential trick is to focus on something odd or funny, and use that to jog your memory. All the memory experts are doing this when they rattle off the names of many people: Bob is big and bald; Charlie has a chin as big as China. And so on.
These two words are killers: stalactite, stalagmite. But stalag means prison; and mite suggests mighty. Clearly, a fortress solidly on the ground. So the other thing has to be hanging from the ceiling.
6. The acronym. Suppose you have to buy three things: nails, plywood, and antifreeze. Use the initial letter of each item to create a word: PAN. Remember that. In the store, work in reverse, P-A-N, the letters reminding you what you have to buy.
HOMES is a famous example. It tells us our Great Lakes: Huron, Ontario, Michigan, Erie, and Superior.
Almost as famous is Roy G. Biv, a phony name which tells the colors of the rainbow or spectrum (Red, Orange, Yellow, Green, Blue, Indigo, Violet).
7. Cross words. Acrostics are another thing entirely. You don't create a new word, you create a memorable phrase or sentence. The first letter of each word stands for the things you're trying to remember. In smart schools, middle-schoolers are given the task of inventing mnemonics for the 8 planets: My Very Excellent Mother Just Served Us Nachos (Mercury, Venus, Earth, Mars, Jupiter, Saturn, Uranus. Neptune).
The eight little bones in the wrist are a big task for anyone: Scaphoid, Lunate, Triquetral, Pisiform, Trapezium, Trapezoid, Capitate, Hamate. The job is easier, or at least funnier, with this: Some Lovers Try Positions That They Can't Handle.
Med school is next to impossible without mnemonics. One of the most famous reveals the names of the nerves that come directly through the skull (not the spinal column): On Old Olympus' Towering Top, A Finn And German Vaulted And Hopped. (Olfactory, Optic, Oculomotor, Trochlear, Trigeminal, Abducens, Facial, Auditory, Glossopharyngeal, Vagus, Accessory/Spinal, Hypoglossal.)
When the auditory nerve was renamed the vestibulocochlear, Duke University Medical School held a contest for a new mnemonic. Here's the brilliant brainiac winner, circa 1980: Odor Of Orangutan Terrified Tarzan After Forty Voracious Gorillas Viciously Attacked Him.
8. Numbers game. If you want to know a long number is, create a clever line in which the number of letters in each word tells the digit. For example, here's pi to 15 ingenious places: "How I like a drink, alcoholic of course, after the heavy lectures involving quantum mechanics." (3.14159265358979)
9. Making a speech the Greek way. The Greeks were memory mavens, and actually had a Goddess of Memory (and mother of the Muses), Mnemosyne (ne-mos-se-nee).
And their biggest brain, Aristotle, wrote De Memoria et Recollectione. In Aristotle's psychology, the image is the basis of memory. For example, if you have to make a long speech, imagine that you're walking slowly through your house, and each piece of furniture, art, etc. prompts a paragraph.
10. Digital frontier. 25 centuries after Aristotle we have Spacefem's surreal Mnemonic Generator. Feed it something, and you instantly get a mnemonic. How to spell mnemonic? Easy: Marks Navigate Empyrean Materials Once Numbers Inhabit Colors.
Surreal? Still Ubiquitous Rolls Record Eccentric Amusing Lozenges.
Finis? Furious Iguanas Number Itchy Spaces.
Wow!! (Witches Order Waves.)

Continue reading for free
We hope you're enjoying The Week's refreshingly open-minded journalism.
Subscribed to The Week? Register your account with the same email as your subscription.